In just over four months' time, I'll embark upon one of the toughest sporting challenges on the planet, the Vendée Globe.
The Vendée Globe, for those of you who don't know, is a 24,000 nautical mile race, which requires skippers to sail solo, non-stop, without assistance around the world. To us, it is 'the Everest of sailing'.
Since the race began in 1989, only 71 of the 138 starters have ever made it to the finish. Three have lost their lives.
In the 2012-2013 Vendee Globe, I finished the race in third place. That was a phenomenal achievement for our team, and a moment I will never forget. But third is not enough. This time around, I hope to become the first British skipper to win.
As I write this, I'm spending some time with friends, family and teammates as we reflect on the New York to Vendee Globe race - 'the race before the Vendee' as many call it. That was my first single-handed offshore race on-board our new IMOCA 60 race yacht, HUGO BOSS, which has been more than two years in the making.
The New York to Vendee was an extremely good race for us. To finish in third place was above and beyond what we could have hoped for, after entering the race after months of significant repair work following the Transat Jacques Vabre (TJV) race, back in November. Our hopes of winning the TJV ended when we hit a rogue wave in the Atlantic and HUGO BOSS capsized. The boat went straight into the boat for repair work and the team had to work tirelessly to get her ready for the NY to vendee. For us, the race was just about getting back on the water and seeing what she could do. So to finish the race and enjoy a podium position was phenomenal.
The race wasn't all plain sailing though. I was leading for several days but I then started to experience some problems with the autopilot system. (This is the system which drives HUGO BOSS automatically and is a critical system on-board because I'm on my own out there). I had to work through the night speaking to my technical team trying to isolate the problem, so I could make the necessary repairs.
Whilst making these repairs I lost 80-100 miles as I had to sail under the mainsail alone. This was all whilst experiencing 40 knots of wind and a really unsettled sea state.
If it wasn't for the auto-pilot problems, I'm sure I would have finished first.
Now, with a podium finish under our belts, the focus turns to the Vendee Globe. This time will be spent doing all we can to make sure that HUGO BOSS is at her strongest before the race begins on 6th November from Les Sables D'Olonne.
We will keep you updated!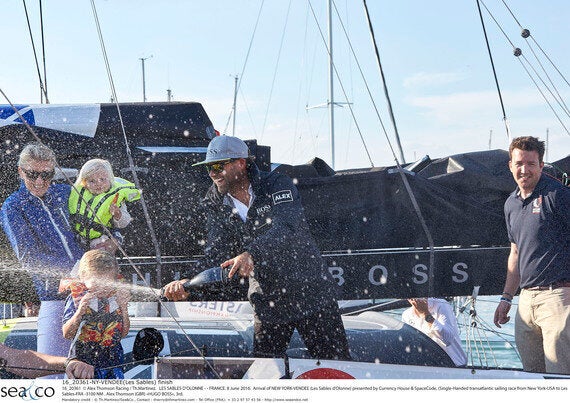 Alex celebrating his third place podium finish at The New York to Vendee Race
Related