In my job as a solo round the world sailor I spend months at a time away from my family, so I really cherish any 'downtime' I get to spend with my loved ones.
This summer I've enjoyed some time off with my wife, Kate, and two children - Oscar and Georgia. We went to visit some good friends of ours who live out in Portland, Oregon. The weather was kind to us so I was able to get lots of training in and even managed to kitesurf, which I love to do whenever I can.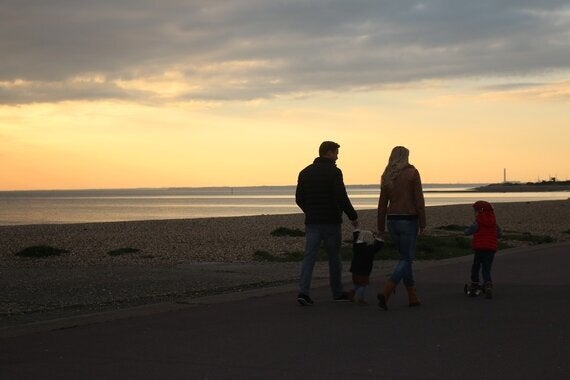 My wife, Kate, and I walking with the kids along the beach
When I'm not competing and I'm away with my family, I really try to switch off. We do lots of things together and kiting is always a good release and provides an opportunity to relax. I certainly try to enjoy some decent food and a bit of wine before I'm restricted to foil packets of freeze-dried food whilst I'm racing!
Between now and the start of the Vendee Globe in November, I will be doing as much sailing as I can to ensure that the HUGO BOSS boat is ready. We will complete a lot of test sailing and data sailing offshore on the boat to gain all the data we need as a team before we head out to the race village in Les Sables d'Olonne at the beginning of October.
To get physically prepared in the lead up to the race, I train every day, whether that's in the gym, on the bike, on a grinding machine or on the boat, on the water. I work closely with a personal trainer who supports me in putting a tailored physical programme together for my needs, in preparation for the conditions I will experience at sea for 80 days.
I train for months focusing on cardio and upper body strength. Sailing an IMOCA 60 is very physically demanding. Individual sails weigh up to 60 kilos and of course you are battling against the elements all of the time. On the flip side, there is not much space to move, so I tend to come back with a strong upper body and spindly legs!
There is also a lot of work that goes into preparing for sleep deprivation. During the Vendee Globe I sleep between 20-40 minutes every 2.5-4 hours. I used to try to get myself into this regime before the race start but it causes more stress than it is worth. Nowadays I try to get as much sleep before the race as possible.
I also work with a sports psychologist who helps me prepare mentally. It's important that I'm able to stay calm, focused and in control when in rough seas and stormy weather.
After a relaxing summer break, I am well and truly back into race mode now, with all my focus on making sure I'm in the best condition possible for the start of the Vendee in just under three months.
You can follow my progress on the Alex Thomson Racing Facebook page here