I got the best Christmas present I could have asked for on Christmas day, rounding Cape Horn and turning the bow back north, pointing towards home. Today is day 61 of the Vendee Globe and with 86% of the race complete, it's just 3500 miles to the finish line in Les Sables d'Olonne. But this is the Vendee Globe, and anything could happen; expect the unexpected. I am holding strong in second place and I am very focused on chasing Armel and making any gains I can.
I have suffered some minor damage to the boat when I was startled by a 'boom' so loud I was sure that the rig had fallen. Luckily the rig remained intact but a tack pin broke which released the bottom of the sail which was slamming around on the side of the boat. I had to slow the boat down to recover the situation which meant I lost a few miles. I'm relieved to have made it out relatively unscathed and be back on track.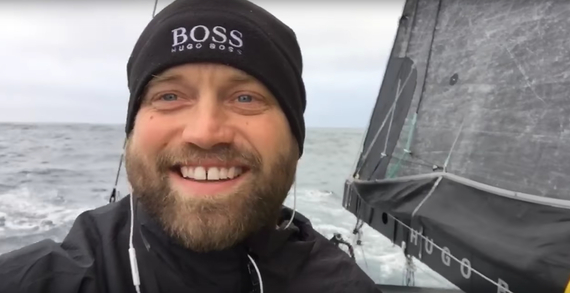 With the exception of the loss of my starboard foil, HUGO BOSS is holding up well. Communication has been a bit a difficult over the last few weeks as when I am going fast, and the boat is heeled over and there is a lot of water onboard, the connection to the satellite isn't very good. I find it difficult when I am not able to speak to my team and my family.
Christmas is a particularly hard time to be alone at sea but my team did their very best to help me get into the festive spirit, with presents hidden onboard in a Santa sack. The best Christmas present though was rounding Cape Horn, a huge milestone in this race, and the second time I have seen land since I started the race on November 6th. And of course talking to my family on Christmas day, to my children Oscar and Georgia and hearing their excitement about their presents and visit from Father Christmas!
I enjoyed a mini Christmas cake and a tinned burger, and although this might not sound very appetising to you for a Christmas dinner, trust me, after months of monotonous freeze dried food, variations like this are a very welcome change!
Despite a hard stint of sailing upwind on port tack, I have been able to stay on Armel's heels. The weather looks good for me to sail on starboard tack for the majority of the remainder of the race which means I could close the gap to Armel and it could be close in the North Atlantic to Les Sables d'Olonne!
To follow Alex's progress in the Vendee Globe, visit www.alexthomsonracing.com