Fashion, or so we are told, thrives on us buying into the 'new' and the 'exciting'. But most of us gentlemen are happy to interpret this advice as an excuse simply to buy a new pair of jeans every few months.
So with lighter evenings and pay day around the corner, its take time a look at what new offerings there are for jeans, this menswear staple that forms the core of most men's wardrobes.
Denim is a fabric with many qualities: it is rugged and hardwearing; it ages with grace; and it is a cultural icon that brings to mind lost legends like Marlon Brando and James Dean.
But whatever it means to you, denim is a versatile fabric that can be worn in a number of ways. That's why at MilanStyle.co.uk we have put together this collection of some of the best denim pieces from SS '12, seen as part of looks that showcase the fabric's amazing range.
1. DSQUARED2 JEANS
Canadian designers Dean and Dan Caten provide a bold edge to their jeans each season, an item of clothing which can be sometimes plain and unremarkable. DSQUARED2 jeans are neither of those 2 things!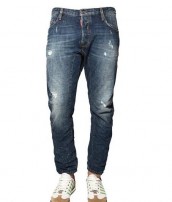 2. MAISON MARTIN MARGIELA JEANS
The Maison Martin Margiela 10 Men's Worker Jean for spring/summer '12 pre-collection, seen here in blue.These washed and faded jeans, from Maison Martin Margiela, are a timeless design in keeping with the brand's pre-collection for spring/summer. Crafted to Margiela's customary exacting standard, they are given a subtle twist, with the front of both legs given a turned-up hem detail.Crafted from premium denim that has been heavily washed to give it a soft and comfortable texture, the jeans are a classic and regular-fitting, straight-legged design. Featuring tarnished rivets and fly buttons, they are finished with a white top button and the iconic Margiela quad-stitch on the rear.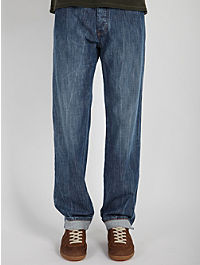 DIOR HOMME JEANS
We couldn't talk about jeans without mentioning the now cult Dior Homme jeans so beloved of the music and fashion world's biggest stars. Low on the waist and slim on the ankle opening, these utilitarian named "21cm" and "19cm" model jeans are perfect when worn with smart evening shoes boots and high end trainers - for when you don't want your designer footwear to be drowned by baggy jeans.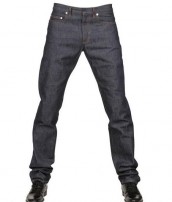 DOLCE & GABBANA JEANS
When you want to be seen from a mile off for all of the right reasons, it can only be a pair of jeans by the Italian dynamic duo - yep, that means of course you'll be wanting a pair of Dolce & Gabbana jeans with signature metal plate. The back pocket has that 'just enough' Eurotrash look with the metal plate stamped 'Dolce & Gabbana - Milan'. Yeah, they're flashy, but admit it, so are you.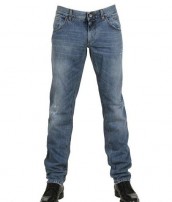 BALMAIN JEANS
The Parisian fashion house that grows and grows in reputation each season, Balmain menswear, is known for it's rock'n'roll vibe and trashed denim. They won't leave you much change from £500, but you're a rock star anyway.