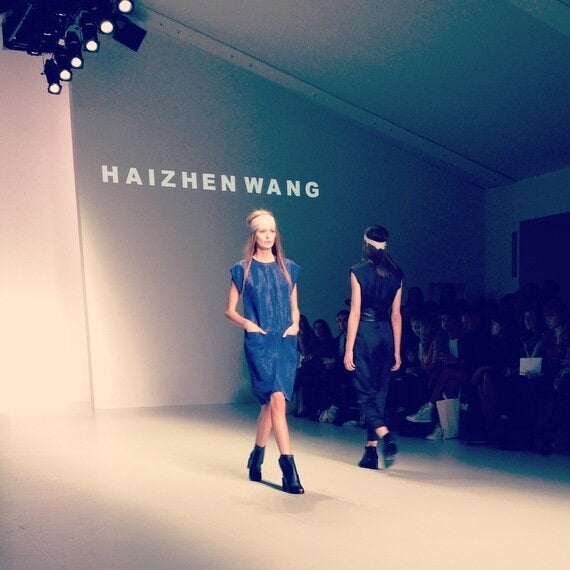 Neoprene is a rubbery, synthetic fabric produced by the free-radical polymerization of the well-known and popular chemical 2-chlorobutadine. It's used in hydroponic gardening. It's the main component in wetsuits. It's the material self-defence suppliers use to create training knives and swords. It's also the degradation-resistant chemical used to line landfills.
You probably already knew all of that. But what you might very well be wondering is, why are we wearing it all of a sudden?
Since Spring/Summer 2013, neoprene has only become more prolific on the couture and catwalk scene, as the futuristic base for exaggerated silhouettes and sports-inspired looks. More recently, less-is-more style has been spurring on a quiet and sophisticated catwalk rebellion for Autumn/Winter, and neoprene is still the fabric of choice for plenty of hot-right-now designers keen to style out an understated and elegantly sculpted splash.
For proof that neoprene is the slightly-strange-textured path to fashion stardom, take darling designer of the moment, J.W. Anderson. A firm advocate of the cutting-edge technological fabric, Anderson has taken it from high-street to high-end in a business-savvy style move.
First spotted as a key component of his affordable collaboration collection with TOPSHOP earlier this year, the lavender and sky blue hued neoprene pieces had clean lines in direct contrast with flouncing, structured frills. This season's catwalk show incorporated the same elements with sleek tunics and sharp cut shorts hemmed by ruffles. His gender-blending pieces were created from a sponge-backed neoprene fabric which, if we're being totally honest, reminded me of car seats. Whilst they might make the wearer feel like the interior of a 1998 Ford Fiesta (and came in almost exactly the same shade of not-quite-a-colour grey) they're the easiest route to a striking silhouette.
SS14 - yes, fashion is that far ahead, so it's no wonder they need fabrics that wouldn't look out of place on the 2050 mars mission - saw the neoprene trend continues in a bright and sugary palette at Roksanda Ilincic. Stiff pleats, structured culottes and futuristic curved shoulders all featured in the catwalk show, provoking reports to conclude that the brand was headed in an entirely 'new' direction, breaking from it's traditionally feminine more for a more masculine, technical silhouette.
Over at Tommy Hilfiger for SS14, life was a beach - literally - bright colours, imported white sand, sea-sale waved hair and surfboards were accompanied by surf-style neoprene looks. The style was, as the show reports repeated, a distinctly modern take on all-american beach style.
Writing about neoprene's quick climb to fashion staple in three speedy seasons, the buzzwords are obvious. Fun, future, modern and new - all words which excite and inspire in exactly the way fashion is supposed to.
Neoprene seems to epitomise fashion's need to keep moving forwards - with technological developments advancing the majority of industries for the better, who's to say fashion shouldn't get in on the action. Neoprene is futuristic enough to be something totally new - checking a key box for up and coming designers - whilst maintaing an elegance and wearability that ensures it can't fall too far into couture.
So, wearable, hyper-modern and ultra-cool? That's why we're wearing neoprene.