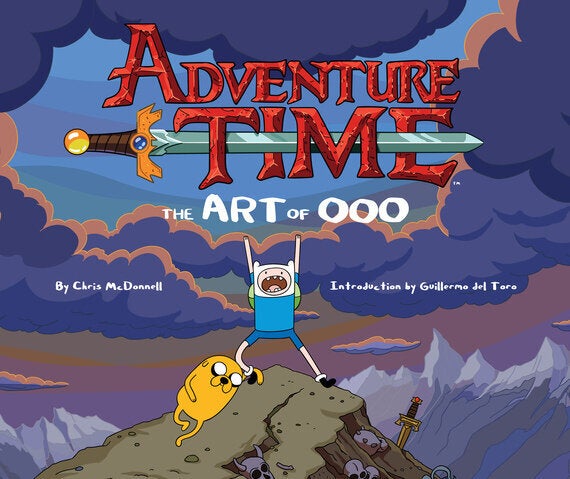 There are those who dismiss animation as child's play but I'm guessing those people have never seen Adventure Time. From its initial screening on the Cartoon Network in 2010, the show has inspired fervent loyalty in its many fans.
For those unfamiliar with the series, Adventure Time follows human Finn, a "mighty hero" who is compelled to protect good from evil - and he's just 12 years old. Mysteriously parentless, Finn scours the land of Ooo getting into all sorts of scrapes along the way. In this he is ably abetted by fun-loving, elastic-limbed Jake the Dog, who is no mere sidekick but as much a part of the action as his human counterpart.
In the introduction to this book, director Guillermo del Toro (yes, that Guillermo del Toro) waxes lyrical about the show. "It embodies the angst and circumstance of the day-to-day and the aesthetic malleability of our culture while leaving us with the sense that we are watching a true classic in the making: a work that will endure," he writes. "Adventure Time has a depth of myth and uses it nimbly but to its full power. The throwaway nature of the series' cosmology, or genesis or back story is built upon a lore that is as solid as it gets and as perfect as any worthy creation in the fantasy genre."
Phew. But he has a point. Adventure Time is richly peopled with a host of characters, among them Princess Bubblegum, Marceline the Vampiress and "wild rocker chick", and Lady Rainicorn, Jake's girlfriend, who is a unicorn. Really. If this sounds like the show is the product of a pharmaceutically-inspired "lost weekend", then you're not far wrong. It's also hysterically funny, endearing and moving in equal measure.
Adventure Time: The Art of Ooo is beautifully illustrated and packed with interesting information. There are full and frank interviews with members of the production team, including the show's creator Pendleton Ward, producers and the actors who provide the character voices. For budding animators, there's even the show's "bible", the pitch document presented to the network before the show was commissioned, as well as early drawings so you can see how each character evolved as the series found its legs.
I came late to the party with Adventure Time, but I'm so glad I got there in the end.
Adventure Time: The Art of Ooo (£24.99) is available from Amazon.co.uk and all good bookshops