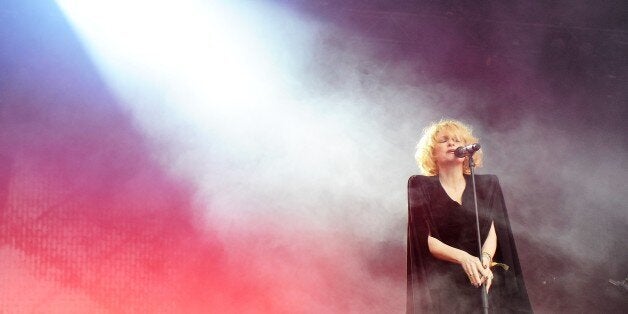 Photography has always been a big part of my life. I remember playing around with a camera as a kid at the bottom of the garden. I would take pictures of anything, literally anything that caught my eye.
Growing up in the 70s I loved photographers like Helmut Newton, Guy Bordin, Sarah Moon and Debra Turberville. The strong style and narrative of their work has inspired me visually and musically.
In my early twenties I went to art school and that's where I discovered more about working with film and developing my own pictures. Photography is something I love doing, so I was very flattered and honoured when American Express commissioned my first commercial collection of images. Whilst I'm a musician first and foremost, visuals have always been very important to me and very much influence how I write and think about music. It's an area I'm definitely keen to explore further.
I photographed Jack Savoretti and Laura Mvula, two headline acts at this year's Somerset House Summer Series which starts on the 7th of July 2016. I performed there myself in 2013 so it was great going back. I can vividly recall the moments that made that performance so memorable for me: from the anticipation backstage, the adrenaline pumping and the energy of the crowd and the sense of elation as the audience enjoy the music. I tried to capture some of these emotions in the pictures I took of Laura and Jack.
It was also a whole new experience for me to work to a specific brief, as I normally just take photos for myself according to my own whims and inclinations. I found that while working to a brief can sometimes be limiting, it can also push you to capture moments you might not naturally be drawn to. Photographing an individual is quite special because the experience is such an intimate one. I loved capturing moments with Jack and Laura; they're both so photogenic and just adorable to hang out with - they're both very striking in their individual ways. Both were fun and up for anything, which made it relaxing for me too. It's particularly interesting to photograph another artist because as a performer myself, I feel that maybe I'm more sensitive to what it feels like to be in front of a camera and hopefully I made them feel at ease.
It's so very important when you're involved in a photoshoot like this, or of any kind, that the artist trusts the photographer. I can relate to that completely. As musicians, we have a tendency to sometimes go into performance mode when being photographed, similar to switching into another persona when walking on stage. Because of this, I tried to find the most natural moments with them, where I could really feel their real personalities shining through. These are generally the photographs I always find most interesting. I hope we managed to achieve that with this collection of images.
Alison Goldfrapp has teamed up with American Express® to get fans closer to the action by photographing headliners Laura Mvula and Jack Savoretti as they prepare for their gigs at Summer Series at Somerset House. To see the full gallery of images, visit amexsummersounds.co.uk