In our busy modern lives, the bathroom is our personal sanctuary and retreat from the demands of the daily grind. An escape from schedules and invasive technological devices, the bathroom is the one place we can truly switch off, or on, depending on the time of day. Whether you use it to emerge fresh and bright in the morning, or prefer a long, hot soak in the evenings, the bathroom is an essential, and ritualistic part of the home. The history of the bathroom is long. Evidence of the first wash houses dates back to as early as 3000 BC. Connected to worship and prayer, it was seen as an essential practice to cleanse the body and soul before entering a sacred space. Only aristocracy and royalty had access to private bathhouses, with the general community using publicly built spaces. From the 16th century onwards, the notion of the bathroom we know today began to take shape.
Humans are naturally curious beings; we love ogling over the likes of celebrity homes and mansions. We especially love peering into their bathrooms and closets, where they, too, peel back the layers and become regular people. However, there is one question on our minds - is it possible to blend luxury and aesthetics with everyday functionality?
In this post, we will explore some of the most luxurious bathroom designs on the homify platform. Catering to a huge range of tastes and imaginations, you are sure to find an example that you can use as inspiration to complete your next bathroom makeover! Take a look...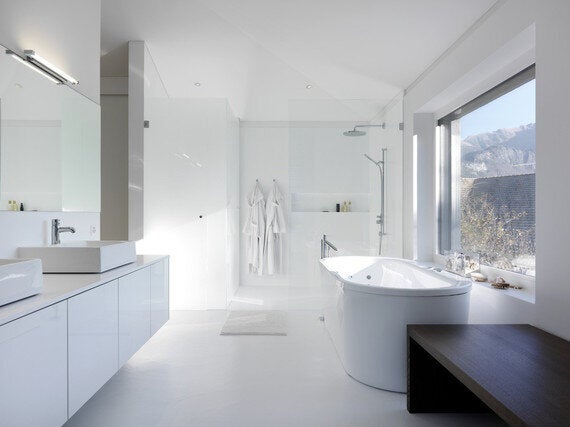 Leicht Kuechen Ag / homify.co.uk
For many, the term minimalism is like a bad relationship - you desire to make it yours, yet have no idea what to do with it when push comes to shove. The biggest problem is that the line between perfection and sterile is so easy to cross, leaving many homeowners pulling their hair out in frustration. In our opinion, and as evidenced in the above photograph, true minimalism is extremely easy to achieve if the following factors are considered; ample light, a mix of simple material textures, and spatial layout. These characteristics dictate the overall ambience and atmosphere of the finished space. A white-on-white colour scheme is perfect for small spaces, and when used in conjunction with a large skylight or window, the light is able to refract, and diffuse ethereally into the space. Pay attention to material textures, too. This variance creates an interesting play between finishes such as glossy, matte, mirrored and transparent surfaces.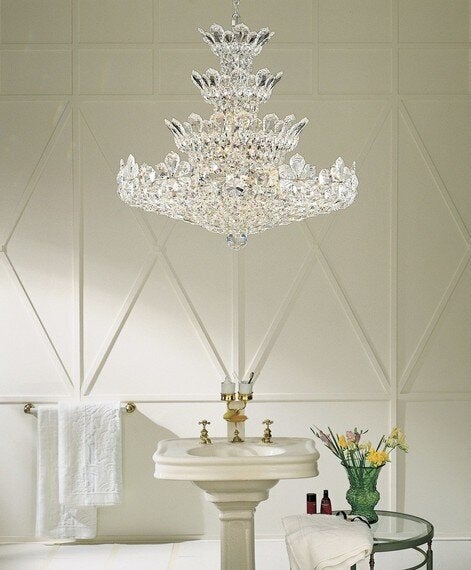 Highlight Aydinlatma / homify.co.uk
This is one of those charming instances when a picture says much more than words can possibly describe. Chandeliers are usually reserved for stairwells or formal living spaces, but this rule is not gospel. A chandelier, or an extravagant light fitting is also not reserved for a classically themed home. Modern and eclectic style homes are well suited too; provided that the remainder of the space allows the chandelier to be the feature point of the room. In this image, the intricate wall panelling, in conjunction with the chandelier and respective classic bathroom finishes, help to make this space elegant, with an air of aristocracy and grace. You can only imagine the effect when the sunlight hits this delicate light fitting - pretty colours, shadows and unique reflections will fill the room.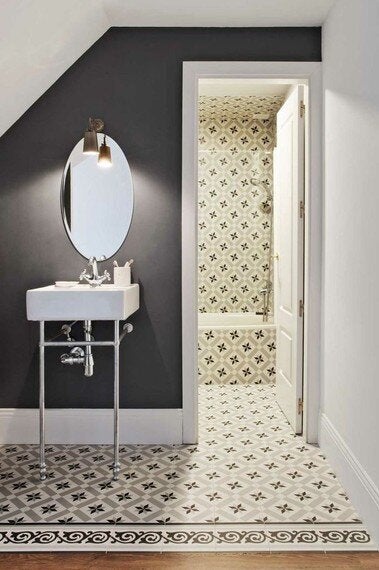 DecoraCCion / homify.co.uk
This stunning example of floor-to-ceiling tile work is a modern day marvel. With a retro and modern twist, the matte finish charcoal paint highlights the colours evidenced in the tile pattern. It also helps to show off the fascinating shape and formation of the walls that enclose the room. Creating an interesting distinction between the two spaces, the tiling creates a barrier, displaying where the bathroom space starts and finishes. Other details, whilst beautiful in their own right, have been kept to a minimum, allowing the tile work to take centre stage. From this angle, the bathtub appears to be visually engulfed by the pattern, only visible by the white lip of the tub and stainless steel shower head.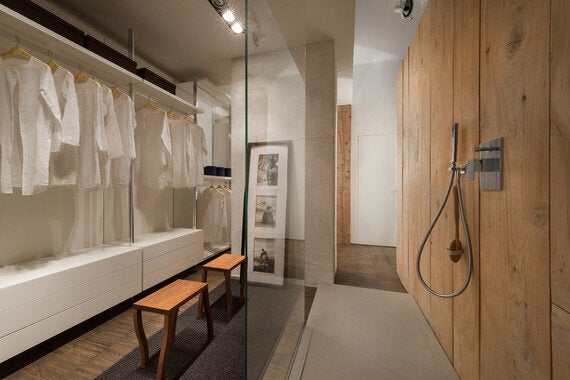 Forme per Interni / homify.co.uk
Just because space is at a premium, doesn't mean you need to sacrifice on style and luxury. More often than not, when every inch counts, homeowners and designers are encouraged to critically analyse the layout and available space before making any decisions. This results in a design that is well laid out, encompassing not only clever space saving solutions, but also helps to generate a design with a strong focus on attention to detail. In this example, we see a walk-in wardrobe combined with a sleek shower unit. A bold take on traditional ensuite design, this exposed bathing area resembles an at-home Swedish spa. By using rich textures, a minimalist colour palette and of course, efficient design, we find ourselves inside a veritable example of Scandinavian design.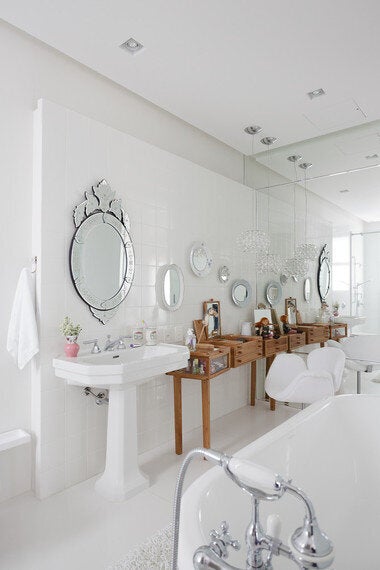 Consuelo Jorge Arquitetos / homify.co.uk
In this image, a myriad of different design styles and furniture eras come together in perfect harmony. By balancing various material textures such as glass, porcelain and wood, the fusion of the vastly different forms aren't as evident. Oozing with a glamorous vintage Hollywood feel, this bathroom is sure to have you feeling poised and ready to face the day ahead. Luminous and bright, your routine make-up application or daily shave will be met with ease.
We hope that one (or more!) of these five examples has inspired you to complete your next luxury bathroom renovation. Now it is possible to have your own personal spa, or touch of celebrity glamour in your everyday routine.