White is one of those colours that is timeless and forever in fashion. It is synonymous for purity, serenity and calm, and unlike shades of beige and brown, never looks tired or boring. The best thing about decorating with white, as you will soon see, is that you have the ability to update and change a room as frequently as your heart desires - the only limits are the bounds of your imagination (and perhaps your wallet)!
For some, the thought of a white on white colour scheme is frightening. With the looming fear of a space looking sterile and banal, perhaps even hospital-like, decorating with only white may be the last idea on your interior design radar. Today, I want to prove this notion wrong, and show you how easy it is to inject personality, character and charm into your bedroom with white.
Don't forget: white is definitely not just white! Your local paint and home improvement stores sell on average one hundred different shades, so you can very easily find a tailor made solution to all your decorating needs.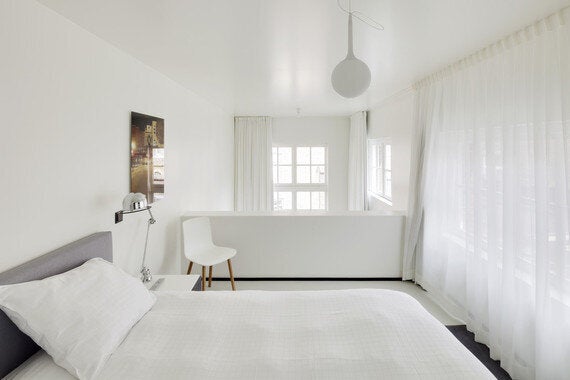 Credit: Wiel Arets Architects
A fully white colour scheme is the epitome of style in a modern bedroom, and of course, is an essential right of passage for devotees of minimalism. Fresh and contemporary, a modern bedroom themed in all-white will always give an aura of purity and calm. For those who are burdened with a small and cramped bedroom, perhaps by no choice of their own, a modern and totally white colour scheme is perfect to create an illusion of additional space and light. This mezzanine style bedroom, while limited in size, doesn't appear to be cramped or small. In fact, it has an inner ethereal glow that radiates through the parameter of this image.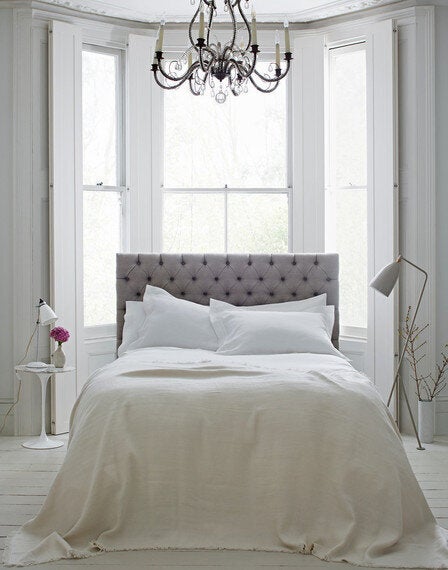 White may not be the first colour to come to mind in terms of romance. Generally speaking, it would be pink or red, but these two colours aren't exactly ideal if you are planning to design a sophisticated and adult room. There are, however, other ways to bring a romantic and intimate spirit in your bedroom without introducing the aforementioned colours. A delicate chandelier, coupled with delicate material textures and a subtly studded headboard make this bedroom space feel warm and inviting. In this instance, it is the finer details that help to create the bigger picture, and ultimately create a bedroom that we may never want to leave.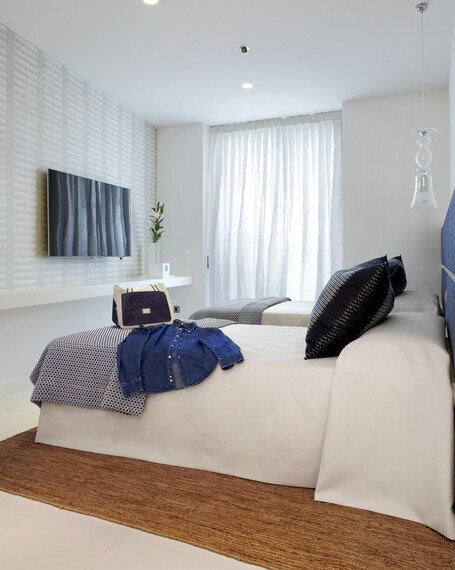 When coupling a rich ocean blue with white walls and white bedding, you can create a distinctly Mediterranean and beach themed interior. If you are the type of person who likes a feeling of vacation and holiday in your home everyday, this is a great style to complement your wandering, nomadic spirit. Blue is one of the best combinations to add with white, but be wary! Steer clear of pastel shades because you may end up with your bedroom looking more like a nursery than an oasis of relaxation and respite.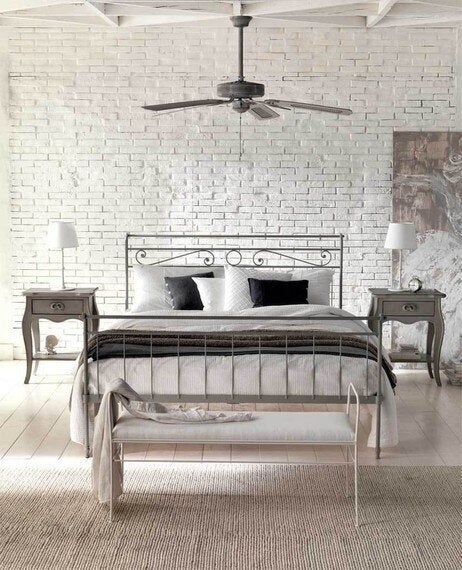 Credit: Egger's Einrichten
White is an essential colour for creating a rustic themed bedroom. In conjunction with the whitewashed brick wall, and elegant touch of grey, this whimsical bedroom has a dreamy and nostalgic feel about it. The designers were able to achieve such a muted scheme by incorporating a base note of grey in all the white tones used. This is a great way to ensure that the colours present are not in competition with one another, rather, that they are delicate counterparts. Little would you know, there are only two basic colours present in this scene, but the variance in shade and texture fools you into thinking otherwise.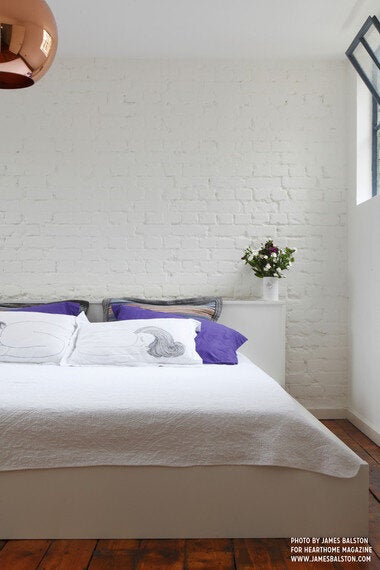 Credit: Cassidy Hughes Interior Design & Styling
Lastly, but definitely not least, it is also possible to create an eclectic bedroom with white, too! As much as you love this mismatched style, perhaps it will be on the interior design forecast this year, and gone the next. If this is a genuine concern of yours, and you prefer your bedroom to stand the test of time, you can masterfully add highlights of other colours, patterns and tones to create virtually any style you desire. In this instance, the touch of purple has given this room a vibrant accent, and allowed the personality and style of the occupant to shine through.
I hope this selection of stunning white bedrooms has first and foremost, converted those sceptical about such a colour palette, and further inspired those who are ready to complete their next home decorating challenge. Good luck!