In the build up to race week I've been training in Al Ain which is not too far from where the main event will be taking place. It's been good to get some training done in the desert to help with acclimatisation and get some miles in on quiet roads.
This is my second time to Abu Dhabi so it wasn't completely new to me but I was definitely pleasantly surprised to see how good training facilities were out here and get some good running and cycling under my belt ahead of race day. For swimming we went to Wadi Adventure park which is more of a white water rafting place, plus they have surfing facilities, and there are some lakes there that were good for open water swim training.
It's impressive to see how triathlon has grown out here. It's massive in the UK, keeps getting bigger and bigger in Europe but to see fully functioning tri clubs out here with many local members, not just ex-pats, is testament to how the sport is growing across the world. It's a sport that is accessible to all so I always encourage everyone to give it a go. It's funny as I've been recognised in a couple of places that I wouldn't have expected while I've been out here and it's cool to meet tri fans in places like this.
Saturday is race day and it will also be the first time I've ever raced on a Formula One circuit so I'm very excited to experience it when the bike leg takes us around the Yas Marina F1 circuit. Earlier this week I went there to see some of the cars on the drag strip they have there too and we did a few photos and some filming there.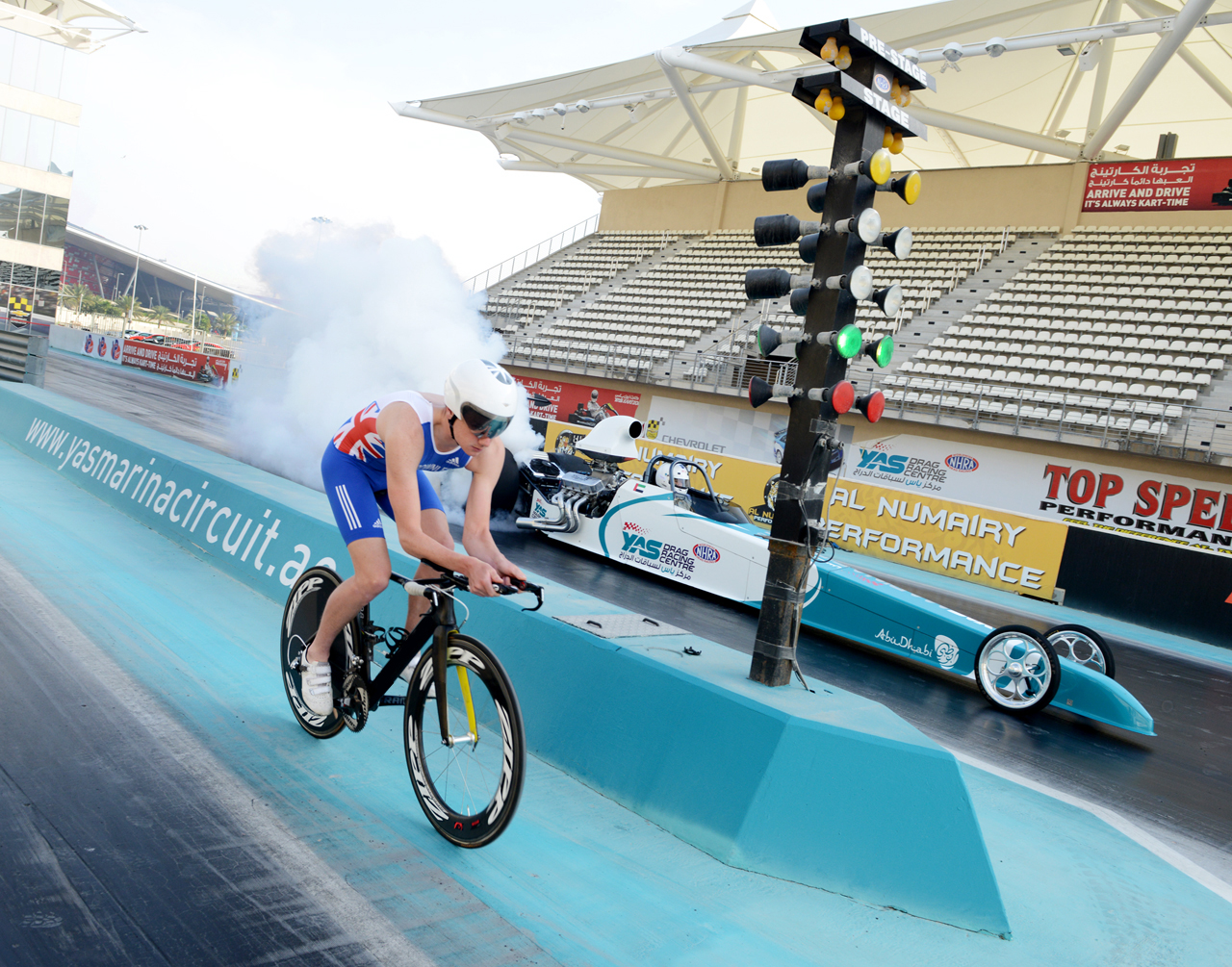 After Abu Dhabi I'll be racing in San Diego and then the usual ITU circuit. At the moment my only definite long term plans are for the Commonwealth Games in Glasgow and then the Olympic Games in Rio. You have to basically work on a four year cycle so that I can look to defend my Olympic gold medal. It's good to be here at the Abu Dhabi International Triathlon to try new distances though and to freshen things up. I'm very competitive in all that I do and eventually I want to compete at the highest level in all distances so that I can lay claim to being an ultimate triathlete. Competing here is an important part of that process for me.
I'm doing the short course distance here which gives me the chance to get a long bike section done but without a long run. The longer the run means the more training miles of increased impact and that doesn't currently fit with my training which remains focussed on the Olympic distance.
There is a strong field lining up for Saturday's race and it's good to see some elite athletes from the Middle East taking part too. One of my main competitions will be a familiar face though; Alexander Bryukhankov is a Russian triathlete I have raced against since the World Junior Championships and I know he will push me all the way. I'm not worried about what time I finish in, I just want to make sure I have a good race and of course I hope I win.