The reception given to Mike Ashley's decision to hand Alan Pardew an eight-year contract back in September of 2012 rather highlighted the lack of respect the manager commands amongst Newcastle fans. Granted, it came with a clause that meant any compensation paid to Pardew should he be relieved of his duties would cover only a year's pay rather than right up until 2020, but those on Tyneside were filled more with indignation than respect at Ashley choosing to recognise Pardew's recent achievements.
Pardew had, as it was, just led Newcastle to a fifth-placed finish in the Premier League, only four points off fourth and above Champions League winners Chelsea. With barely any investment over the summer - something that was out of Pardew's hands and happened over his head - they had made a half-decent start to the following season. Given that only a couple of years earlier they had been in the Championship, fans should surely have been enjoying the club's fortunes at the time.
Not so, however, and Pardew remained a manager trying in vein to win over the fans. It is genuinely difficult to think of a manager who is as naturally disliked as Pardew - even amongst his own team's fans - but also not entirely obvious why.
Is it that he is English and speaks too often in clichés? Is it that he does not really exude tactical awareness or nous in his decisions on the touchline? When he had Papiss Demba Cissé and Demba Ba both available to him and firing on all cylinders he struggled to find a way to field both and keep them both scoring. One was always compromised and goals dried up.
He can also be quite brash, and there is something about the over-confidence with which he talks that can be quite frustrating given the relative lack of success he has had as a manager. His indefensible run-in with Hull City's David Meyler last season was the final straw for many who already found him hard to stomach.
However, that is not to say he is isn't a good manager. He has turned Newcastle around from a slump to win their last four matches and the 'Sack Pardew' campaign has lost legs. There were even banners of support at their latest match - the win over Liverpool at St James Park last Saturday - and Pardew has hinted at the fickleness of those in the crowd, saying that there are huge highs and lows at the club, alluding to easily swayed fans' feelings.
But what exactly does Pardew need to do to get the Magpies faithful on side? It is completely possible for fans to think negatively of a manager but agree that retaining him is the right decision, but with Pardew it seems that even if he has won some people over with recent results, they will turn against him at the first sign of a slip.
All this in spite of a run of wins that only four of the 98 teams in Europe's top five leagues can better at present (Real Madrid, Lyon, Wolfsburg, Malaga). They have risen up the Premier League table to 12th and progressed to the quarter-finals of the Capital One Cup. Having come from behind to win at Spurs recently, confidence will be high that they can repeat that performance to make it to the League Cup semis.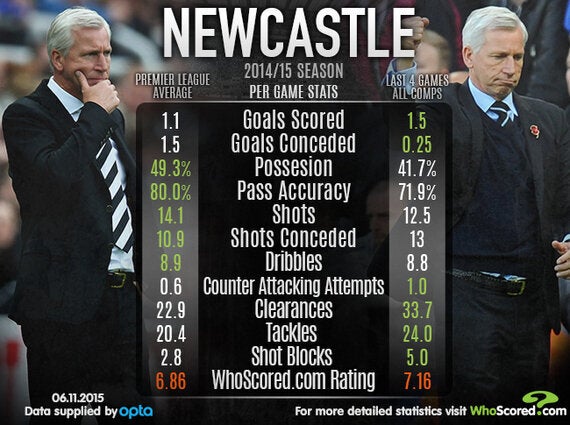 In the wins over Spurs, Liverpool and Manchester City, they looked to allow their opponents the ball, defending compactly, averaging just 37.8% possession and looking to strike on the break. It has worked brilliantly, and they conceded only 1 goal in their last 4 games with much the same defence that had previously only kept clean sheets against Gillingham and Aston Villa this season. Steven Taylor has come in for the injured Mike Williamson, and perhaps his organisational and leadership skills are what the defence had been lacking.
There is also a confidence to their attacking play. Gabriel Obertan looks reinvented, striding forwards at pace, completing 1.5 dribbles per game and averaging 1.3 key passes. Few would have predicted a few weeks ago that an injury suffered against Liverpool would be such a blow. Rémy Cabella is looking dangerous, too, and with 3.7 shots and key passes per game he will surely improve on his meagre zero goals and one assist soon enough.
The most impressive thing about this Newcastle team, however, is the youth coming through, with Rolando Aarons (18 years old), Ayoze Pérez (21), Massaido Haidara (21), Paul Dummett (23) and most recently Mehdi Abeid (22) playing significant roles for the club. Taking the average age of all players to have made at least one Premier League appearance this season, Newcastle have the fourth youngest squad, with an average age of 25.04 years. Their sprightly team has had the second-most shots on the counter-attack in the Premier League this season (six), behind only Stoke (eight).
Aarons already has two goals in Newcastle colours, including one at the Etihad, and is oozing confidence, unfazed by first team action, averaging two shots per game and 1.7 dribbles. Pérez has goals in successive games after failing to score in his first nine appearances for the club, and has the pace to help carry Newcastle's counter-attacking threat, perhaps better than the likes of Cissé. Abeid, meanwhile, put in a stellar midfield performance against Liverpool on his Premier League debut, registering an impressive rating of 7.37.
The blend of this youth with the experience of the likes Moussa Sissoko, Tim Krul and Fabricio Coloccini looks to a complimentary one that seems like it could be coming good. It is a wonder, however, how much credit Pardew will be given for their recent form, or for the fact that he is blooding youth, in the meantime.
'PARDEW - BACK FROM THE DEAD' read the aforementioned banner unfurled at St James Park last Saturday. While he will enjoy that much more than those previously seen at the ground, it speaks volumes that even positive signs have negative connotations and are displayed almost in jest. His Newcastle team have what it takes to extend their run of form, though it is unlikely to mean much more in the way of support and backing for Pardew.
All statistics courtesy of WhoScored.com, where you can find yet more stats, including live in-game data and unique player and team ratings.