The biggest question for this vastly talented Argentina squad ahead of the World Cup was quite how head coach Alejandro Sabella would incorporate their great many attackers into a functional starting XI that would also remain steadfast at the back against the best sides on the planet. The South Americans came through qualifying scoring plenty of goals, but the Finals themselves represent a wholly different challenge. They have won every one of their games in Brazil so far and in doing so have reached their first World Cup semi final since Italia '90, but it has not quite been the free-scoring - or freely-conceding - Argentina side many had expected.
Each win has come by just a one-goal margin and three of their wins have been by a 1-0 scoreline, one of which was only achieved after 120 minutes. That day, they struggled to break down a resolute Swiss defence and also restricted their opponent's golden chances to set-pieces. Then, in their quarter-final against Belgium, clear-cut opportunities were again few and far between, aside from a fantastic solo run from Gonzalo Higuaín and then a breakaway chance for Lionel Messi as Belgium were forced to commit men forward in the dying stages. Despite Argentina's incredible strikeforce, goals have remained hard to come by, particularly besides the genius of Messi.
Sergio Agüero's thigh injury was thought in some quarters to be something of a blessing in disguise for Sabella, who would be able to re-jig things up front so as to avoid the problem of incorporating the Manchester City forward along with Messi and Higuaín. With Ezequiel Lavezzi brought in as a direct replacement, though, Argentina have not improved as the tournament has gone on - although they have remained effective - and now the bad news that Ángel Di María will miss the semi final against Netherlands on Wednesday has hit the camp.
Di Mariá, arguably Real Madrid's most consistent performer over the past season, has been operating in the central midfield role for his country that he occupied for his club, providing a driving force from deep, averaging the third-most dribbles per game (5.0) at the 2014 World Cup behind Messi (5.8) and Chile's Alexis Sánchez (5.5). He is so suited to this new role (though he has moved out wide since Agüero's injury) due to the incredible amount of work he puts in and also his ability to carry the ball forward at pace. Against teams that come out and attack this is absolutely lethal, with backtracking defenders troubled by the speed at which he moves the ball. However, he has had little luck against sides sitting back.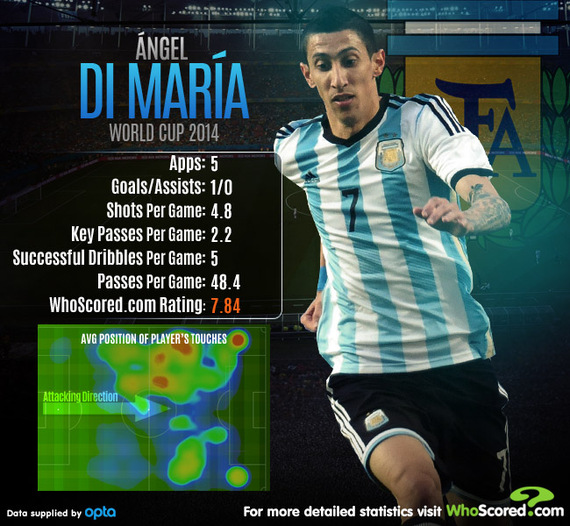 Only Karim Benzema (31) has had more shots at the current World Cup than Di María (24), though the Argentine only has 1 goal to show for it - that coming in a break forward to win the tie against Switzerland as they pushed forward themselves in search of a winner. Di María had 12 shots in that clash, but many were pot shots from distance; only Benzema (8) has had more shots from outside the box than Di María (7) at the tournament.
Of course this is not to say he won't be missed in a semi-final against the Dutch. Both sides have struggled to break down teams with a deep block, particularly in the knockout stages of the competition, so they will both be looking to draw their opponents out and hit them on the break. With no Di María this will be vastly more difficult for the Argentines, who will rely on a likely heavily-marked Messi and a half-fit Agüero or the so far rather ineffective Lavezzi to do so. A central midfield otherwise already lacking pace will be even worse off in that department with Enzo Pérez set to start in Di María's absence.
Javier Mascherano will provide the base of the midfield alongside either Lucas Biglia or the returning Fernando Gago, with Pérez on the other side in the way they lined up for the final 67 minutes of the win over Belgium. Argentina were noticeably less fluent without Di María's ready and willing presence in midfield. The team had 5 of their 10 shots in the 33 minutes with their Real Madrid star on the pitch and the same number in 67 minutes after Pérez replaced him. Naturally there was an element of Argentina's lesser need for a goal having gone 1-0 up early on, but they struggled to maintain the same kind of fluidity after the change. Their 51% possession at half time dropped to 46% by the final whistle.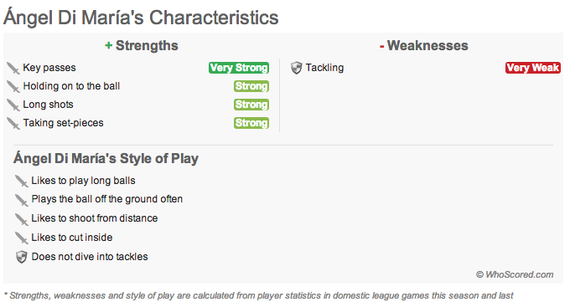 Di María is a unique player, for whom Argentina have no ready replacement available to them. Only star man Messi would they be more loath to losing for such a vital match. So how do they solve a problem like Ángel Di María's thigh injury?
The plan will have to be for an even greater proportion of their play to go through Messi. In addition to his 4 goals, he is the tournament's leader in terms of through balls attempted (6) and completed (4), and he has also played more key passes (19) than any other player. In Di María they had a fantastic foil for the great man Messi, and in Enzo Pérez they have a ball-player capable of getting the ball forward as quickly as possible.
No secret should be made of just how much better Argentina are in attack - particularly if Agüero returns to fitness - than they are in midfield, while note should be taken of just how much the Dutch have struggled in front of goal of late. Argentina have been lauded in the past for the open, attacking football they play, but a lack of success on the world stage signals the time for pragmatism to take precedence over principle. It may be time for Argentina to look to rely on what has been an impressive defence and wait for chances on the counter, in turn hoping that space opens up for Messi to exploit.
If Sabella's men were to go behind they could well struggle to break through a Dutch side that would be happy to sit on a one-goal lead. Argentina are the only side not to have gone behind at any point so far at the 2014 World Cup and without Di María to take some of the creative burden off Messi, they could well struggle.
Nonetheless, you can never truly write off a team that includes Lionel Messi, and the Argentines will still be confident ahead of Wednesday night's semi-final against the Netherlands. Missing Ángel Di María, though, their job will be that much more difficult.
Do you think Argentina can win without Ángel Di María? Let us know your thoughts in the comments below
All statistics courtesy of WhoScored.com where you can find yet more stats and player ratings.