The overriding memorable image of Christoph Kramer is that of a disorientated youngster being helped off the pitch in the first half of a World Cup Final he wasn't even originally meant to be a part of. If that wasn't enough to endear him to the watching public (if only through sheer sympathy), then his part in a game of Rock, Paper, Scissors with Scotland's James Morrison during Sunday night's Euro 2016 qualifier will have gone a long way to highlighting a likeable, down-to-earth demeanour.
23-year-old Kramer was thrown into the starting lineup in Rio de Janeiro just before kick off after Sami Khedira was injured during the warm up and suffered a head injury that rendered him so confused he had to ask the referee if the match was in fact the World Cup final. He even afterwards admitted he could not remember his first competitive start for Germany.
Few else could recall much about what he contributed in his otherwise unremarkable 32 minutes on the pitch that night, but he is reportedly nonetheless playing his way into the minds of many of Europe's top clubs, even if many everyday fans on foreign shores needed his mischievous side to bring him back into the news and their thoughts.
And while everyone in England had forgotten about Kramer and spent the summer dwelling on what had gone wrong in Brazil and who their clubs might buy, Kramer was busy celebrating his first honour as a professional footballer.
It is rare for a player to establish himself quite so firmly at Kramer's age. He enjoyed debut campaign in the big time at the age of 22 and was quickly deemed a first-teamer, before going on to make the squad for his national team at a major tournament, all in the same year. Just over 12 months after being a mere regular on loan at VfL Bochum in the 2. Bundesliga, he is a world-beater and seems destined for the very top of the game.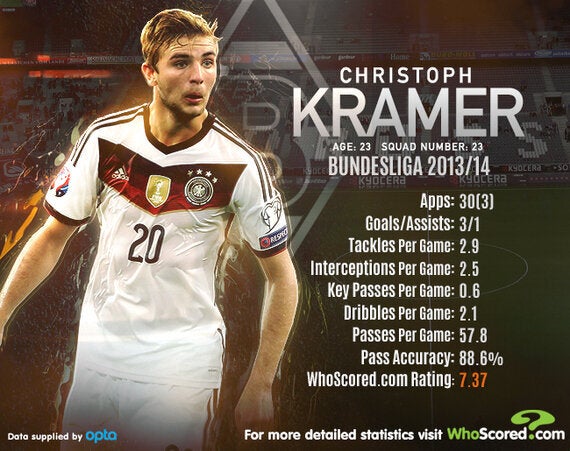 With Philipp Lahm's international retirement a new face was needed in Germany's midfield, and with a lengthy injury list including Bastian Schweinsteiger and Sami Khedira, Kramer was suddenly the second-most experienced central midfielder in a depleted Germany squad. With Sebastian Rudy preferred at right-back, Kramer had no back-up on the bench.
It was not a mind-blowing but understated and reliable display from a player who shows a impressive maturity in his game. Technically adept and hard-working, he is the quintessential German midfielder, and is thus a perfect replacement for the likes of Schweinsteiger and Khedira, even if experience-wise he is some way behind them both.
While running himself into the ground, he retains possession exceptionally well and moves the ball quickly to help start attacks, averaging an accurate pass every one minute 34 seconds in Bundesliga games since the start of last season, in which time he has been playing for Borussia Mönchengladbach on a two-year loan. Of those to make more than 10 appearances in that time, only a handful from Pep Guardiola's pass-masters Bayern Munich and Gladbach teammate Granit Xhaka completed a pass more frequently. Only seven players in the whole league (five of whom play for Bayern) have completed more passes than him (1746) since last August.
He maintained 87% pass success against Scotland on Sunday and 88.6% in the Bundesliga last season, while he also won the ball back regularly, averaging 2.9 tackles and 2.5 interceptions per game. That does hint at tidy play and few frills; many central midfielders keep up impressive pass success rates by working hard to win the ball and then distributing simple passes to a full-back or midfield partner close by, but Kramer offers far more than that.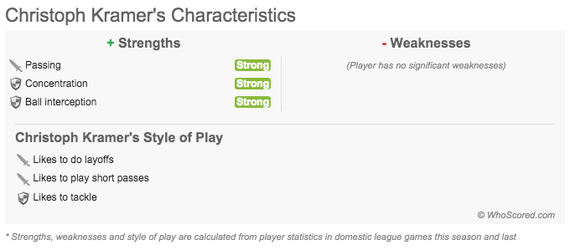 He is a defensive midfielder that provides thrust going forwards, as his 2.1 dribbles per game over the course of last season shows. He is a tricky customer who also has some end product to his game. Three goals from just 19 shots as well as an assist last season could be improved upon, and he has already gone about bettering that this term, netting with his only shot of the season so far for Gladbach. Although only covering a small sample size, his key passes are already up this season, too, to 1.5 per game from 0.6. In the 2-1 qualifying win over Scotland at the weekend, no one created more chances than Kramer (3), who provided more in that regard than Toni Kroos, Thomas Müller or Marco Reus (2 each).
Not 24 years old until Feburary, Kramer has his best years ahead of him and after seeing how assured he has been in becoming a part of this legendary Germany team, it is little wonder he is turning the heads of Europe's finest. Any potential deal will have its complications given that he will be at Gladbach until at least the end of this season, and then they have first refusal on his signature come next summer.
By that point though, Kramer may well have become a household name. A foray into European competition at club level will not faze him after the year he has just had, and he will surely catch a few more eyes in the coming months when off around the continent. It would be great to see him continue with Gladbach or back at parent club Leverkusen beyond this season, but the reality is that money talks and it will thus be difficult for either of those teams to hold on to this prodigious talent for much longer.
For the time being though, Kramer is enjoying his football for club and now country, too, and early signs suggest he is a special player. Even if he has forgotten the most important part of his first year in the limelight, it has still been a year to remember for Christoph Kramer.
All statistics courtesy of WhoScored.com where you can find yet more stats and player ratings.
Popular in the Community