With rumours circulating that Franck Ribéry may be set to miss the World Cup with injury, he could be joining a rather vast list of some of the planet's best players who will not be on show in Brazil this summer. Zlatan Ibrahimovic and Gareth Bale could not inspire Sweden and Wales to qualification, while Victor Valdés, Christian Benteke and Thiago Alcántara all have ailments that will keep them out of action. Falcao's anterior cruciate ligament injury in January remains for some, however, the most notable absence of them all.
The £50m Colombian striker, who crumpled to a heap under the challenge of little-known fourth tier side Monts Or Azergues' Soner Ertek in a Coupe de France game with Monaco in January, had his absence from the tournament confirmed earlier this week, citing his lack of fitness as reason enough for him to stay at home. There is no questioning his ability and the undoubted quality he would have added to the Colombia team in Brazil; his goals in qualifying fired them to the tournament in the first place. However, there is still a wealth of attacking talent in their squad who will arguably provide sufficient ammunition to replace their talismanic frontman.
Falcao was the nation's top scorer in qualifying with nine goals, but five of those goals were scored against the CONMEBOL section's worst three performing teams - Peru, Bolivia and Paraguay - while two of his four other goals came from the penalty spot. That is not to undervalue his contribution, he played an important role throughout the campaign, helping Colombia to second place behind Argentina, but after a debut season in France in which he struggled to settle, it could be a blessing in disguise that an extra attacking spot was made available in the Colombia squad.
Colombia head coach José Pékerman has named five forwards in his final 23-man squad, with Adrián Ramos, Carlos Bacca, Jackson Martinez and Victor Ibarbo set to deputise for Teofilo Gutierrez up front. Gutierrez is expected to remain Pékerman's first choice for the number 9 shirt, and with 6 goals in qualifying despite having to share the striker spot with Falcao, he will still carry a great threat this summer. Having recently scored the goals to win River Plate the title in Argentina, Gutierrez is the most experienced of the available forward options and he is likely provide the firepower in Brazil.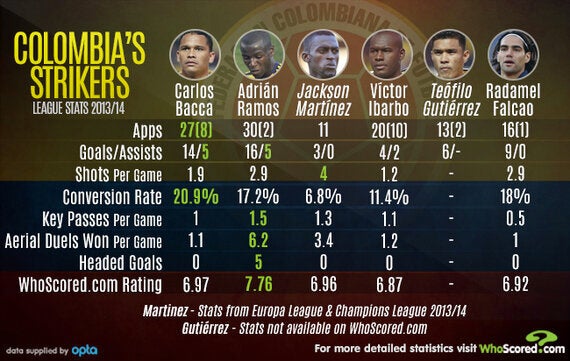 However, Pékerman's decision arguably shouldn't be that simple. Ramos has just completed an exemplary season at Hertha Berlin, for which his reward was a move to Borussia Dortmund as Robert Lewandowski's replacement. He was the fourth highest goalscorer in the Bundesliga with 16 goals, while the 6.2 aerial duels he won average per game was the 5th most in Europe's top five leagues.
Falcao is famed for his ability in the air - his average of one aerial duel won per game this season will largely be a result of Monaco's style of play rather than any lack of aerial prowess - but Ramos still provides a greater such threat. Falcao failed to net a single headed goal in Ligue one this season while Ramos scored five. Only six players across Europe's top five leagues scored more. With 2.6 dribbles and 1.5 key passes per game, Ramos is an all-rounder who could fill the lone striker role for the Tricolour in the summer.
Carlos Bacca helped Sevilla to Europa League glory and an impressive fifth place finish in La Liga, scoring 18 goals across the two competitions, with his 20.9% conversion rate ranking him 22nd of the 117 players to score 10+ goals in the top 5 European leagues. Put into context, that's better than the likes of Sergio Agüero, Robin van Persie and Lionel Messi could manage. However, having completed, on average, just 10.2 passes per game last season, it does seem there is a link-up aspect lacking from his game that others can offer.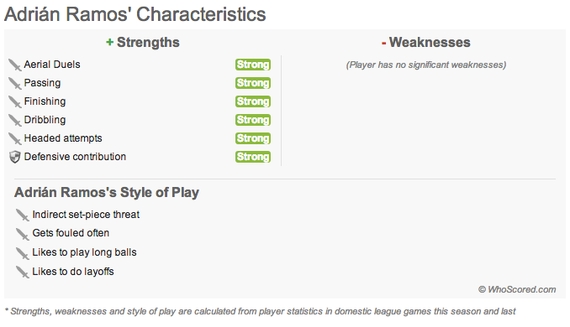 Ibarbo enjoyed far from as prolific a season as the likes of Bacca or Ramos, scoring just four goals in 30 league appearances, but he is versatile, able to play through the middle or out wide. Lightning-quick and a strong, powerful runner, he will provide a different option for Pékerman and could certainly worry opposition defences with his dribbling ability; he beat an opponent every 27.7 minutes last season - eighth most often of Serie A players to make 20 or more appearances.
Jackson Martinez, meanwhile, is another quick forward at Colombia's disposal, and having top-scored in Portugal's Liga Sagres last season - with 20 goals in 30 appearances - he comes to the tournament in form. Nonetheless, just three goals from 44 shots (6.8% conversion rate) in 11 European appearances this season hints at a wastefulness that is not quite what a Falcao replacement should offer.
Aside from these forwards, Colombia too have wingers that can hurt opponents. James Rodríguez and Juan Guillermo Cuadrado are likely to flank a lone front man, both extremely dangerous running at defenders and capable of putting balls into the box for any one (or more) of the strikers to profit from. Rodríguez attained the second highest rating (7.41) of attacking players in Ligue one last season behind Ibrahimovic, picking up more assists (12) than any other player, while Cuadrado was the highest rated of all players in Serie A last term (7.69), with 11 goals, five assists and an average of 3.7 successful dribbles per game, which was by some distance the most in the Italian top tier.
The Colombian attack retains vast quality ahead of the World Cup, even if their star, who carried much of their hopes before his injury, is going to miss the competition. FIFA's rankings are rightly much-criticised for their inaccuracy, but Colombia are not 8th in the world by mere coincidence, and they are also not there purely through the work of Falcao. They remain a significant attacking force that can still be relied upon to do serious damage in Brazil this summer.
How do you think Colombia will fare in Brazil? Let us know in the comments below.