No one can possibly doubt the attacking quality that Manchester United now have at their disposal. With each of the three goals they scored at the King Power Stadium on Sunday afternoon, a quartet of Robin van Persie, Falcao, Wayne Rooney and Ángel Di María wheeled away to celebrate together. Meanwhile at the other end, with each of the five goals they conceded the rather less reliable likes of Tyler Blackett, Chris Smalling and Rafael looked on in bemusement. That those attacking players, plus Juan Mata and others in reserve, have that kind of backup behind them is completely inexplicable.
The recent history of Manchester United makes very little sense indeed. Nemanja Vidic and Rio Ferdinand had been the club's best two central defenders for nigh-on a decade, but their respective declines have been obvious for a long time now. Vidic's end-of-season departure to Inter Milan was announced in February, and the club presumably knew long before they told the world about it that they would not be renewing Ferdinand's contract.
So, one can only assume, given the profile of the club, the players in question and the sheer magnitude of the changes being made, that the club's hierarchy will have known at least a few months before the end of the season that replacements were a necessity. There is the fact that uncertainty surrounded the managerial position, but even by mid-May, when Louis van Gaal's appointment had been announced, that still leaves three months to buy one, or preferably two, new centre-backs. Instead, the club were found panic-buying centre-forwards and attacking midfielders at the very close of the transfer window.
There is an argument to say that Van Gaal might have been satisfied with Smalling, Phil Jones and Jonny Evans at centre-back prior to the season and that, after pre-season at the club, he had seen something in Tyler Blackett that convinced him that the youngster was ready to make the step up. Blackett is undoubtedly a talented footballer. Nobody comes through the ranks at United and represents England at Under-16 level all the way through to the Under-21s without plenty of people in the know agreeing on his worth. However with hindsight, after this start to the season, the fact that Van Gaal has indeed seen fit to put so much trust in those centre-back reflects awfully on such an experienced manager's judgement.
Marcos Rojo was brought in after a half decent World Cup showing as cover in the centre but primarily as a left-back with the Dutch manager doubting the fitness of £30m Luke Shaw. Six years his senior, Rojo adds relative experience to the team's defence, but with the score at 3-3 in the Midlands on Sunday and United wobbling, the Argentine showed a huge lack of experience to land his team in trouble.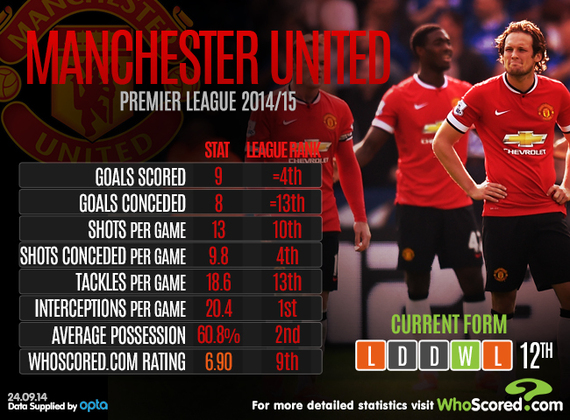 As United pushed forwards again and Leicester tried to find their way off the edge of their own box, Rojo received the ball from Mata not far inside their opponent's half. With Leicester players in close attendance, when Rojo played the ball back to Mata, he would have been better served dropping off and giving the Spaniard the option of a safe ball back to a teammate. Instead, Rojo charged up the pitch on the underlap, not only closing down the space available to Mata but effectively reducing his options to one. He simply had to take a touch to control the ball before looking for his next move. Ritchie de Laet sensed the opportunity, stole in as Mata tried to bring the ball under contol and released Jamie Vardy to make it 4-3.
Minutes later, Vardy broke away from Blackett, who could not recover his position and ended up bringing the striker down. He was duly delivered his marching orders, to give him the 6th worst WhoScored rating (5.14) for an outfielder in a Premier League match this season, and in the process - after Evans had earlier limped off - further depleted a United backline that is looking so worryingly threadbare that it is rather unforgivable.
Van Gaal may well be glad of the night off this week with no Capital One Cup obligations after he endured one of the club's most embarrassing nights in recent history when they lost 4-0 at League 1 MK Dons, while the prospect of facing a West Ham side, confident after seeing off Liverpool, won't be the nicest one. He faces the very real prospect of entering that match with Smalling and Rojo his only available centre-backs.
West Ham beat Liverpool last weekend with strikers willing to run the channels and look for balls in behind the full-backs. Leicester did the same against United and it worked astoundingly well. If West Ham put in a similar performance this week, Van Gaal's defenders could be in for another long afternoon.
Meanwhile, in midfield, Daley Blind has looked a fantastic signing in his two appearances so far. Deployed at the base of midfield, he breaks up and distributes it play. He does the simple things well, as so many enthused after his debut against QPR. He completed 96% of his passes that day and made two tackles, two interceptions and two clearances.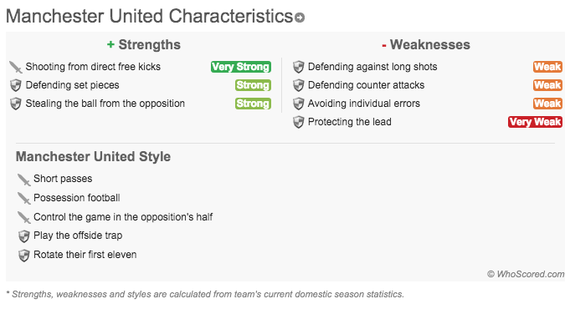 Although he is there to do those jobs and does them well, it is cause for concern just how much work he had to at Leicester. He was required to make a total of three tackles, eight interceptions and six clearances as he - largely alone - battled to keep a frail defence protected. Ander Herrera is United's next-most defensive midfielder, yet he spent much of his time high up the pitch, scoring a goal and completing the second-most final third passes in the whole match (19), behind only Wayne Rooney (21). Rooney himself recognised these problems and sought to work back to help out, but that only resulted in his giving the ball away for Esteban Cambiasso's equalising goal.
United's statistically calculated characteristics from their games this season sum up perfectly the problems Van Gaal's team have. They keep the ball well in barely threatening positions (60.8% possession but only 13 shots per game); they struggle against counter attacks (see Vardy's goal on Sunday); they make unnecessary mistakes (only Everton have made more errors leading to an opposition chance in the Premier League this season than United). All this reeks of a team haphazardly thrown together and trying to maintain cohesion as a whole when their parts are all pulling in different directions.
There are plenty of times in football when the opinions of the masses are far from correct. In this case, however, the widely held view that United should have prioritised defensive reinforcements - more or less all summer - rather than chase galactico-style, late, panic-driven signings to appease increasingly displeased fans, was indeed the right one.
Last season United had an underperforming attack with some world class players but that wasn't enough to fire them to success. After their lavish summer spending this year, however, they have such quality that even if their players do not play to their full potential they are still always going to be likely to score.
It is utterly bemusing, however, that the team still possesses such imbalance that they will - until serious changes are made - still be fully capable of being out-scored. By the time January comes around and yet more millions are dished out on the one area of the team most glaringly in need of strengthening, it could be too late.
All statistics courtesy of WhoScored.com, where you can find yet more stats, including live in-game data and unique player and team ratings.