The introduction of a winter break in England is a contentious issue, one that there is plenty of reason to support, particularly in a World Cup year, but the game's traditionalists will continue to argue that matches over the festive period should be retained for their entertainment value. Tradition is rarely sufficient enough a reason to keep hold of a pastime, though, and as other countries around Europe would attest, a month off mid-season can benefit players hugely when it comes to partaking in a major tournament later in the year.
Clubs fighting on up to four fronts throughout a campaign will need their key players regularly, and that can sometimes mean as many as 60 matches a season, so a break in the middle of that would undoubtedly be beneficial. England often blame fatigue for their players' poor performances following arduous seasons, citing the time off others have had as an unfair advantage.
Nonetheless, those in 38-team leagues ultimately face the same challenges regardless of a break over the winter, and tiredness is irrespectively an issue wherever the players have played their trade the previous year. When this summer's Brazil World Cup rolls around, Cristiano Ronaldo might not be able to take to the field, his recent thigh injury potentially set to rule him out of Portugal's curtain-raiser against Germany. Given his sheer quality and understandable necessity to both club and country, the Ballon d'Or winner is often made to play through the pain barrier and that can easily exacerbate injuries.
Ronaldo has made more appearances (181) in the top five European leagues, Champions League and Europa League since the South Africa World Cup than any other player bar goalkeepers Petr Cech (189) and Steve Mandanda (184). In goal, they will have a far less arduous time of things on the pitch, and while they both have the summer off this year, Mandanda only does due to injury. Ronaldo's stamina, too, is being tested to the limit.
On top of those appearances, Ronaldo has also contested 45 Copa del Rey games and another four Supercopa matches as well as international appearances, including games in November in which he almost single-handedly dragged Portugal through the playoffs to qualify for Brazil 2014. An average of 65 hours playing time in each of the last four seasons in league and European ties could take its toll on Ronaldo over the coming month, particularly given the reliance on him to perform in an otherwise rather underwhelming Portuguese squad.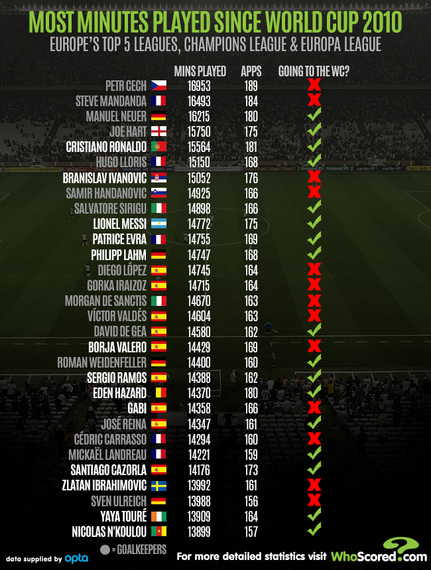 Branislav Ivanovic is next in the list of minutes played since the last World Cup by outfielders given Chelsea's great many cup runs over recent years, but he too has a summer off, while Lionel Messi is third despite missing a chunk of this season through injury.
Messi has seen his performances criticised this season, though he returned from a layoff still highly effective, even if he was not at his usual best in all aspects of his game. Having to play so much for Barcelona eventually side-lined Messi, but reinvigorated after time on the treatment table, Messi led the scoring charts in Europe's top five leagues in 2014 with 20 goals. Perhaps his winter layoff provided the rest he needed to avoid burnout at the World Cup, while Ronaldo has not been granted sufficient time off to fully recover and that is why injuries have build up at the end of the season.
Tireless full-back-made-midfielder Phillip Lahm has played 168 times and for 245 hours in the aforementioned competitions since the last World Cup, but the manner of his game suggests there is no chance of him running out of steam at the tournament in Brazil. Sergio Ramos barely misses a big game and will undoubtedly play every minute for Spain despite fatigue understandably being a real danger, having played 43 times in La Liga and Champions League this season alone.
A great deal of Belgium's hopes this summer lie on the shoulders of young Eden Hazard, whose end-of-season was hampered by a calf injury. Given that only three players in Cech, Mandanda and Ronaldo have made more appearances in Europe's top five leagues and European competition since the last World Cup than the diminutive Belgian (180), it is little surprise that the winger has finally succumbed to injury. In that time, he has missed only seven of a possible 152 league matches for Lille and Chelsea, and could really do with a summer's rest before what will surely be another testing season.
Burnout is a real issue with the rigours of the modern game, and a World Cup in Brazil provides no respite for the planet's best footballers. Even if many fans will point to the vast sums of money the players receive as ample compensation for their endeavours, there is little arguing that what is asked of them might just be too great to handle. Fantastic performances week-in week-out for a season is one thing; continuing to do so on the grandest of stages - a World Cup in Brazil - after four years of playing consistently is quite another.
Do you think fatigue and burnout are a real issue for these players this summer? Let us know in the comments below.
All statistics courtesy of http://www.whoscored.com where you can find yet more stats and player ratings.