Degas' Method opened on the 7th June 2013 at the Ny Carlsberg Glyptotek in Copenhagen, Denmark.
The paintings, drawings and sculptures of French Impressionist painter Edgar Degas, most famous for his ballet dancers, are loved the world over and have been written about and exhibited many times in many global cities.
Seen as a catalyst within the Impressionist movement Degas, although a part of the group differed from the other artists in many ways. Choosing to paint inside, alone and extensively studying old masters, he set himself apart.
For the most part the exhibitions, articles and books have covered aspects of his work yet, Degas' Method explores the artists' "method" and displays an overview of his work with the objective of trying to gain an insight into the working mind of this iconic artist. The exhibition includes a huge range of works.
'Degas' Method' employs a number of unique ways of showing the work as curator Line Clausen Pedersen uses a series of themes central to Degas' work to illustrate and explore the way he approached his art.
The exhibition is divided into sections that explore his positioning himself within the Impressionist movement, his dedication to draftsmanship and his relationship with his own extensive art collection giving the visitor a unique, intellectual insight into the workings of the artist.
Line Clausen Pedersen spoke to me as she was installing this adventurous and unique exhibition. I don't think I could say it better than she does, please find our interview below.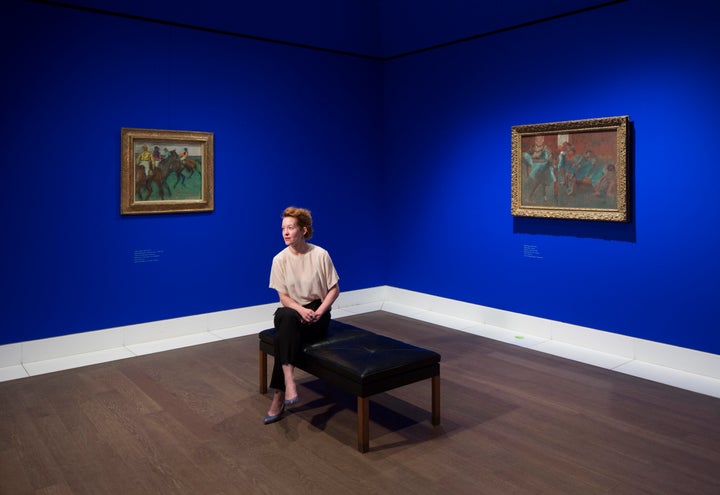 How did you become a curator? What made you chose it as a profession?
I didn't choose it. When I was studying I would spend a lot of time at exhibitions and would visit the same ones over and over again. I got a job in 2006 working as an assistant curator working on a show on Degas' landscapes, which was quite a positive experience and just one of those things where you think, "This is great, this is fun, this is interesting!" But I never dared to believe that it would be something I could just continue doing.
I had really great opportunities within that job and it took off from there, gradually. Although, it wasn't a choice like that... I'd say it was fortune.
Do you have a specific interest in impressionist and post impressionist work?
Yes, I do, and I did before working with it because as an art history student the era is key to our understanding of the history of art and of painting. It's such a compact era when so many things were happening at the same time that it just really.
It's tricky because it's the most challenging era to me, at least, you have tradition but you also have the future but they're kind of on the same page. It's an electric period.
How did the idea for "Degas' Method" come into existence?
This show came up as a kind of list or catalogue of the questions I was asking myself as I tried to understand Degas and his work. Asking myself, why is he so different and complex?
Studying his landscapes I looked at books about the landscapes but I wondered... Where do these sit among the all the other types of work he produced in his lifetime?
Could you tell me about the concept behind the show?
The show addresses Degas' production in order to examine the coherence between different types of works in his oeuvre. His graphic production, the painting, the pastels, the regular drawings and the sculpture, how did they interact?
I decided on some key themes and built the show around these. They are, I think the most obvious threads that run through his work. These are, Degas positioning himself in time, Degas and Process and Daftsmanship.
What was it like to work with a lifetime's worth of works in so many different media?
The first word that comes to mind is overwhelming because the production is really vast and so much is of a very high quality, which makes it hard to choose from but also makes it tremendously exciting really. The quality of his body of work is incredible.
I've had these questions that have I have had in my mind for quite some time and I think I have approached the Degas' Method through these themes rather than laying it all out in front of me and thinking, "what shall we put in?"
I was thinking of it the other way around, so thinking of questions would I like to answer and which works would clarify this in the best way.
What is your favourite work or group of works in the show and why?
Well, that's a really difficult question because it's all great, of course, but my favourite piece I think would be the room where you have the statue of the little dancer aged 14, at the centre of the room and surrounding her is a group of work which demonstrates his draftsmanship, where draftsmanship, caricature and realism are fused in order to show what Degas surrounded himself with.
The little dancer is an iconic work but she is also a fusion of all these influences.
So I'm thinking, having personal a background in print rooms that the draftmanship and caricature room is by far my favourite but it has also been the most challenging.
Is there anything you would have liked to include that you couldn't?
Yes, there was plenty because so much of his work is fragile especially the pastels don't really get to travel, so there was a lot of work that would have been great to include. But I am pretty pleased we managed to get the sixty works on top of the eight-four that we had in the museum because they are so fragile.