 Alamy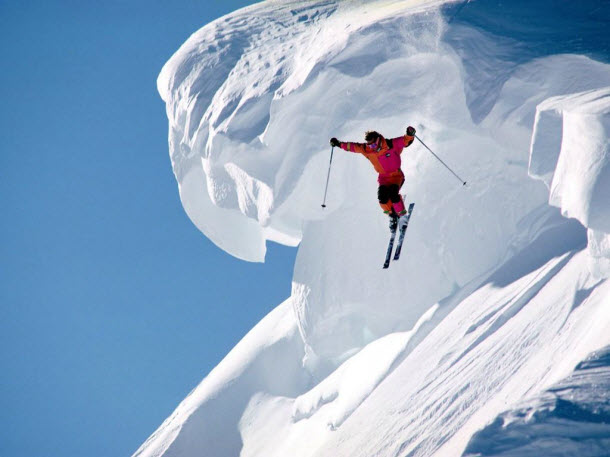 *Image from amazingezone.com
The Val d'Slere is one of the most well known skiing locations in the world with many of the slopes being used to host Winter Olympics and World Championships. This encourages those, who feel their skiing abilities are strong; to try out the many different areas of the Val d'Slere and the skiing experience it has on offer.
The Val d'Slere shares its ski area with the Tignes. The two combining has since become known as the Espace Killy and is believed to be the most beautiful ski area in the world.
There is much debate over which slopes in the region are the best, depending on personal preference and abilities. The five listed below are regularly mentioned in travel brochures, amongst competent skiers and in region reviews...
1. Bellevarde
Perfect for the advanced skier, the steep descents are strictly for confident and capable skiers. The slope has regularly been used to host World Championship events and was the setting for the 1992 Winter Olympics.
2. Grande Motte
The stunning views and fantastic snow makes this slope one of the most popular with good to professional capabilities. 2 million tourists flock to Val d'Slere every year and in particular this slope. The slope is on a glacier and is the perfect place to ski first thing in the mornings, as it is so quiet and peaceful. The breath taking views are the ideal way of starting your day skiing.
3. Le Fornet
Located close to the centre of Val d'Slere, the beautiful views are the reason this slope is included in the list. You are able to ski alongside a frozen river and take in the beauty of your surroundings. The slope is suitable for confident and intermediate skiers and is very popular with those trying to grow their skiing ability. The snow conditions are good all year round due to it being at a slightly higher altitude.
4. Le Solaise
A great way to see the whole area you will be skiing is to take a chairlift and the one at Le Solaise is ideal for this. Two of the pistes were used within the World Cup Skiing Championships and are ideal for good to intermediate skiers. Le Solaise is known for its bumps along the skiing route so its always best to be aware of these before attempting to ski the course.
5. La Daille
This slope has the best selection of cruising runs and is the best in the area to suit all abilities, from beginner to expert, all can happily ski this region. Another area that was used in competitive events, the world cup slopes and tougher runs are available for those who feel capable. Again, the views are spectacular.
Skiing in Val d'Slere can be an amazing experience for those with all skiing capabilities. The beautiful views, good snow coverage and large range of different courses makes it a popular choice amongst skiing enthusiasts.