Food.
It's always about food isn't it? For many of us, the appetite to travel seems to be fuelled on by what we can eat in that destination.
We hit the street hawkers in Asia for delicious finger-licking snacks; fire up the grill for some heavy-duty ribs in Texas, cheap and cheerful bratwursts in Germany, almost always paired by a regional stein of beer and then you have the endless dumplings: Chinese (jiaozi/wonton), Russian (pelmenis), Polish (perogis), Italian (ravioli)....
But you don't always travel for food, at least, not intentionally. Certainly not around England, where cuisine is never the first motivation for visiting.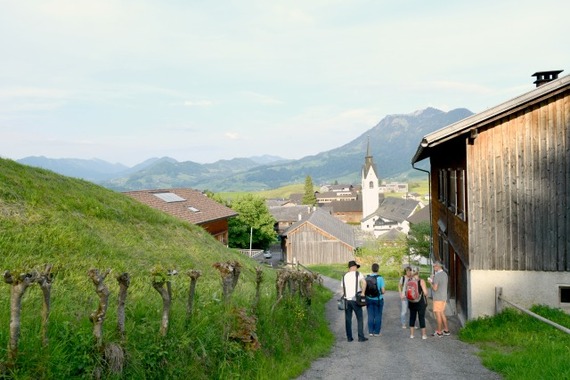 So when I recently visited Vorarlberg, the westernmost state of Austria that borders Germany, Switzerland and Lichtenstein, I had no idea I would be in for a foodies' retreat.
In fact, this might be the most delicious destination in Austria.
Traditional organic farmlands and quality local produce
"Bregenzerwald is all bio," says our guide Helga, a born and bred Bregenderwalder, advised us as she led us through the valley villages, taking spots to admire the fertile pastures and traditional farm houses. "And our food is delicious."
Bio means organic, and this fact is evident in the strong scent of manure in the air. On arrival, the smell came as a surprise but the longer we lingered, the less offensive it became.
Bregenzerwald is a valley in the Vorarlberg state, and those who live and work here are very proud of their farming traditions and local produce.
Here, almost everything stays local. Local businesses use and sell local produce. Small independent deli stores such as Metzler Käse-Molke in Egg, stocks up the finest of its farm and the regions produce, from dairy products, meats, honey, jams and sauces. Those who enjoy good old traditional dried and cured meats should visit LaWurscht in Hittisau, with products made from the owner's farm Langenegg, specialising in ethical and respectable farming practices.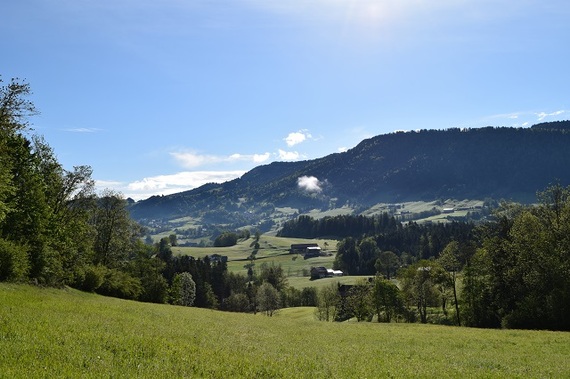 The Alpine cheese is the hero of the Bregenzerwald valley
Then there's the matter of cheese. Or should I say, cheeses, for Bregenzerwald produces 20-30 kinds of cheese! And no visit to Bregenzerwald should be without at least trying the prized alpine cheese.
The alpine cheese is made from silo-free milk, giving it an extra creamy texture. 3000 tons of alpine cheese are produced in the valley each year, and are sought after by Austrians in the know.
Helga tells us that if she ever leaves the valley to visit family and friends outside Austria, there's ever only one thing she has on her gifts shopping list.
"I always have to bring at least a few kilos of the local alpine cheese," she laughs. "If I forget to bring any, I am not allowed through the door!"
The cheese is so well regarded that it was used to award winners of an architecture competition. The team who won first prize was awarded three barrels of cheese. Lucky them.
Bregenzerwald has plenty of independent boutique hotels with culinary offers
This part of Austria is a treasure for independent boutique businesses. Not just the food deli, but hotels are family run, with their exterior and interior designed with the spirit of the valley in mind.
And it is in these hotels I had some of the best meals of my life!
"Most of the time, we don't think about eating in hotel restaurants when we travel," says Astrid Mulholland-Licht of Austria Tourism. We are sitting in the cosy dining room of Gasthof Hirschen in the village of Schwarzenberg and I nod and smile in reply, mouth filled with a forkful of duck breast with apple and celery cream. The hotel's walls are plastered with stars and awards, just goes to show how serious and competitive they can get among the different accommodations in the valley.
Hotels in rural Austria often offer full or half board tariffs and you'd be silly not to take the package here in Bregenzerwald. Menus change each day depending on the availability of ingredients, which means we got to taste a bit of everything that makes Bregenzerwald the gourmet destination of Austria, not to mention the excellent wine list, featuring local wines from in or around the region to pair with the ever changing menu.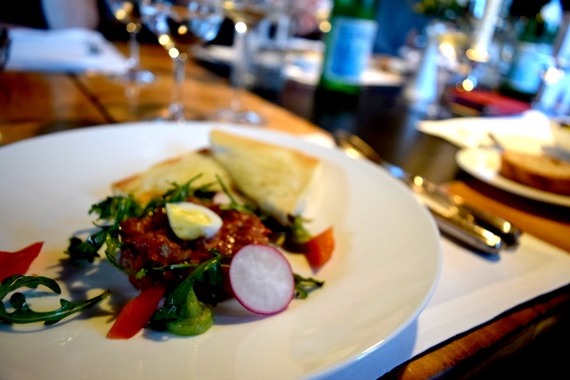 Culinary hikes takes away all your calorie worries
Imagine spending a whole day sampling delicious local cuisine without having to worry just how many calories you are putting on?
In Bregenzerwald, this is certainly possible with a culinary hike!
Several itinerary packages of this self-guided hike around the mountains and valley of this beautiful region can be purchased from the local tourism office in the village of Egg, each include the hiking route as well as meals or snacks in local restaurants and cafes along the way.
You could be breakfasting among panoramic views that goes as far as Lake Constance, lunch in a traditional mountain hut to try a dish made with the alpine cheese and have cake and coffee back on the ground to finish off the hike.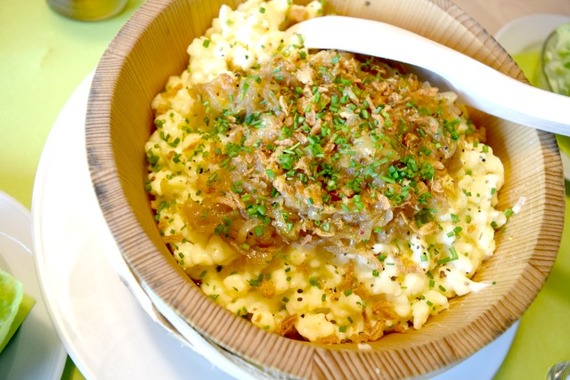 Doesn't it all sound deliciously tempting? Time to visit Bregenzerwald the next time you are in Austria!
For more information visit:
www.bregenzerwald.at
www.vorarlberg.travel
This post has been published on HuffPost's blogging platform. The views and opinions expressed in this blog are those of the author and should not be taken as those of HuffPost. HuffPost does not allow bloggers to acquire products, access or accommodation for review in the site's name.
All images by Amy McPherson