Yesterday here in Cologne, Activision and Sledgehammer Games revealed multiplayer for Call of Duty Advanced Warfare.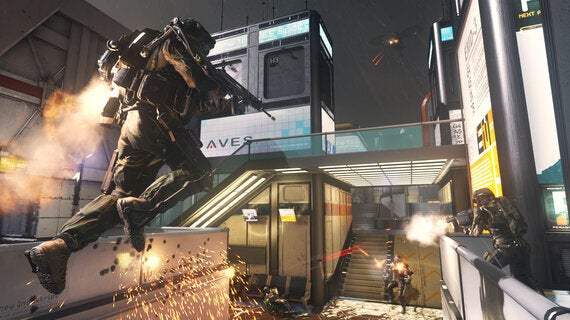 Multiplayer has always been a major selling point for any Call of Duty game, but this year they have really pulled out all the stops to make it the biggest and best they have ever done.
As the game is set in the future, you won't be surprised that you have some pretty futuristic gadgets and weaponry at your disposal, although Sledgehammer Games said that all the technology in the game is at least being thought about in real-life today.
The main addition to your solider is the Exoskeleton, or Exo which gives you the ability to perform some outstanding manoeuvres including dodge, slide, slam, dash and boost, the latter enabling you to jump, which brings a whole new verticality element to the maps.
It doesn't stop there though as your Exo also has various abilities including hover, shield and cloak, along with a launcher for firing off grenades and other ordinance.
Call of Duty wouldn't be Call of Duty without weapons, and each weapon in the game has 10 customisations, which out of the box gives around 350 combinations. And of course, being set in the future means that you have some pretty high-tech weapons, including some directed energy weapons which are really fun to use!
One great addition year is the Virtual Firing Range. This gives players the chance to quickly test out any weapon in any configuration before they actually play, enabling them to easily tweak their load out before jumping into a match.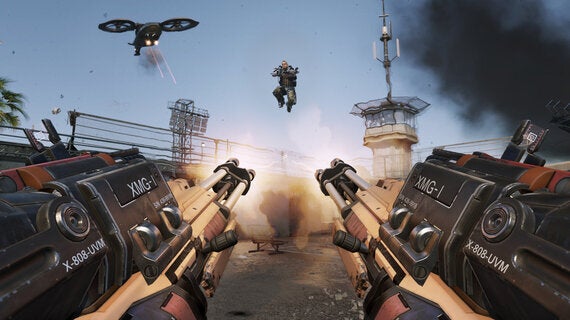 Customisation is key in Call of Duty Advanced Warfare, and this year sees the return of Pick 10 from Call of Duty Black Ops 2, although this time its called Pick 13. This enables the player to create their own class with 13 slots to use for weapons, add-ons, perks, score streaks and more. Everything comes at a price though so choose yours wisely. You can also customise everything about your soldier with the create-an-operator feature, changing anything you like from googles, to boots, to uniform, and yes, you can have either a male or female soldier. You can also visit the virtual lobby to take a look at your creation, even look at everyone else.
During the reveal, four brand new maps were shown off. These maps are Biolab, a snow covered map set in Monument Valley, Riot which is set in an abandoned prison in Bagdad, Ascend, which is set in a space elevator terminal and Defender, which is set by the Golden Gate Bridge in San Francisco with the added element of a tsunami that rolls in during the game and changes up the map. There are more maps still yet to be revealed too!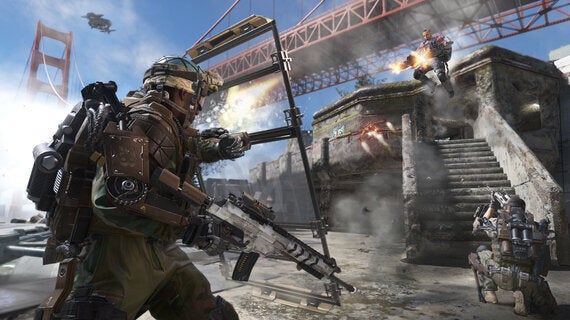 Some favourite game modes also make a return, including Capture the Flag, Hardpoint and Search and Destroy, although they all have a special Advanced Warfare twist. There are also two new modes called Momentum and Uplink. In Uplink, players need to find and grab a downed satellite and run around the map throwing it through an uplink to score a point. You can throw the satellite to a team mate, or even at the enemy, who will drop their weapon enabling you to kill them before retrieving the satellite.
Here is around 9 minutes of gameplay footage, including some of the customisation, and a look at the Uplink, Biolab and Riot maps.
Overall there was a lot of new features revealed yesterday, and with the promise of even more to come I am certainly excited! Having played on the new maps for a few hours after the reveal, Call of Duty Advanced Warfare looks like being the next generation first person shooter to own!