The Call of Duty Ghosts Ear Force Phantom is a limited edition, premium wireless Dolby surround sound headset from Turtle Beach with a programmable dual-stage audio processor and I went ears-on with it.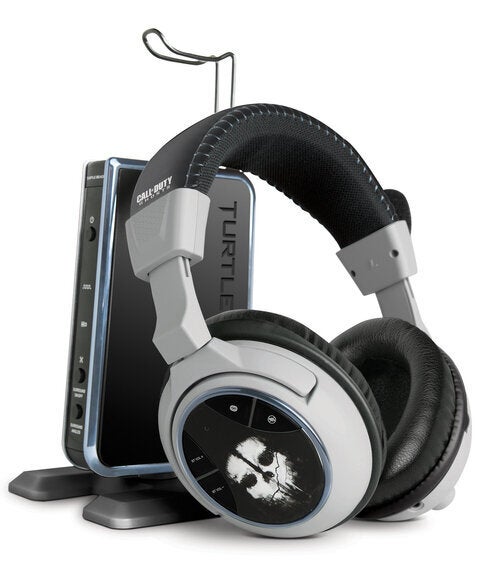 This is how Turtle Beach describe the range:
The ultimate accessory for franchise fans, the new headsets will feature Call of Duty: Ghosts branding, premium finishes and bonus content developed in collaboration with the game's developers, including voice prompts and audio presets. The limited edition headsets feature a black leather headband with blue stitching, bone-coloured body, and the distinctive The Call of Duty: Ghosts mask graphic on the speaker plates. As part of the agreement, Turtle Beach will also create Call of Duty co-branded headsets and related accessories.
And this is how they describe the Phantom:
Strike fear in the hearts of your enemies with the Call of Duty Ghosts Ear Force Phantom Limited Edition Gaming Headset. Armed with interference-free, Dual-Band Wi-Fi Wireless and a powerful, programmable Dual-Stage Audio Processor for immersive Dolby Digital Surround Sound. With up to 15 hours of continuous play from the rechargeable battery, you'll play longer and rise to the top of the leaderboards even faster.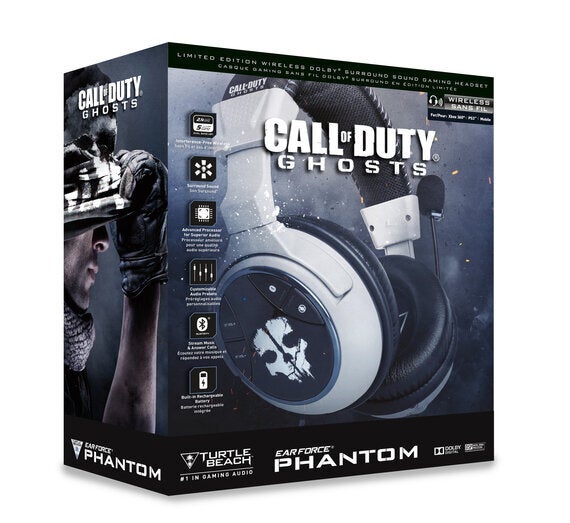 The first thing I noticed when opening the box was the quality of the packaging and just how well packaged it was - this may not seem like a big deal to some, but it shows that Turtle Beach are making the effort, even when most people are likely to just dispose of the packaging once the headset is set up!
The headset and the transmitter are all branded Call of Duty: Ghosts which is what makes this a limited edition set.
Connecting the headset and the transmitter to whichever console or device you want to use it in was very simple and only took a few moments. There is a quick start guide that shows you all the steps depending on your console, which saves a lot of time, however there was a slight mistake on the PS3 instructions on one of the steps, but it doesn't take long to figure out what to do, and its on the PS3 setup menu rather than on the hardware, so I soon sorted it.
All the cables you could possibly need are included in the box, so just set everything up as you want and get ready to play.
When I first took the headset out of the box I wanted to jump straight in and use them - and that's when I noticed the battery was built in to the headset. At first I thought I would have to wait a few hours while the headset charged, but I was pleasantly surprised to find the headset pre-charged and ready to use - very smart move there on the part of Turtle Beach. When you do need to charge them it just a case of connected them via USB. Battery wise Turtle Beach say up to 15 hours of use, and I have to say they are pretty spot on with that time!
When you press the power button on the side of the headset you hear a voice telling you the headset is "powering on" and also one for "powering off".
The transmitter itself doesn't have a separate power supply, it is powered by one of the USB ports on the console you are connecting to, so while you will use a USB port, you won't need to run around trying to find yet another power socket to use. Again, it's the little things that really make a difference.
The headset itself is lightweight and very comfortable to wear - the headband is both padded and made of a breathable material to help if you get too sweaty, and the ear cups are both padded and large enough to fit round most ears.
The boom mic isn't attached straight out of the box - attaching it is as simple as just pushing it into the mic port on the headset. It is also moveable so that you can get it into a perfect position for you. I found it more comfortable to just remove the mic when I was playing games that didn't require me to speak.
The quality of the mic is extremely good, and I found that my voice was being heard loud and clear. One thing I really liked was when the game became noisier, for example in the middle of a raging gun battle, the chat volume was increased automatically.
The sound quality is fantastic, especially when combined with some of the modes and presets. I have also tried various wireless headsets in the past with a varying degree of success, usually because of interference, but in the case of these I had no problems at all - this is due to dual-band wireless scanning for clear channels.
There are even options for enabling surround sound and different surround angles to make your experience even more immersive.
There are three different modes that are enabled by pressing the mode button on the headset. These modes are Game mode, which is optimised for competitive gameplay, Movie mode and Music mode, both of which speak for themselves. Changing the mode depending on what you are you listening to really makes a difference.
As well as the three different modes, there are also different presets. The first set of presets are for Games, and these presets include bass boost, action enhancers (which amplify intense sounds from weapons and explosions) and even a preset called Footstep Focus which focuses on the sound of enemy footsteps approaching. Each person will have a different preset they prefer depending on what they are playing and there own individual play style, and again changing a preset is as simple as pressing a button on the headset.
The other set of presets are focussed on Chat, with settings that include amplifying voice chat and various voice changing and morphing options.
The presets reference guide also mentions downloading Call of Duty: Ghosts presets and using tools to customise your own presets, but at the time of review, these were not yet available, but they will be when both the headset and Ghosts are released.
If you want the best wireless headset around, and if you are a Call of Duty fan and want that edge over other players, then you should seriously consider adding The Call of Duty Ghosts Ear Force Phantom headset to your arsenal.
Popular in the Community