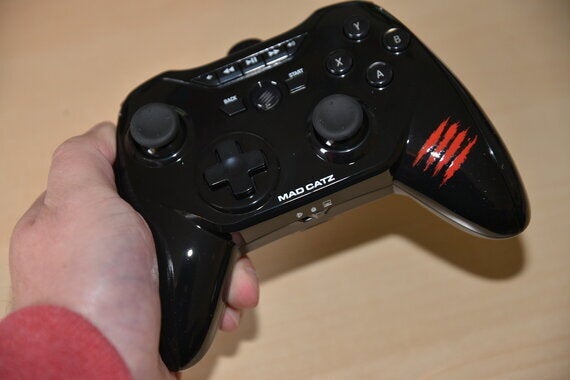 Mad Catz' C.T.R.L.R Mobile Gamepad with Bluetooth technology removes the need for fingers and thumbs to block your touchscreen during mobile gaming. A highly capable game controller at home and also while on the move, C.T.R.L.R provides traditional gamepad controls with physical action and shoulder buttons, D-Pad, and analogue sticks. When paired with Mad Catz' downloadable configuration app, you can adjust profiles and settings to customize C.T.R.L.R for an expansive list of controller-compatible videogames. And, the included AAA batteries provide energy for up to 40 hours of continuous control over your favourite games, apps, and media.
The first thing you will notice about the C.T.R.L.R gamepad is that it looks very similar to an Xbox 360 controller. Gamers should immediately feel at home holding it, as it feels nice and robust in your hands.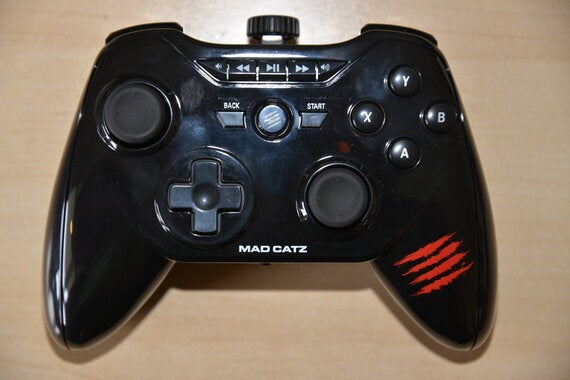 The C.T.R.L.R has three separate modes which are selected via a switch. These include a "mouse mode" which enables the left stick to control the cursor on the screen, as though it were a mouse. There are also media playback controls situated on the top of the C.T.R.L.R which include play, pause and mute.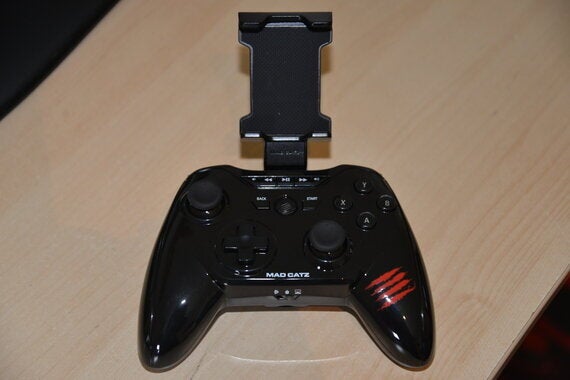 There is also a travel clip included in the box which enables you to connect up your smartphone to the C.T.R.L.R so that you can pretty much play games wherever you want.
I liked the feel of the C.T.R.L.R - it really did remind me in both look and feel of the Xbox 360 controller, but with more functionality.
And the inclusion of the travel clip means that you a device such as a smartphone and thus create your own little gaming rig. Of course you don't have to do that, you can always connect the C.T.R.L.R via Bluetooth to whatever you want to use for gaming.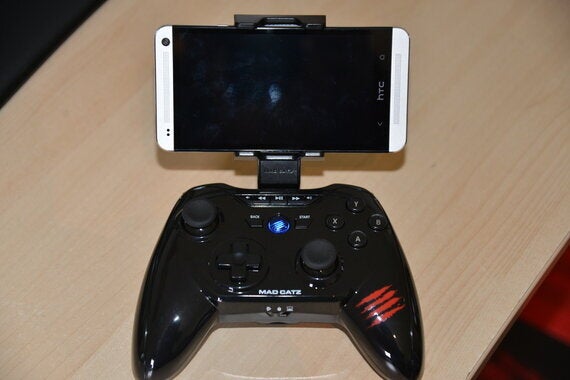 It also uses Bluetooth 4.0 technology to ensure lag free gaming, and believe me the last thing you want if you are playing a game is lag! And talking of Bluetooth, pairing the C.T.R.L.R was simple and incredibly fast.
You also get around 40 hours of playtime out of a single set of AA batteries, so that's really good too, although it would have been better to have included a rechargeable battery instead. Talking of batteries, there is no visible way to know when the batteries are running low so that can be a little annoying if you are in the middle of a game.
MadCatz are currently listing the C.T.R.L.R as £33.33 on their website - so if you play mobile games and want a decent controller, go get this one today.