You may be asking why would we review a pen? Well, before iPads, and Ultrabooks, those of us old enough to remember such things used to use something called a pen to use with our notebooks. In fact, you could say that was the ultimate bit of technology then, and now Parker has taken that to the next level with their new Ingenuity Pen.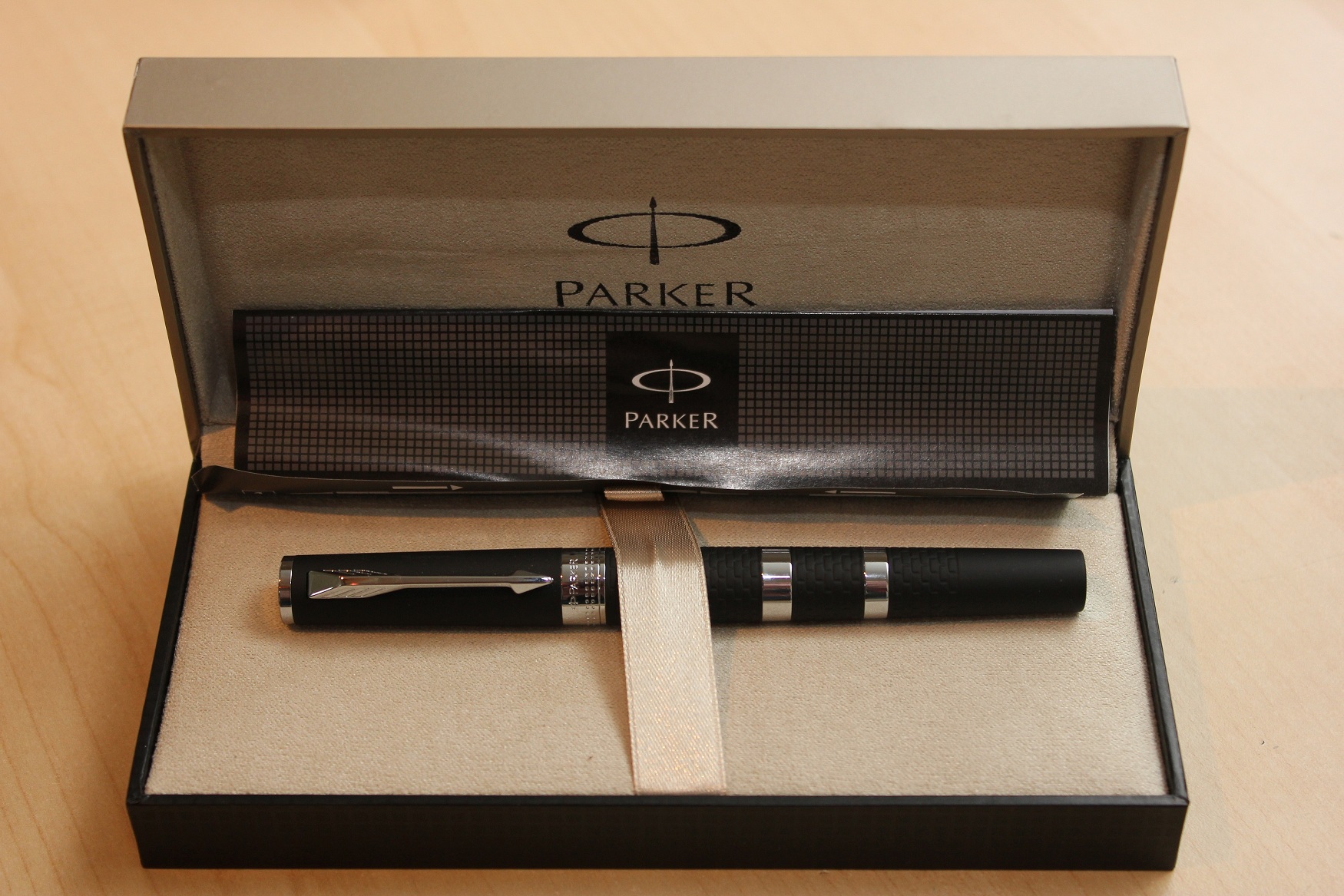 The Parker Ingenuity collection was created for exclusive use Parker 5th Technology.
This is what Parker say about the 5th Technology:
An innovative new writing system from Parker is set to revolutionise how we feel about writing. The innovation consists of a cutting-edge refill tip and an engraved metallic hood - together they constitute Parker 5TH Technology, the next generation in pens.

The Parker 5TH Technology - so named as it offers a genuine fifth way of writing, following decades of fine writing being led by the fountain pen, ball point, roller ball and the mechanical pencil - was born out of extensive research into consumers' needs. Today PARKER presents a single pen that answers these expectations combining ease, a soft writing feel and a stylish, high-end design. This new innovation provides an unparalleled writing experience producing pleasurable and beautiful penmanship while being the perfect pen that can travel with you anywhere.
Highlights
• A Smart Glide Tip rapidly adjusts to your personal writing style after writing just a few words
• A simple and clean refill process
• The Ink is designed to produce an intense, clear rendering and prevent hand-smudging on the page
• The Parker 5th refill design eliminates pressure, impact and temperature-induced ink leaks
• Refill tip is design to maximise cap-off time
• Available in Fine or Medium size and in Black or Blue ink
What's in the box?
The gift box is very elegant and when you lift the lid you find the pen sitting firmly in place waiting for you to pick it up and start using it.
Along with the pen is the initial refill (the pen ships with a dummy refill in place) and some paperwork.
Final Thoughts
There are two different collections as part of the Ingenuity range - the Daring collection and the Classic collection, and both of these come in either Large or Slim models.
The main difference between the Daring and Classic collections is the Daring collection has a mix of metal and texturized soft-touch rubber finishes.
For this review we had a pen from the Large Daring collection.
Ever since I was young I have loved Parker pens. My first Parker pen originally belonged to my Granddad and I used it all the time. Over the years I have had different ones and I have found that the more technology I use, the less I actually need to use a pen, and so at some point I just stopped caring about what type of pen I had and used.
When I first saw the Ingenuity pen, my first thought was "wow - that looks very nice". It looks very stylish and I wanted to try one.
When I was given the opportunity to review one I jumped at the chance.
The first thing I noticed when I first picked up the pen was that it was quite chunky (remember I was sent the Large one) and that it felt quite heavy. Not so heavy that it wouldn't be useable, just heavier than the throw-away pens I had been using for a while. After using it for a little while I didn't even notice the weight anymore.
The pen is beautiful, and when you first take off the top you would think it's a fountain pen, which of course it isn't.
One of the highlights of the pen is the simple and clean refill process, and it sure is easy! Just unscrew the bottom of the pen, remove the empty refill, pop in the new one and screw up the pen again - just like that and all over in a few seconds.
The biggest question you are probably asking yourself is "how does it write?". Well it writes beautifully. It took a little while to get used to writing with it, but once I did it felt like I had been using it forever.
I felt that it glided almost effortlessly across the paper, and it really did adapt to my writing style!
The ink also dried very quickly on the page and I didn't have any real smudge problems, which was a major plus point!
Price wise, the Daring Collection retails for £135 and the Classic Collection for £115. The Parker 5TH refill, size Fine or Medium, Black or Blue Ink retails for £5.50. Obviously this isn't a cheap pen, but you are paying for the quality and the name, and it is worth it, although I can imagine that a lot of people will be put off by that price.
It also has a two year warranty, which is good. Although the pen is so nice you might not want to take it anywhere with you for fear of losing it!
So if you are looking for a luxury pen that looks like a fountain pen but has all the practicality and ease of a normal pen, then you should really take a close look at the Ingenuity range.
As Parker puts it "The new generation won't have to choose between ease and design - now they can have both" and that is certainly the case.
Personally I love it and find it strange writing with any other pen now!
via: UWHS