Ubisoft recently took me to Paris to take a look at Assassin's Creed Unity - in this interview I talk to Andree-Anne Boisvert and learn more about the companion app.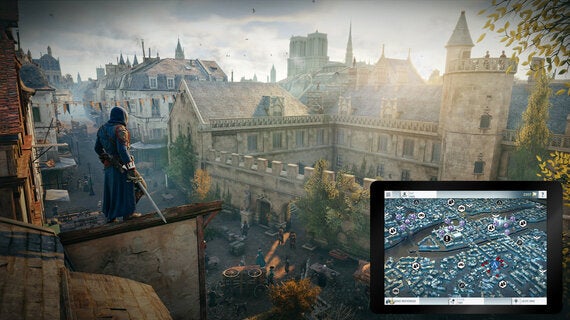 Paris, 1789. The French Revolution turns a once-magnificent city into a place of terror and chaos. Its cobblestoned streets run red with the blood of commoners who dare to rise up against an oppressive aristocracy. Yet as the nation tears itself apart, a young man named Arno will embark upon an extraordinary journey to expose the true powers behind the Revolution. His pursuit will throw him into the middle of a ruthless struggle for the fate of a nation, and transform him into a true Master Assassin.
Andree-Anne Boisvert currently works as an Associate Producer at Ubisoft. She fell in love with video games as a teenager, right after learning Epona's song.
After completing her master's degree in computer science, she worked in various production roles on social and mobile games. Her game credits include a wide range of titles from the Petz & Raving Rabbids series, to some of the Assassin's Creed titles (Brotherhood, Black Flag and Unity) and Prince of Persia.
For the last 2 years, she's been making the console / mobile boundaries disappear by shipping meaningful companion app experiences for the console games players.
Andree-Anne's goal is to offer the most immersive experience to Assassin's Creed Unity players while using their mobile device.
Assassin's Creed Unity will be released November 13th for Xbox One, PlayStation 4 and PC.