Prodigy is quite a strong word, and it's not a term that should be too readily thrown about, but it's hard not to look at Joseph Larkowsky without the word popping into your head.
At the ripe old age of 20 Joseph's illustrations have graced high street stores (he's just finished creating images for River Island's current collection, which are now also gracing the pages of vogue.com), and he's now sketching up a storm for an upcoming William Tempest campaign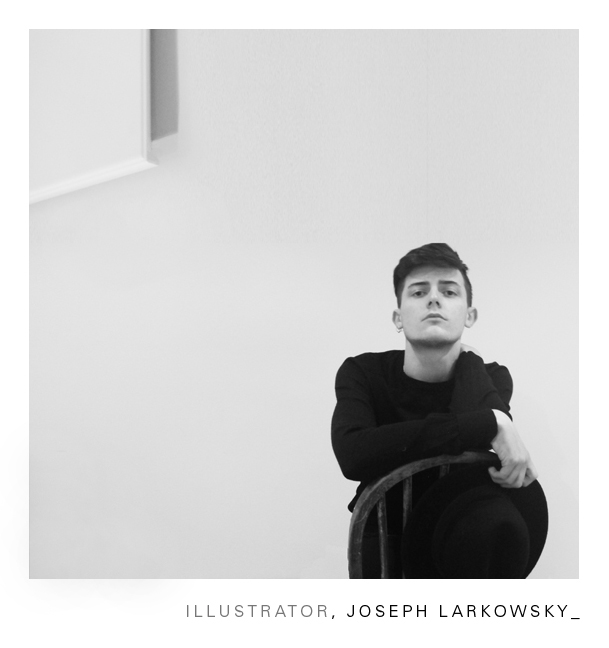 His most prestigious commission to date is one that illustrators young and old would've killed for - the brief to illustrate Drapers 125th Anniversary edition, and the limited-run book that went out to a lucky few who attended the celebratory party at London's prestigious Langham hotel earlier in the year.
It's not bad work for someone who's only just finished their first year at the London College of Fashion.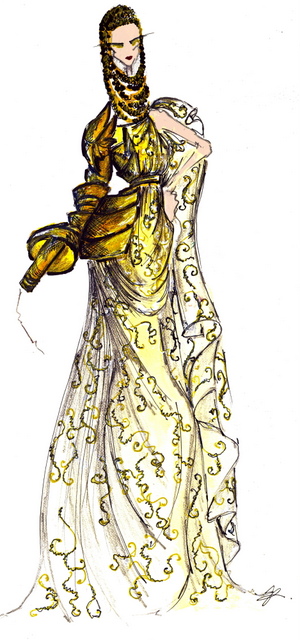 Dior Couture Fall 2006
"I like pretty things", he says, when we talk about his artistic inspiration. This in itself isn't a groundbreaking statement, but he expounds upon this. What makes a great drawing, from a fashion illustrator's point of view, is great shape: "Any gown can make a great drawing, but what I like to see is embroidery and lace - a lot of material."
This doesn't mean that, for illustrative purposes, more is always more. There's a fine line between having too just the right amount of detail, and having too much. Lagerfeld, for example, creates work that has: "Just too much stuff." There's a converse to this too.
"A lot of my illustrations rely on the gown's embroidery to bring them to life", says Joe. "Something too minimal tends to look dull, and it doesn't excite me. I want to be excited when I draw." Calvin Klein's work is exemplar of this. His gowns are about shape more than accouterments, and it's hard to convey plain fabrics using pens and pencils. The illustrations are artwork in them; and it's difficult to make them into great pieces in their own right if the subject matter lacks detail.
Joseph's honest enough to admit that a CDG dress should probably be photographed rather than illustrated, as opposed to an Ely Saab creation which has the techniques and materials that allow him to convey the textures on paper.
There aren't many illustrators who take Joseph's approach to illustration: "I'm garment first, body second. My girls all look the same."
He doesn't draw the face, and the hair is minimal at best. Rather than creating illustrations that celebrate the garment being worn, Joseph's drawings celebrate the garment at it's most fundamental, as a piece of art for art's sake, as opposed to being a beautiful, yet essentially functional, object.
"A Galliano gown looks amazing on Kate Moss or on the wall, but if you draw Kate Moss wearing it then the drawing becomes about Kate Moss rather than the gown."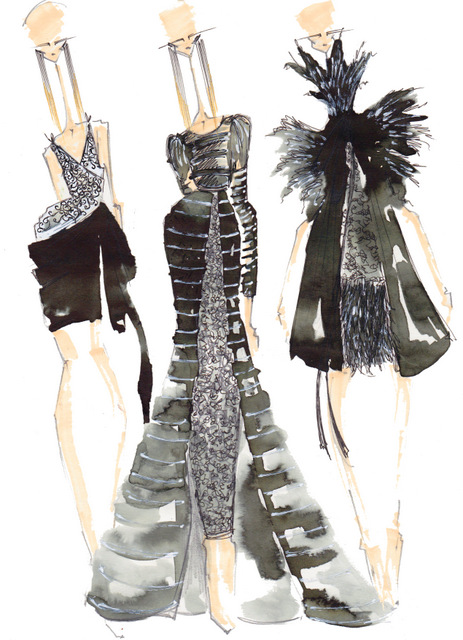 Chanel Ready-To-Wear Spring 2011
The ethos of Joseph's work harks back to a period before celebrity as we know it. Before the cover star of Vogue was a talking point in itself, the magazine covers were illustrated - no faces, famous or otherwise, graced the front page: "In the 20s it was the fringing on a flapper dress that got you excited about the drawing. The girl in the sketch was drawn simply; it was all about the dress."
"I think that a lot of people are bored of photograph", says Joseph. This is quite a statement to make, and I ask him to qualify this. "Everyone can take a picture with Instagram. We're all photographers."
"There aren't the underlying emotional tones in drawings that can be conveyed in a dress. There can't be. But people love looking at them."
He's quite frank in admitting that the drawings won't be a dinner party conversation piece in the way that an evocative snapshot can be, but that's not why he does them: "I'd like to see them hung in people's toilets, and when guests go round they'd remark on how nice they were."
Surprisingly, Joseph's surprisingly unprecious about his drawings. What drives him creatively is the love of the garment, and the "Fact that it gives me the power to make the simplest things seem like the only one in the world."
And who wouldn't want that?
You can find more of Joseph and his work at www.jlarkowskyillustration.com.