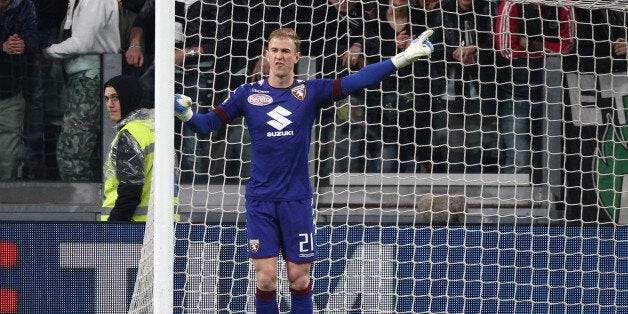 ​When Joe Hart left Manchester City in the summer his with his bags packed for Turin, reputation re-building was top of the agenda for his adult gap year in Serie A.
The four-time Premier League Golden Glove winner had just returned from a horrendous Euros campaign, during which his own performance in the Three Lions' second round exit at the Viking clapping hands of Iceland was at the centre of England's latest international nadir.
Hart's return from France to club football provided little respite as he was immediately deemed substandard by (supposedly) one of the world's most tactically savvy managers in City's new head coach Pep Guardiola.
Whether or not his own choice to try his wares at Torino, Hart's loan was confirmed a shrewd move by large sections of the British media, who continue to view mainland Europe as one big audition stage for a player's glorious return to the Premier League.
Rumours about Hart's next club have persisted with the regularity of Andy Carroll injury news. However, as this season is almost up, the real question remains: how has Joe actually fared in Serie A? Has he been a success under Siniša Mihajlović between the Torino sticks? And what implications has this year had on his bruised reputation?
In house, things seem relatively positive for Hart. Mihajlovic was quoted by Sky Sports as claiming his new keeper "makes the rest of the team feel more confident", while reports indicate Hart, to his immense credit, has bucked the trend of the typical Brit abroad (unaided in recent seasons by Ashley Cole and Jay Bothroyd) and integrated well into the team both on and off the pitch.
In the same report from Sky, Corriere dello Sport journalist Matteo Pedrosi also backed Hart as an overall success, but hinted at caveats among muted expectations.
"Hart is having a good season in Italy, often making decisive saves despite the many goals conceded by Torino" he said.
And make no mistake about it, Torino's defence has not been great. In fact, ninth-placed at the time of writing, Torino have the worst goals conceded column of any top half team in Serie A.
As for Hart's contribution, in 33 league fixtures so far he has also only kept five clean sheets (zero in his last 17) and has earned lukewarm average ratings of 6.25 from Gazzetta Dello Sport and 6.56 from WhoScored - the latter figure puts him fourth from bottom of all keepers who have made 15 or more appearances this season.
Hart is only 10th when it comes to number of saves made in Serie A this season, and a lowly 17th for saves per game. Perhaps most damningly for brand Hart is that he has been found guilty on five occasions of one of modern football's most fashionably shareable statistics - errors leading to goals.
The novelty of being a well-known and likeable international goalkeeper only goes so far in Italy, where fan and press scrutiny are notoriously unmerciful to players whose careers and egos need time to heal.
La Stampa writer Gigi Garanzini labelled Hart a 'butterfly catcher' (a disparaging term in Italian for a flapping keeper) after a recent mistake led to disappointing draw with struggling Crotone, while following the same performance Torino owner Urbano Cairo also ​showed signs of his own creeping frustrations with his borrowed stopper.
Questions remain over Hart's distribution, positioning and temperament - the former held up as the key factor in Guardiola's decision to allow him to leave after over ten years' of service. However, whether really flourishing or floundering in Serie A, much like his fellow England regular Jack Wilshere, the nagging suspicion persists that a player of Hart's supposed calibre - at 30 years of age - should not have to take a step down, or out of the limelight in order to 'prove himself'.
In addition, the continued rise of Jordan Pickford and Tom Heaton (the Premier League's two top save makers this season) means Hart is no longer the autopick for England he once was. With Jack Butland and Fraser Forster back to fitness, the international number one spot is now as competitive as it has been in decades. Hart will need to do more than just offer a likeable presence at a mid table side, if he is to retain his place for the Three Lions at the 2018 World Cup in Russia.
With little appetite from either the player or club to extend his loan, Hart will surely return to England next season seeking a new home. Whether prospective buyers will now see him as a safe pair of hands to be plucked out of the market like a tame cross, or as a 'butterfly catcher' to be punched away at all costs remains to be seen.