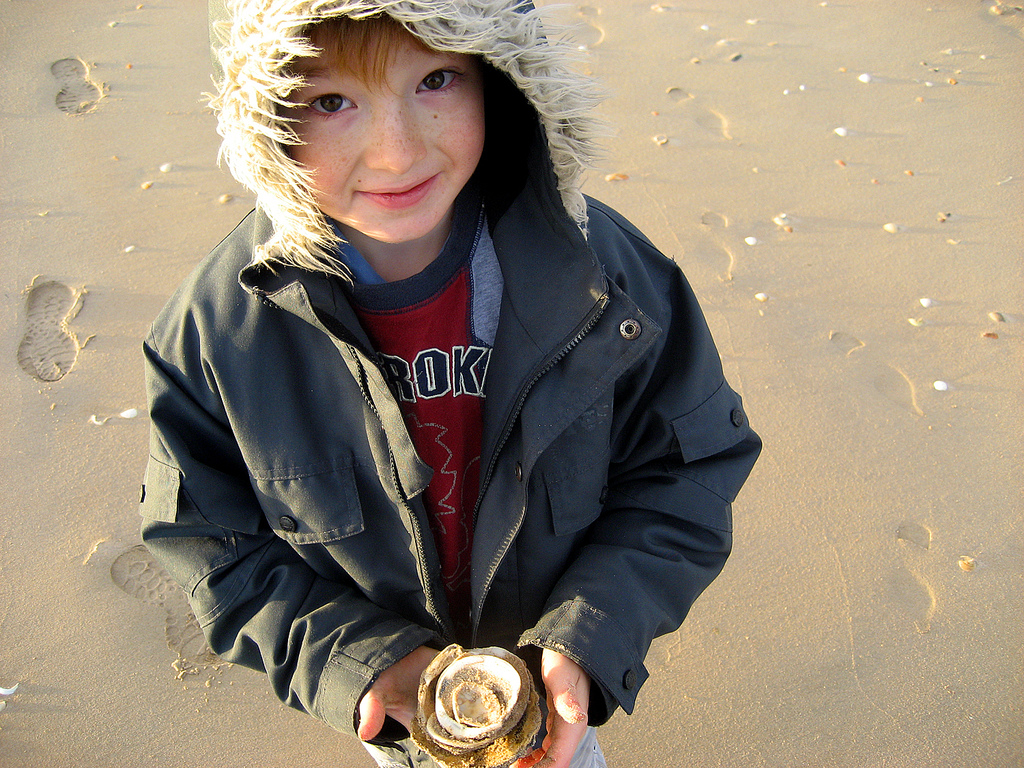 © Jasmic
In the tense final moments of 'Travel One-Upmanship' it's handy to have some opposites up your sleeve. So when it's gone beyond the country, it's veering towards a championship point but it's still all left to play for in the details, just steer the topic towards something that completely contradicts what your rival did.
Interested in learning about Opposite Ireland? Read on...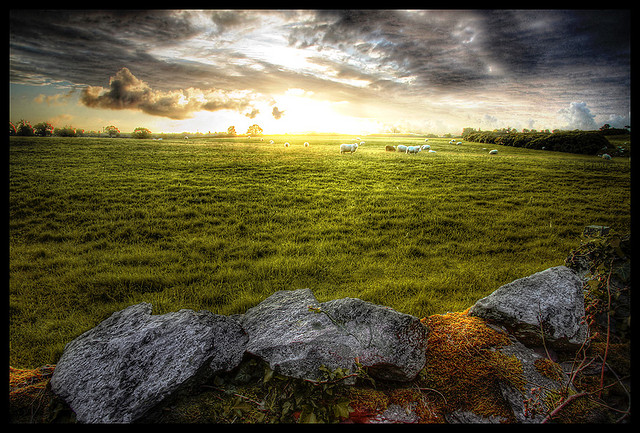 © sergey vyaltsev
Blarney or Beer
The Blarney Stone, famously credited with the ability to bestow the power of eloquence, may be a good place to visit, dangle from a 90ft drop and kiss a bit of rock if you often find yourself lost for words. And why not? Well, for starters it's a 90ft drop, then a stranger (that's someone you're not related to by blood and doesn't love you unconditionally) is the only thing between you and certain death and finally, it's a rock. Yes, it is the Blarney Stone, but it's still just a stone.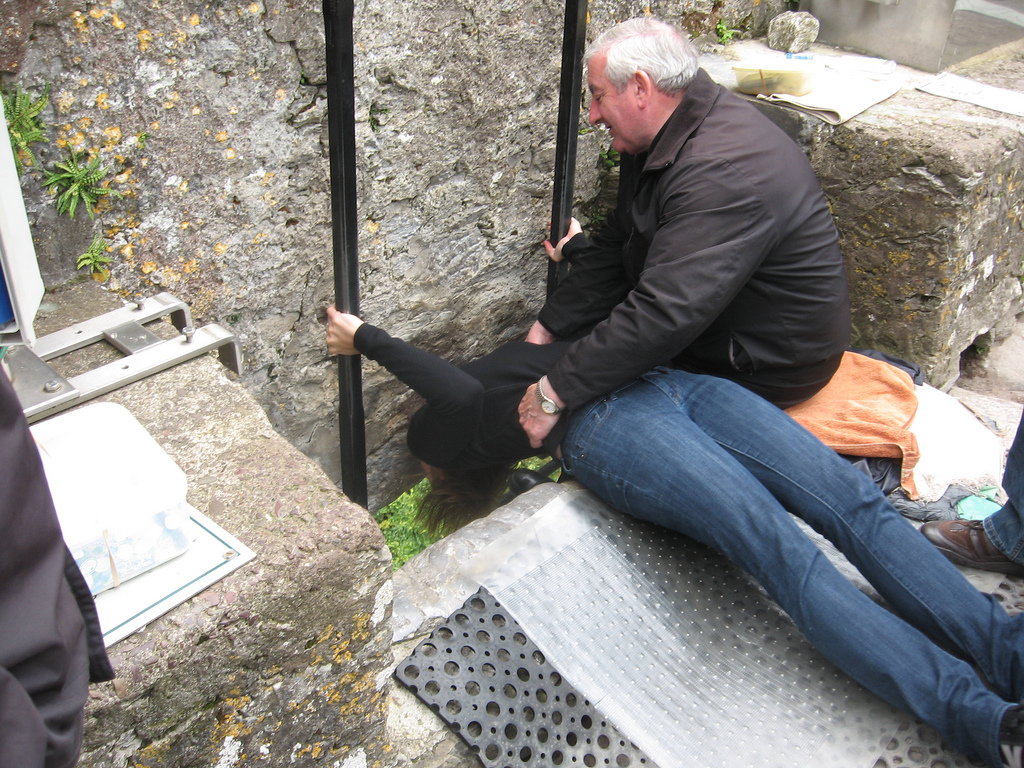 Kissing the Blarney Stone. By milky.way.
We prefer a more tried and trusted method of loosening the tongue; beer. And just 7km south of Blarney Castle, the beautiful city of Cork celebrates just that very thing on the 30 and 31 March with the Easter Beer Festival. A gathering of Ireland's growing band of great, good and completely eccentric craft brewers and the place to try the likes of Sabotage IPA, Oatmeal & Coffee Stout, Dark Arts Porter - it's not for nothing the people of Cork are known as the chattiest in Ireland.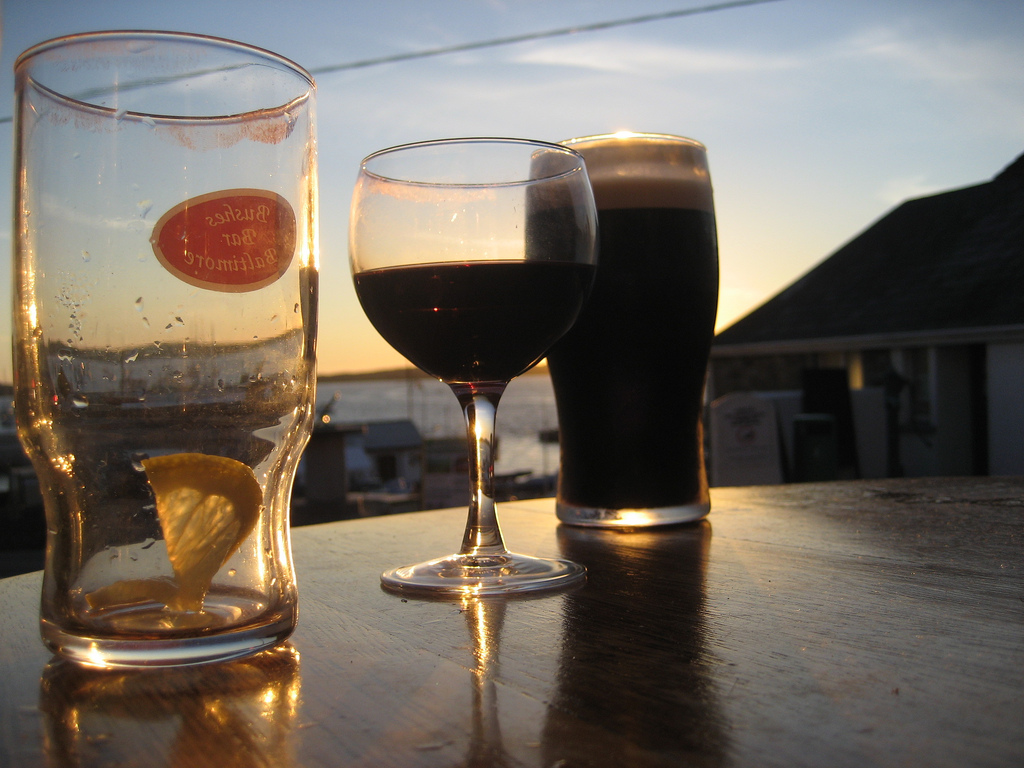 A quiet drink or three in Cork. By Lapatia.
Dublin or Cork
Dublin, Irish capital, centre of all things painted green, medieval castles, beautiful bridges across the Liffey and throngs of visitors; we do enjoy a lit'le wander down its streets from time to time.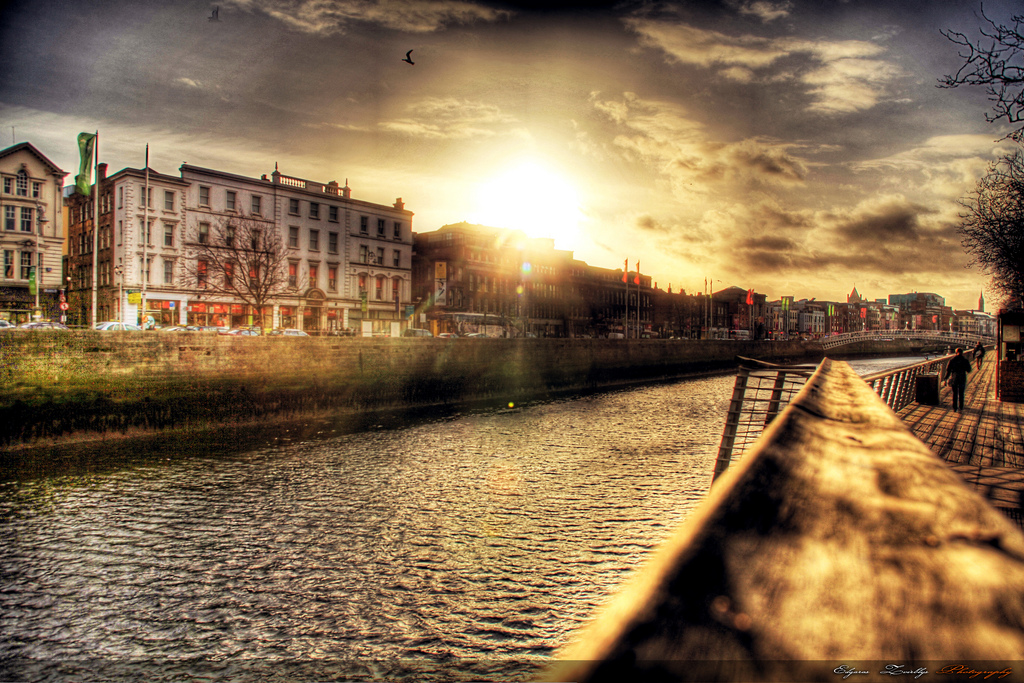 Sunset over the River Liffey. By EdZed Photography.
But if you catch the train from Dublin to Cork, less than three hours later you're looking at a totally different urban Ireland. Don't let the lovely countryside and coast surrounding the city fool you into thinking Cork's provincial, it isn't. And it isn't 'Dublin Light' either. Cork is very much its own city. The Georgian townhouses are painted ice cream colours. The city centre's a lively, compact, walkable island surrounded by bridges over the River Lee. There are micro-breweries, craft markets, food markets, cathedrals and churches (try St. Anne's, Shandon for the best view of the city). Plus Cork hosts an almost indecent number of festivals all year round. And if that's not enough to lure you away from Dublin, remember that Cork's in the South so the weather's better.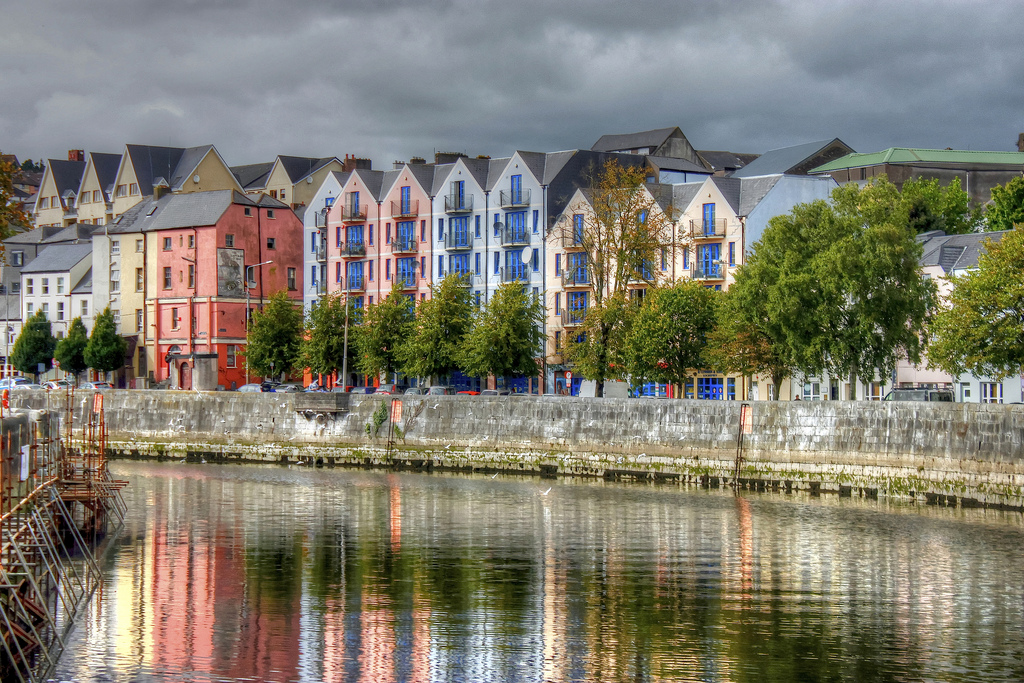 Pope's Quay. By psyberartist.
Dancing or Hurling
Thanks to the tireless efforts of Michael 'Feet of Flame' Flatley, jigging about with rigid arms and a menacing look in your eyes has become almost synonymous with traditional Irish culture. But when it comes to tradition, dancing based on French Quadrilles is a mere stripling compared to Hurling.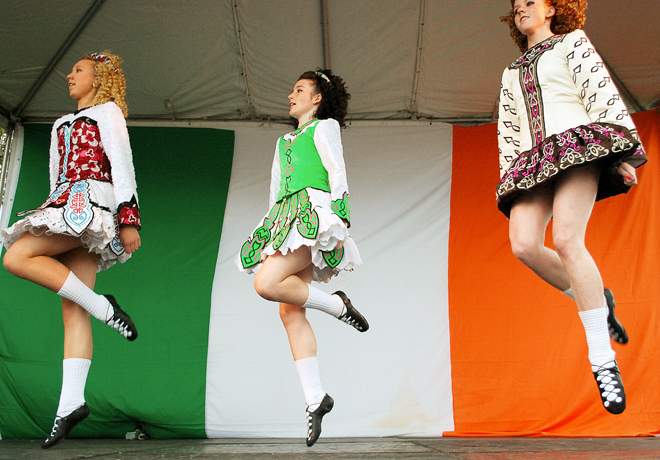 How the world sees Irish Dance. By James Jordan.
A cross between hockey and all-out war, Hurling has been played in one form or another round these parts for over 800 years. So forget the fancy frocks and shiny shoes and get down and dirty with 'The Fastest Game on Grass' instead. Hurling's all over the country, every weekend, all summer long ending with The All Ireland Championship final at Croke Park, Dublin in September.
And don't feel too bad if your heart's in Hurling but your body isn't, it's perfectly acceptable to enjoy the game local style; Sunday afternoon, friendly pub, pint, 3D TV.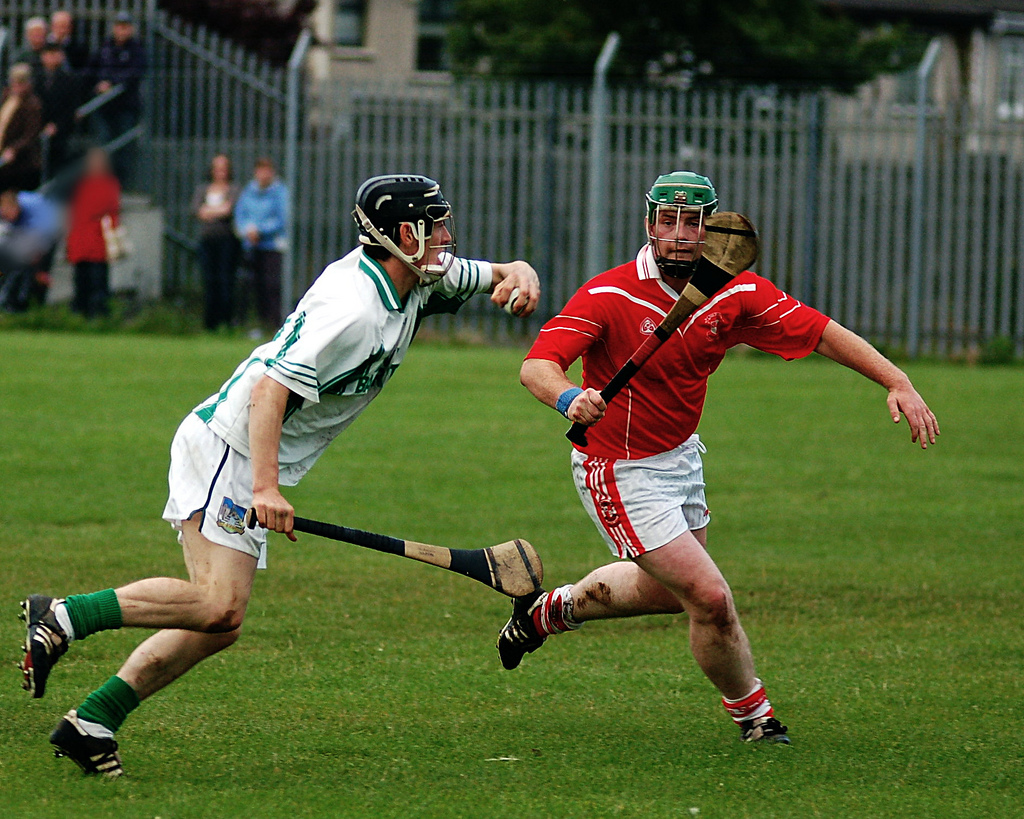 Hurling. By _Harry Lime_.
St. Patrick or St. Brigid
There probably isn't much we can tell you that's new about St. Patrick's Day; the international opportunity to dig up the tiniest shred of Irish ancestry as an excuse for green face paint and vast quantities of Guinness.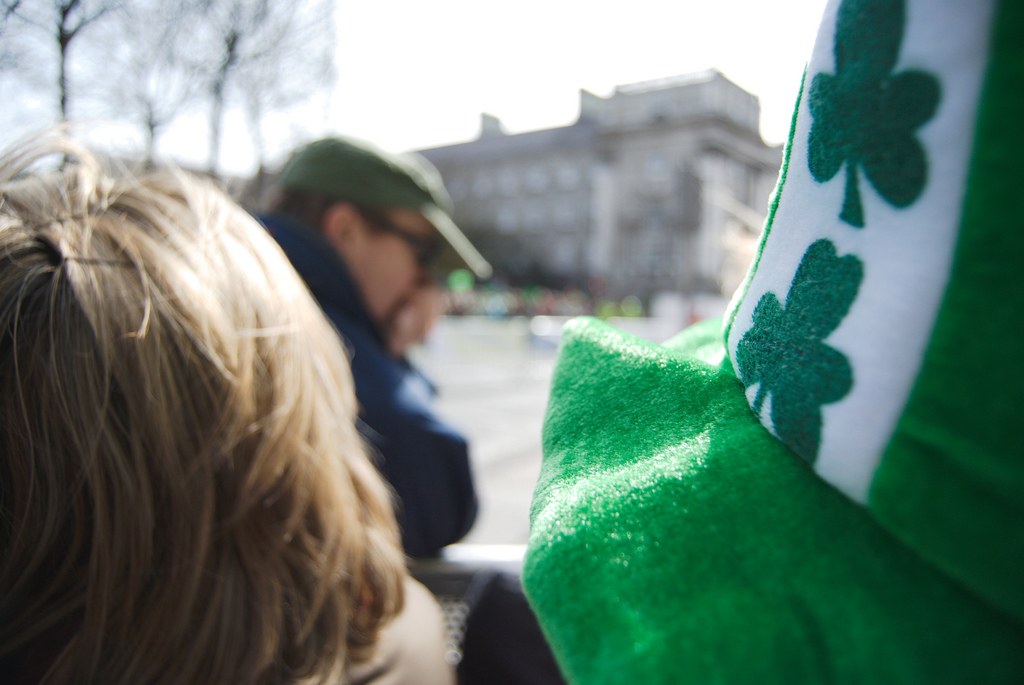 St. Paddy's in Dublin. By Simone Celestino.
Tempting as that sounds, we prefer the gentle festival of St. Brigid of Ireland celebrated every year in Kildare from 27 January to 3 February to mark the start of spring. St. Brigid has close associations with children and, whatever your beliefs, this is a lovely festival for families with lots of activities, workshops and entertainment before the enchanting candlelit pilgrimage to St. Brigid's Well.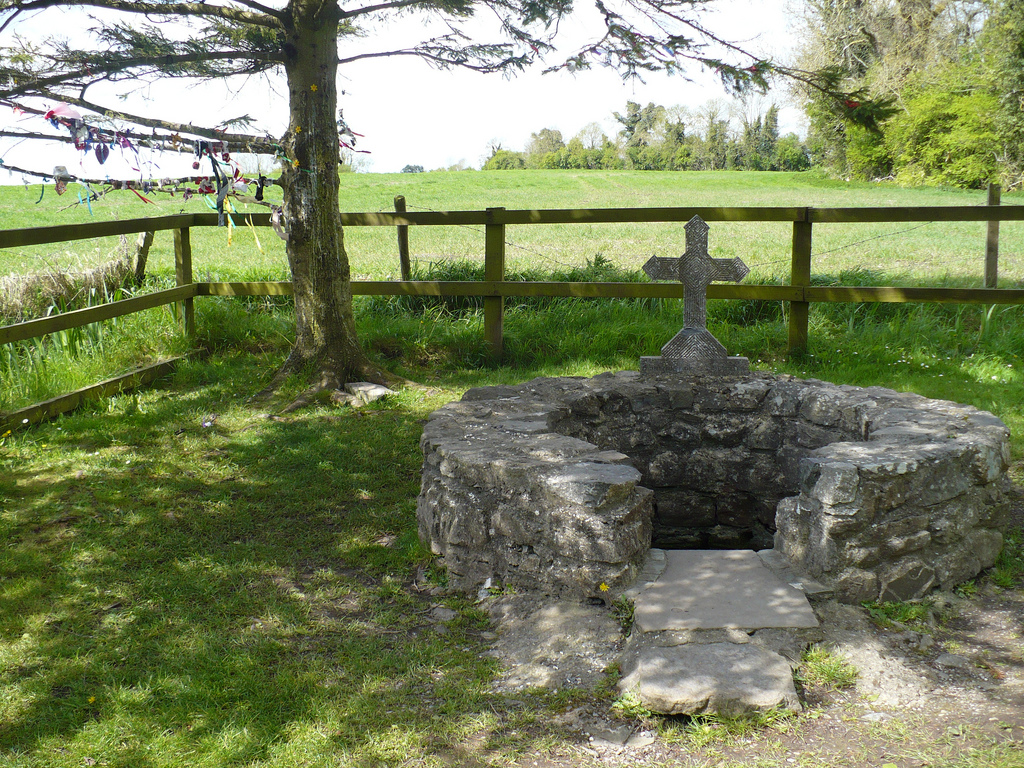 St. Brigid's Well. By farrellink.
Jedward or Music
What's the opposite of Jedward? Happily just about everything.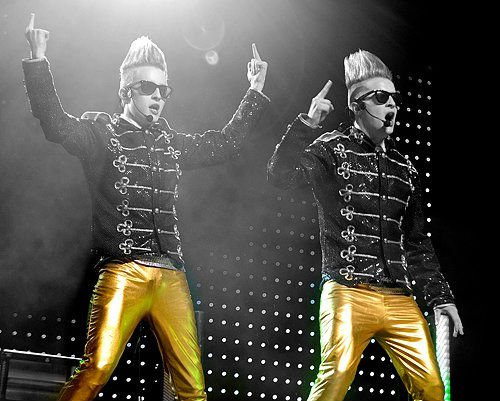 Jedward, Irish pop duo. By jedwards_wife.
If you find yourself in Dublin head to the Temple Bar area any night of the week, and there's live music playing somewhere. For new bands and the insanely popular BIMM Live & Lyrical gigs you want Village. Upstairs in Whelans on Tuesdays and Saturdays is undiscovered talent. Try JJ Smyth's for live jazz and blues. And if you get tired of the new, Vicar Street's the place where the acts that have made it make music.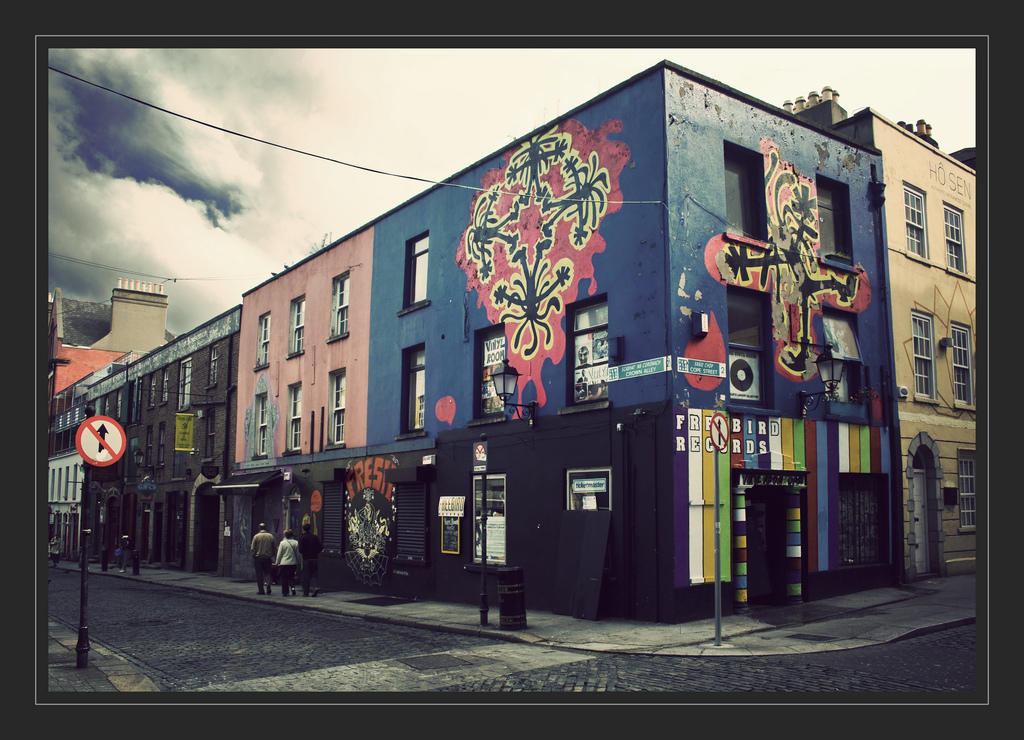 Crown Alley in the Temple Bar area of Dublin. By thevitruvianman.
Selection or Select
Kinsale's the oldest town in Ireland, gorgeously pretty and known as the country's Culinary Capital. What could be better?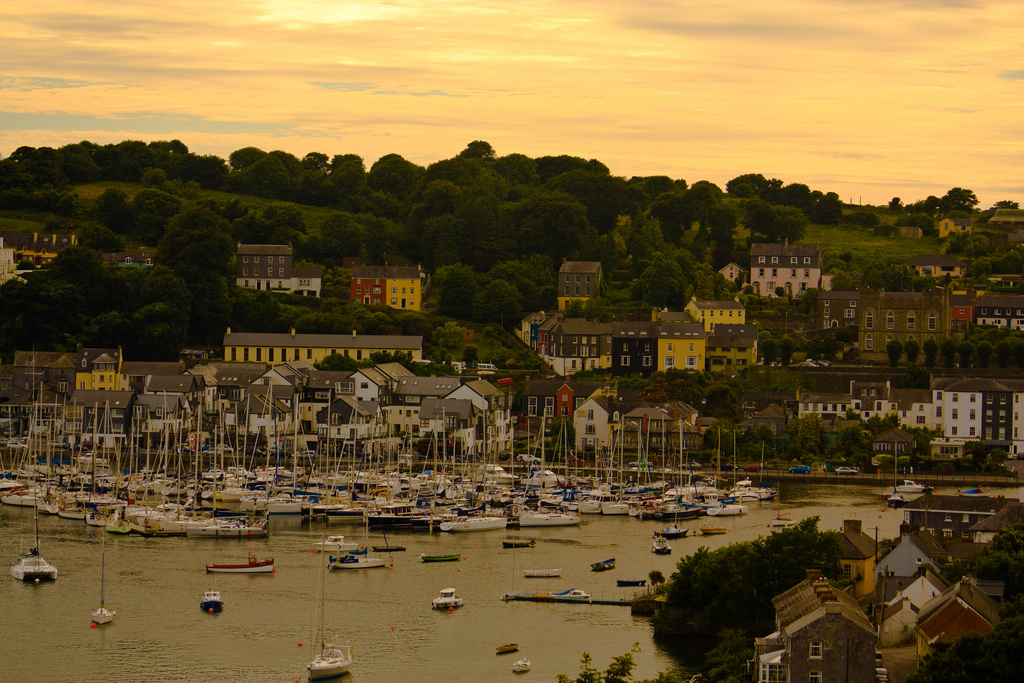 Kinsale, Ireland. By Duda Arraes.
We're thinking September, oysters, Galway City. Every year Galway City on Ireland's west coast hosts the Galway International Oyster and Seafood Festival. A three day celebration of everything oyster and oyster related the festival is the world's longest running and attracts the glamorous, the gourmet and anyone else who's keen on delicious mollusc-ey goodness. This year's festival runs from the 27-29 September and includes the World Oyster Opening Championship, a Tribal Oyster Feast Off, the Galway Seafood Trail and an Oyster Mardi Gras.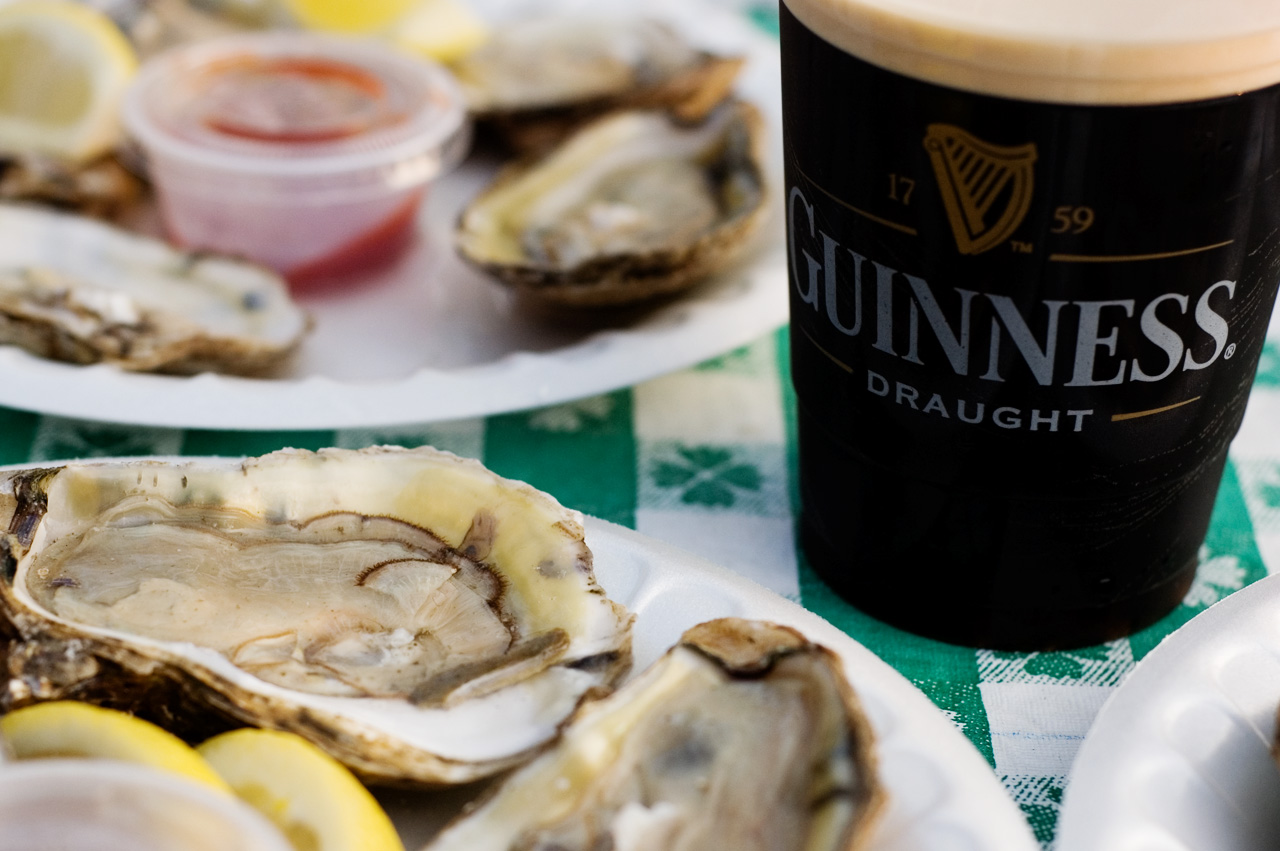 Guinness & oysters. By minwoo.
Grim or Glorious
'There was a young man named McCourt......' and if you want to follow his grim, poverty stricken Limerick life, take the Angela's Ashes Tour of Limerick City. Not quite as miserable as it once was, but you get the idea.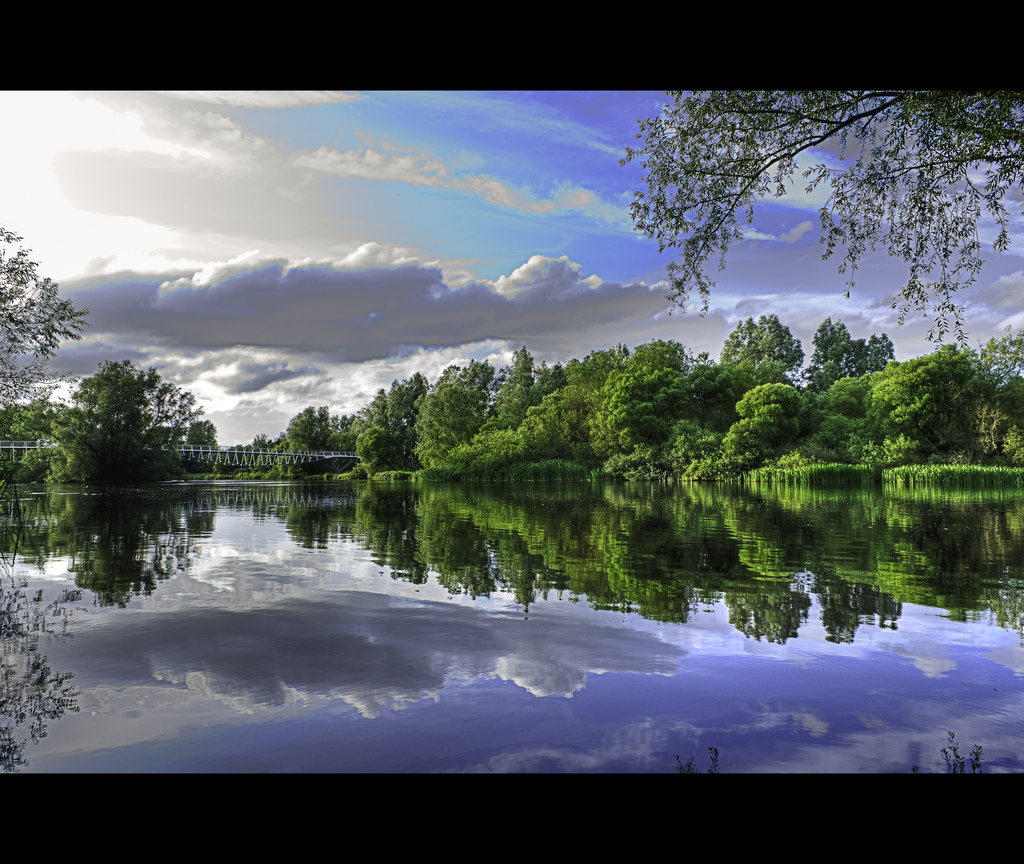 Shannon River, part of the Angela's Ashes Tour. By jorgemoraga.
For a completely opposite view of the same city, visit King John's Castle where for centuries the Lord of Ireland literally made his own money, in his own mint with his very own Royal Moneyer. The castle's recently undergone a £5.7million restoration and the journey through 800 years of Irish history covers everything from war and worship to farming and famine without the emotional toll of Frank McCourt's formative years.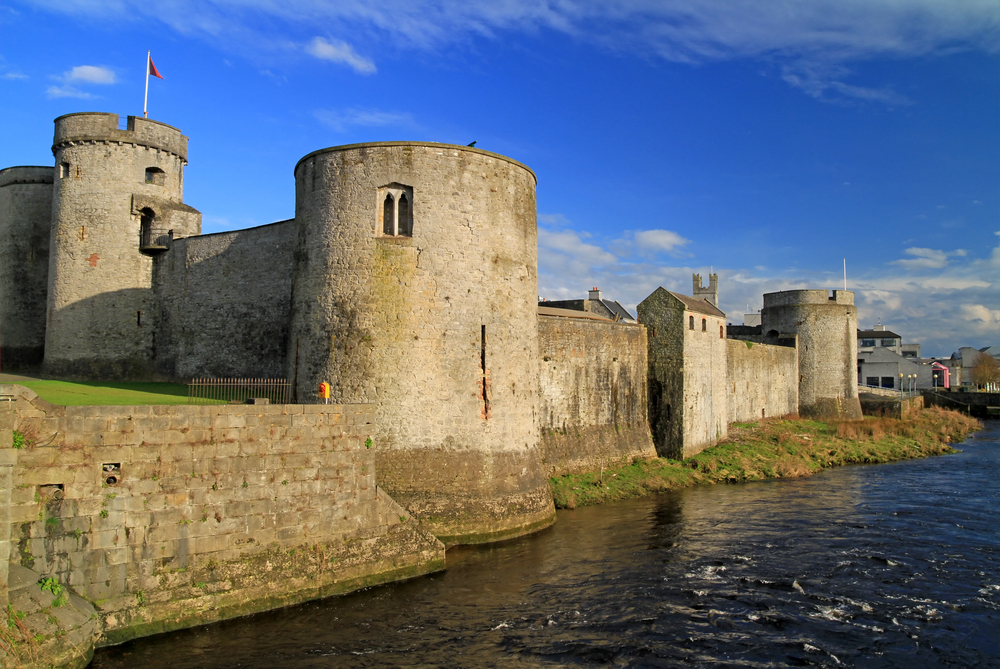 King John's Castle.
Big Cliffs or Little People
On the west coast of Ireland's County Clare rising sheer out of the Atlantic are the Cliffs of Moher, the highest cliffs in Europe.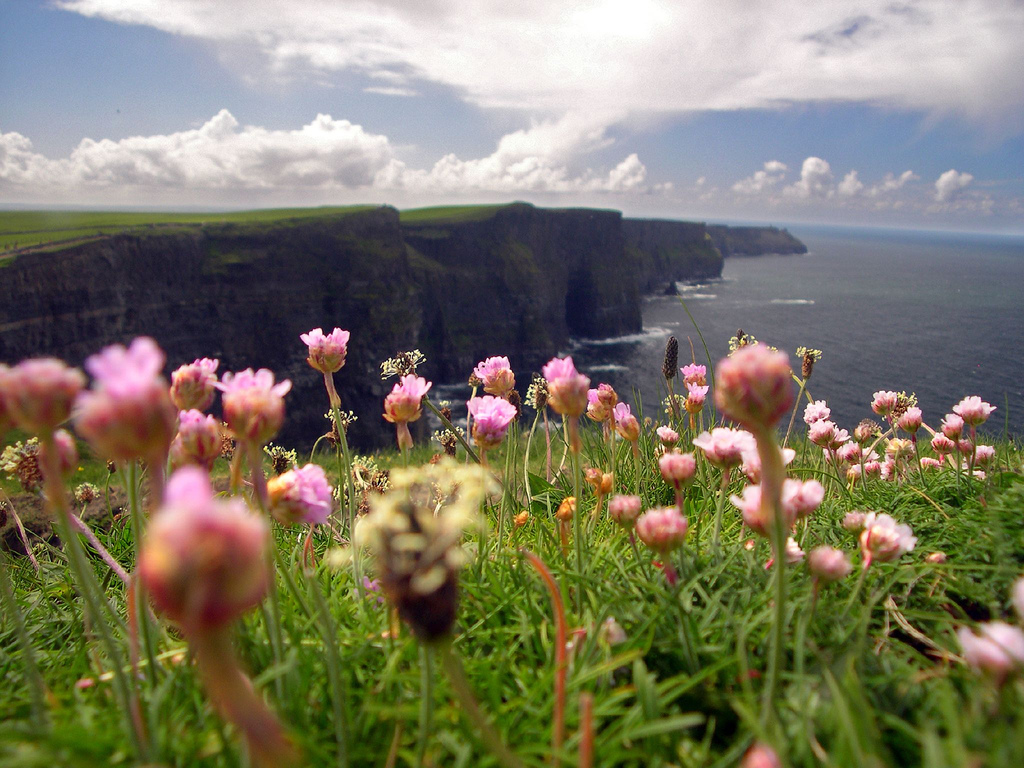 The Cliffs of Moher. By code poet.
Once awed by magnificence of such vast proportions, take to the opposite side of the country and the opposite end of the scale at the National Leprechaun Museum in Dublin. It's true the Irish don't miss a trick when it comes to wringing every last drop out of their myths and legends, but this little museum is great fun, very interactive and, yes, it's quite magical.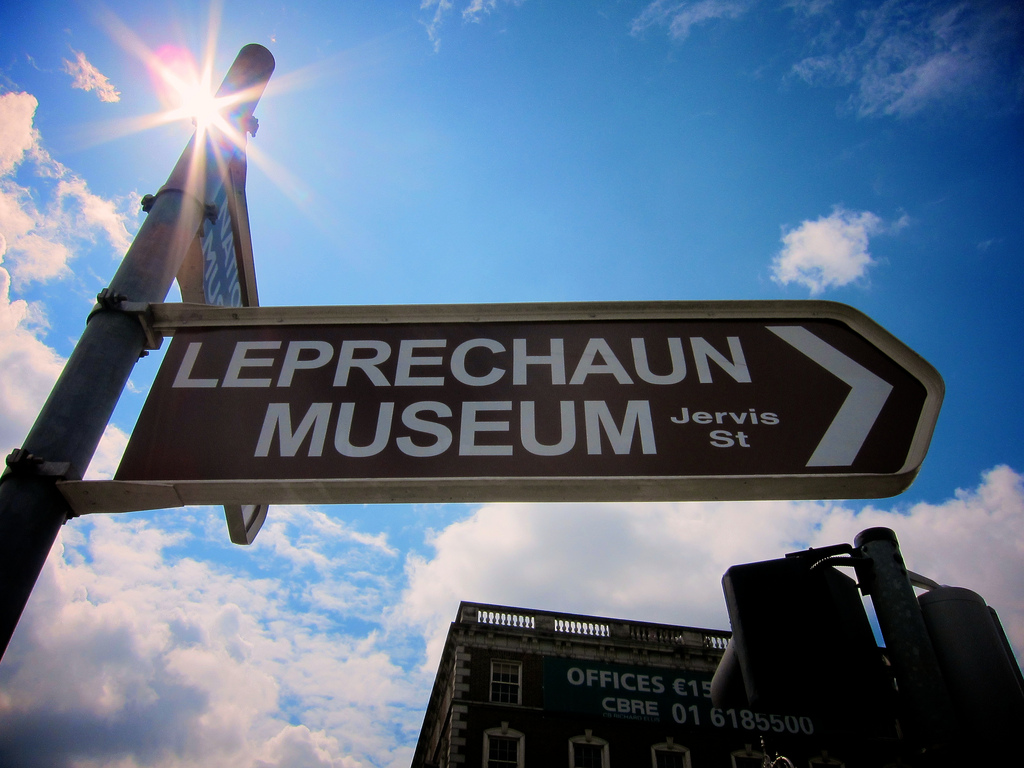 Little people that way. By DG Jones.
Surf or Swim
Ireland's got a fair bit of coastline and dozens of blue flag beaches, but, for the best surf head to Rossnowlagh Beach, County Donegal. 4km long with waves up to 7m high and a constant Atlantic swell, Rossnowlagh claims to be the birthplace of Irish surfing.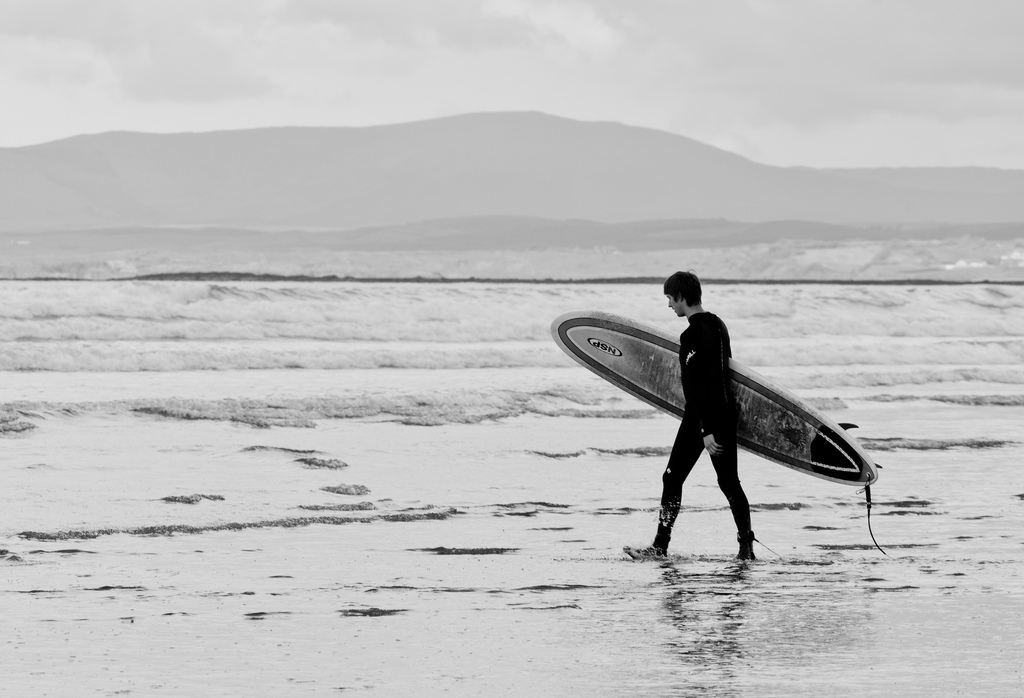 Rossnowlagh. By Irishandy.
No surf, 11km of white sand and safe swimming that's Curracloe Beach, County Wexford. Peaceful, immaculate and often sunny, Spielberg's location scouts must have had seriously good imagination when they chose Curracloe to double as the devastated beaches of Normandy in 'Saving Private Ryan'.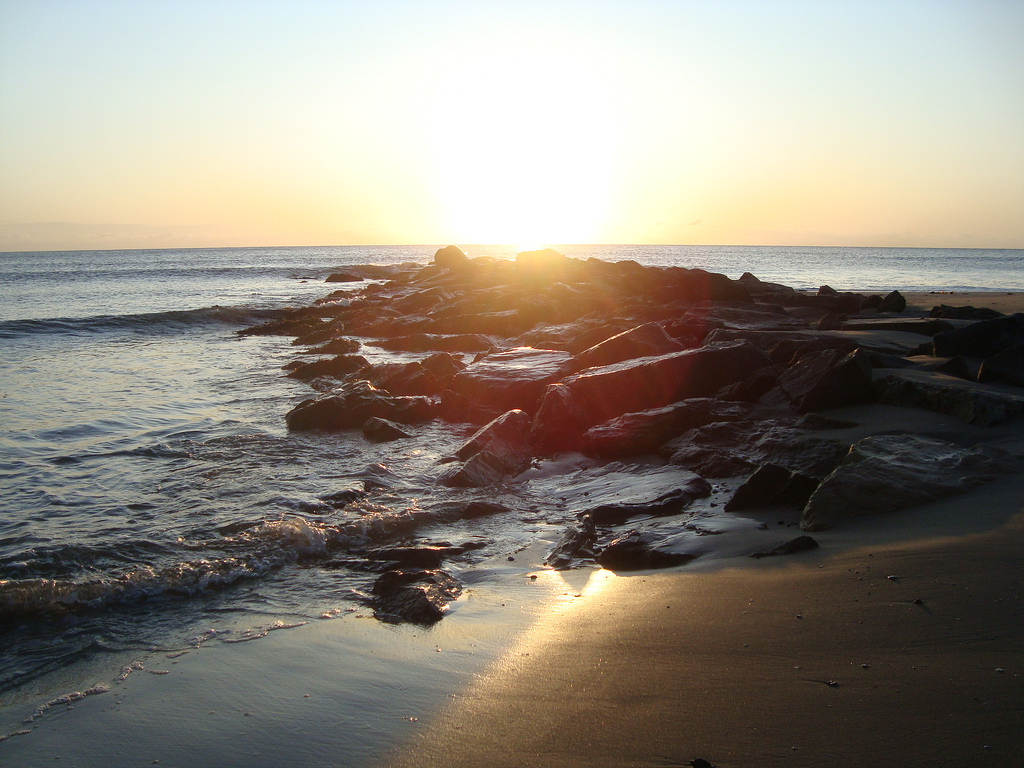 Curracloe beach. By julsnewton.
And finally, no 'Opposite Ireland' list would be complete without a mention of the country's most iconic export, stout. Where do you stand? With Guinness in Dublin or Murphy's in Cork, are they incomparable or is it just a question of taste?
We'll leave it up to you to decide when you get there.