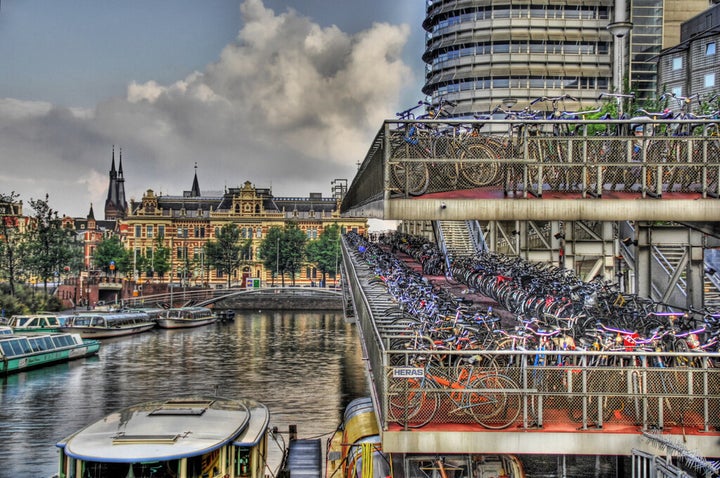 Amsterdam's Schiphol Airport is the 4th busiest in Europe, and a travel landscape so vast that most cities would be happy just to see it function. Last year the longest ever commercial flight on Bio-Fuel was made between Schipol and Rio de Janeiro and the airport installed 9500m² of solar panels. Now the entire fleet of airport taxis are electric and as part of 'the GROUNDS Initiative for Sustainable Aviation', Schiphol has committed to becoming the world's first Bioport by 2017.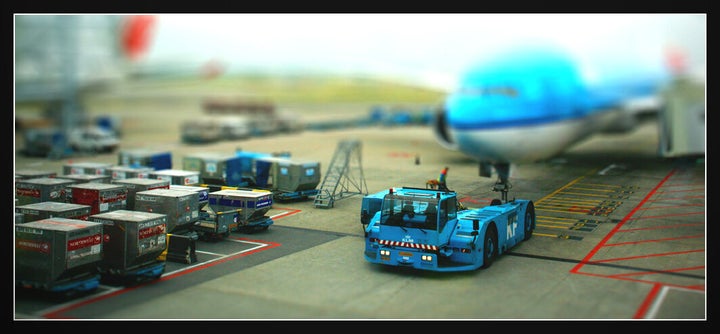 In the city itself, 200 plus boats and ferries using the iconic network of canals and rivers are powered by electricity or people. As part of 'The Green Canals' project to celebrate the 400th anniversary of Amsterdam's historic Canal Ring, three 17th century canal houses are being restored. When completed, the houses will be energy neutral and serve as a prototype for Amsterdam's future conservation and development plans. By 2020 Amsterdam aims to be the world's first smart, sustainable city. And from waste management to green energy, bio-fuel to organic gardening and brewing, vintage clothing to intelligent, ethical recycling, the city and its people seem to be on track to realise their ambition.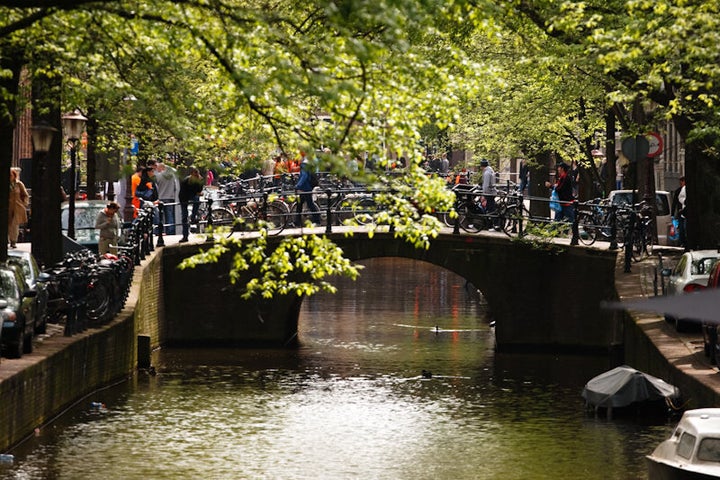 You won't read, 'aligned with responsible tourism' on Amsterdam's visitor information. For a city where social, cultural and environmental responsibility is part of the day-to-day, that abstract catch-all is unnecessary. In Amsterdam, responsible tourism is a natural by-product of a responsible way of life.
But you don't go to a city to admire the ethics. We know that and fortunately, Amsterdam does too. So it's still one of Europe's most fascinating, charming and inclusive cities, just all the more enjoyable for visitors with a conscience.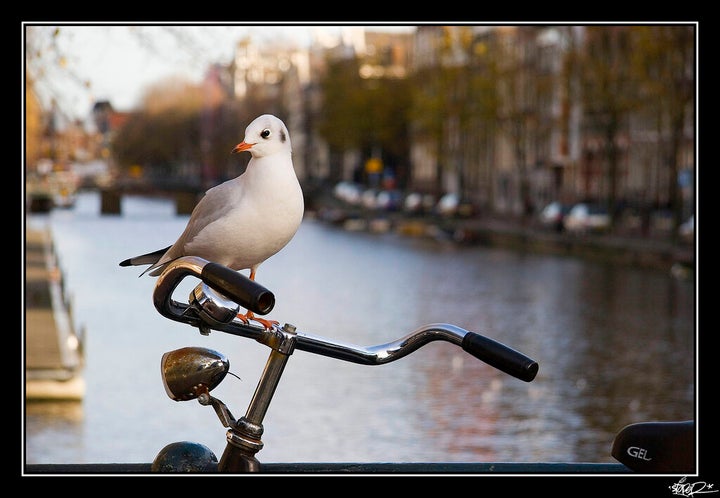 Cycling has always been big in Amsterdam. The happy couple on bikes with baskets of flowers and jaunty sun-hats is as much a symbol of the city as the Red Light District and Brown Cafés. But, since most of the people who actually live in the city get about by bike, consider the alternatives too. Walk the network of canals and bridges that make up Amsterdam's compact city centre, you'll see much more. Use the tram, metro or busses to visit districts like Oost, Jordaan and De Pijp (the iAMsterdam City Card gives you unlimited free travel). Don't forget the boats and ferries. And, if you hire a bike head west to Rembrandt Park - lots of lovely cycling and Amsterdam's oldest petting zoo.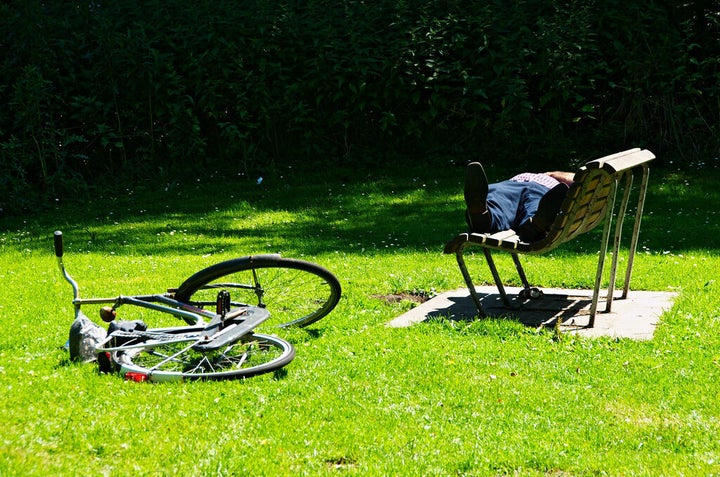 Rembrandt Park is just one of over 30 parks and gardens in Amsterdam. One of our favourites is Sarphatipark right in the heart of the city's De Pijp District, minutes from the much loved Albertcuyp Market. Vondelpark to the west is Amsterdam's biggest park and a firm favourite with locals for weekend picnics and just hanging out being relaxed and Dutch. Amsterdam also has the world's oldest Botanical Gardens, built in 1638 and if you visit the city in winter the stunning tropical greenhouses are perfect for wandering and warming up.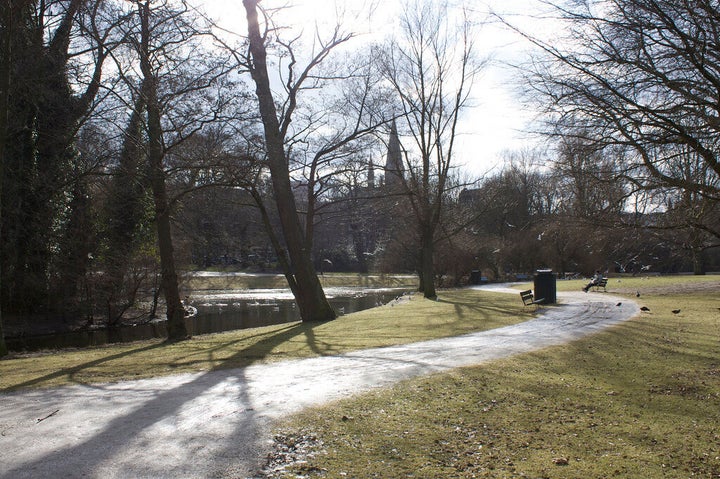 Dressing, eating and drinking ethically are easy Dutch habits to get into in Amsterdam.
The city's full of vintage clothes shops ranging from flea market to couture, and the best places to find the highest concentration are Jordaan and De Negen Straatjes - both also top choices for locally grown lunch.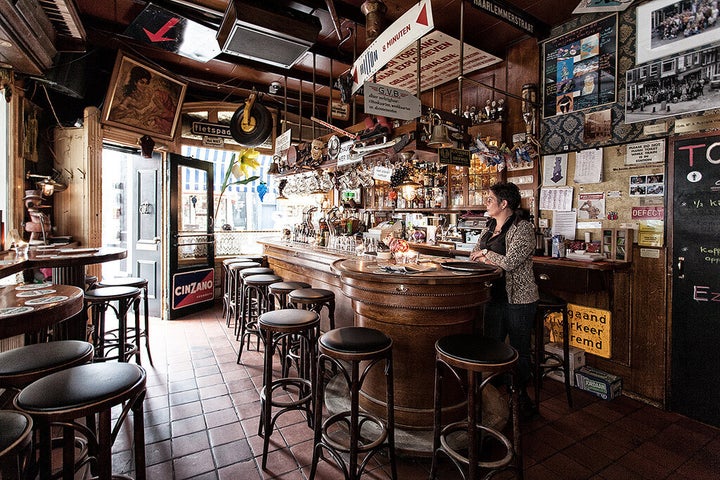 Café De Blauwe Druif, Amsterdam. By bertb.
If you want picnic supplies seek out a Vlaamsch Broodhuys for the best, fresh sourdough loaves in the city and Kaaskamer for cheese (you can't go to Amsterdam and not eat cheese). And if it's Saturday morning and you really want to live and eat local, visit Jordaan's huge Noordermarkt - this is the Farmers' Market that all the others want to be when they grow up. If you're staying in a holiday rental apartment while in Amsterdam, make sure to come here to pick up some supplies for the kitchen.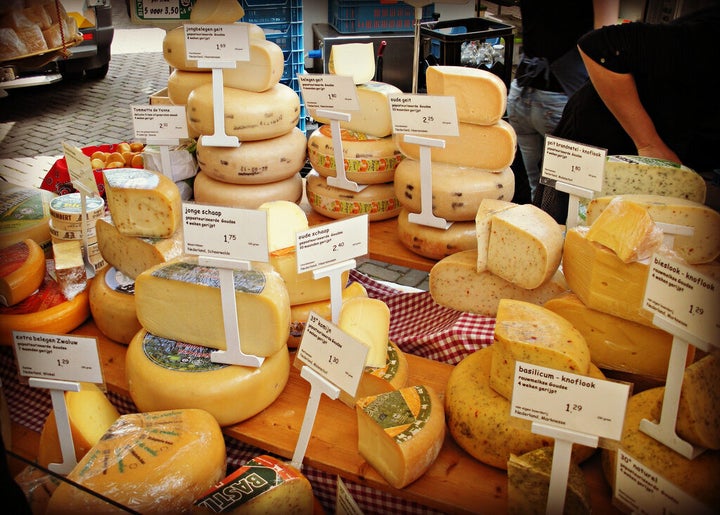 De Pijp is less touristy than Jordaan but only because it's not quite as prettified and perfectly restored. It's still plenty charming and very lively, with lots of historic buildings, street life and a very endearing local atmosphere - only the very well-heeled can live in Jordaan these days. It's also the place to find a quiet brown café (Amsterdam's pubs) for down to earth local beer, gin and Hapjes - Dutch style bar snacks.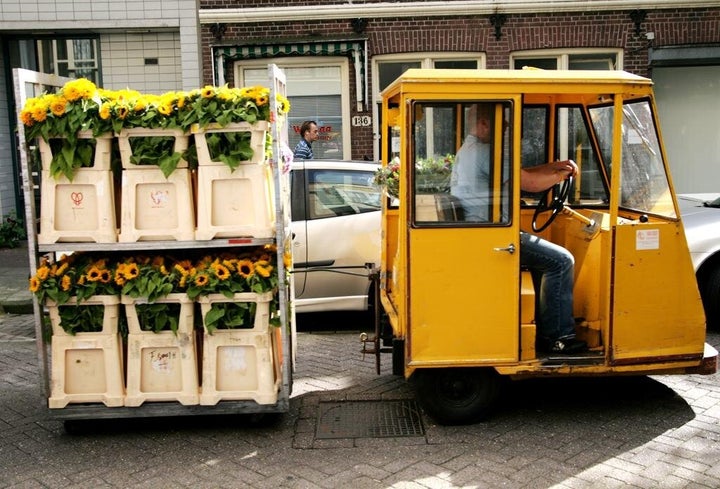 We can never work out whether it's because they are actually a master-race or whether they're just really well brought up, but the people of Amsterdam are some of the friendliest, most helpful and unfailingly polite in Europe. In fact we have a sneaking suspicion that's part of the reason Amsterdam's smart and sustainable ambitions are destined to succeed.
Ask for directions and it's the start of a conversation (Dutch people often have a grasp of several languages). Pop into a local bar, restaurant or café and you feel welcome. Visit any of the many design shops, galleries or studios and you're expected to take your time, have a chat and hang out a bit. And even doing the tourist essentials like visiting Vermeer, Van Gogh and Rembrandt is uncharacteristically relaxed and feels like just another organic aspect of natural city life.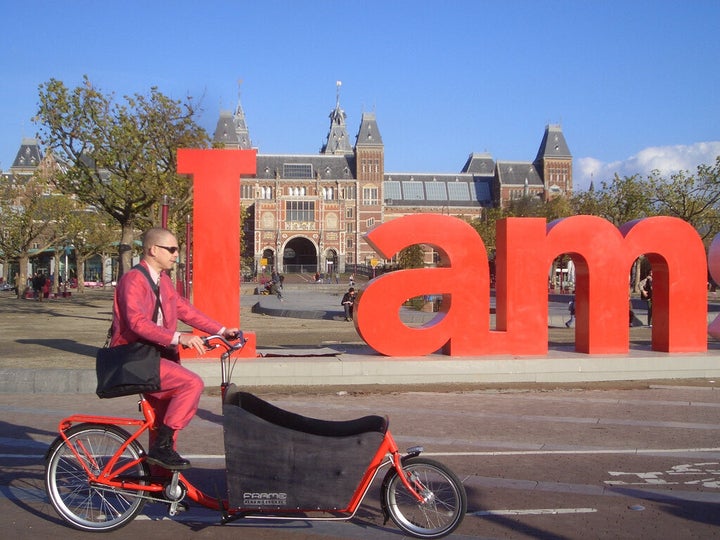 An essentially pragmatic city, Amsterdam knows it won't change everything overnight and smart and sustainable will most likely be achieved by slow and steady. But we like to think of the city as a work in progress and we'll be checking up on it regularly before 2020 with a completely clear conscience.