Easter comes hopping in with chocolate eggs, crazy hat parades and sweet relief for those who gave up something they enjoyed during Lent. It's also traditionally a time for new life with lambs a'leaping and ducklings a'paddling down rivers and stuff.
The same is true for wilder, more exotic animals. Already 2014 has been a great year for city zoos who've been welcoming new additions to some of the world's most loved and endangered species.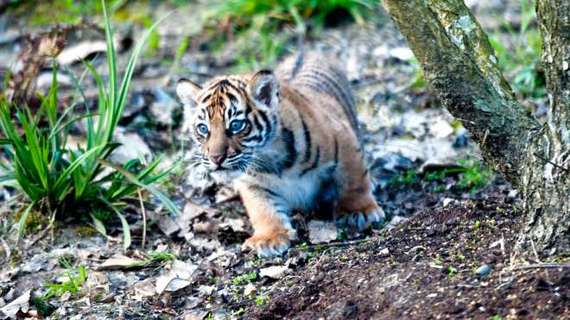 credit: ZSL London Zoo
For example three rare Sumatran tiger cubs were born at London Zoo, one of the capital's most popular spots for visitors. Here are some more city zoos worth visiting this spring for a sight of their new residents.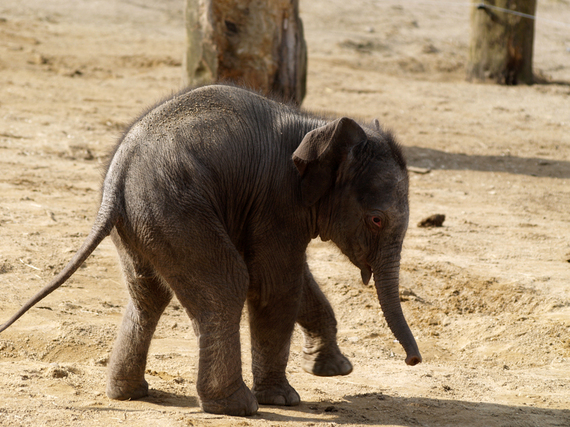 credit: Twycross Zoo
Staying in the UK, Twycross Zoo is now home to a baby Asian elephant born on 4th March 2014. Happy to say hello to the public, the baby calf is being well looked after not only by the elephant care team but also her mother and three aunties. They were all on hand (and trunk) when the baby was born in what's called a 'herd birth', the way elephants naturally enter the world.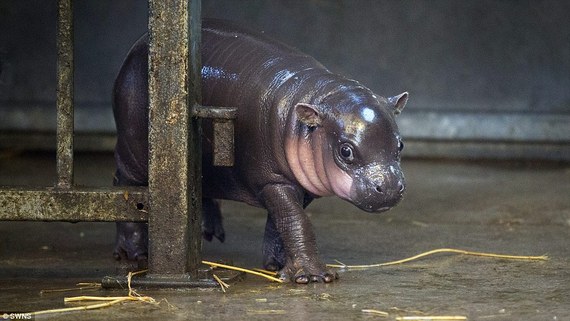 credit: swns
Another new birth not too far away in Bristol Zoo means a baby pygmy hippopotamus named Winnie is wooing the crowds. At about 10lbs, she weighs about the same as a newborn baby person. Like Asian elephants and many of the species on this list, hippos are endangered and it's thought that currently there are less than 2,000 in the wild. So Winnie's arrival is not just a new attraction for zoo visitors to the historic city of Bristol, she's also essential for helping protect the species' future.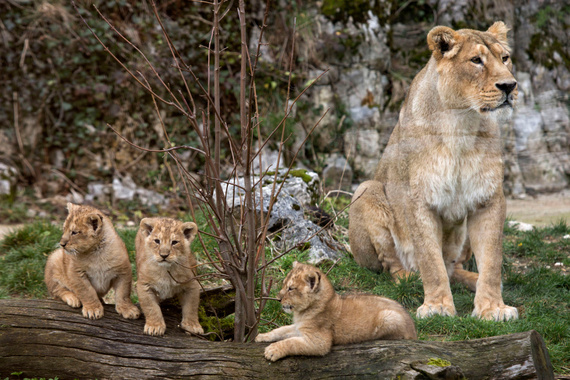 credit: Laurent Cipriani/AP
Heading across the Channel, three rare Asiatic lion cubs are settling in at the Besançon zoo , near Dijon. This species of lion are very rare - there are only 300 living outside of zoos - so seeing three very healthy cubs bounce around their enclosure has become a star attraction. As it happens, Besançon has a long-standing reputation for being a very green and eco-conscious city and the old Vauban citadel is now a UNESCO World Heritage Site.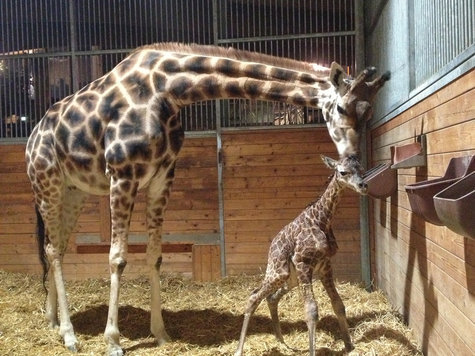 credit: Opel Zoo
On the outskirts of Frankfurt, a very different type of animal is pulling in the crowds at Opel Zoo in Kronberg. A new year's baby, Katja the Rothschild giraffe was born on 2nd January and she's settling in well despite being a long way from home. Her species of giraffe hails from in the lush bushland of Uganda and Kenya. In case you were wondering how to tell a Rothschild giraffe from other sub-species, they have five horns instead of two.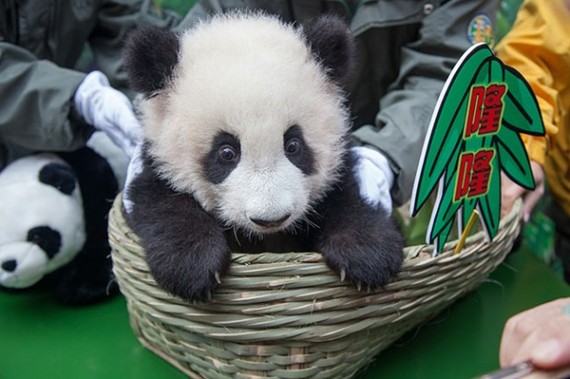 Source: Chimelong
Much further east, Xiangjiang Safari Park in Guangzhou has been getting lots of attention as visitors come to watch Long Long, the panda cub who is growing up fast. A much celebrated arrival due to the continuing threat against panda bears, Long Long is mother Mei Qing's second cub. 75 miles north of Hong Kong, Guangzhou is China's third largest city and has a city skyline to rival that of Shanghai and some impressive water views at night across the harbour.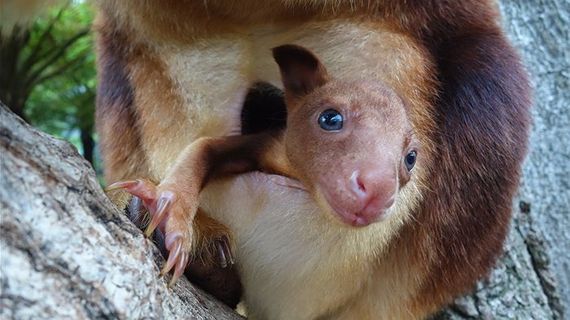 credit: Taronga Zoo
A very special baby animal can be seen in Sydney right now thanks to the successful breeding of two tree kangaroos - one of which travelled all the way from Northern Ireland to meet his partner. The first birth of a tree kangaroo in over 20 years, Taronga Zoo is still celebrating the joey's arrival from back in September last year but just like the better known land kangaroo, offspring won't leave their mother's pouch for many months. With a wide variety of indigenous animals - and some incredible views of Sydney Harbour in the background - Taronga Zoo has also just announced the hatching of three black-winged Stilt chicks, very clumsily cute.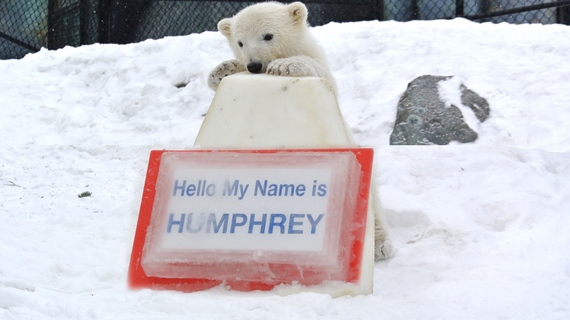 credit: Toronto Zoo
There are also a number of new arrivals across the pond in North America. Humphrey is one very special polar bear cub bouncing around Toronto Zoo, Canada's largest zoo. One of three cubs born in November last year, Humphrey is sadly the only survivor. His name was the result of a competition that saw over 14,000 votes. Found in Canada's only national park within a municipality, Rouge Park, Toronto Zoo has also recently announced the birth of twin ring-tailed lemurs, fantastic news as lemurs are one of the most at risk mammals in the world.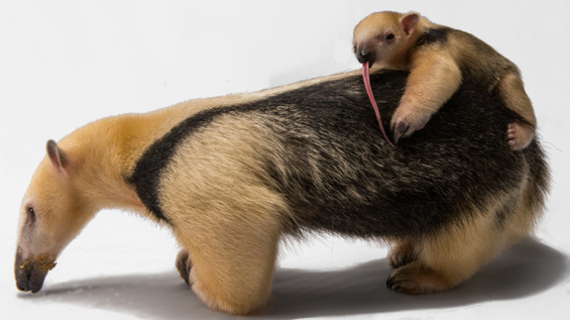 credit: Staten Island Zoo
In New York City, Staten Island Zoo is having something of a baby boom with the arrivals of a baby tamandua anteater, a baby bear cat, some baby geckos from Madagascar and some newborn crocodile lizards. While arguably the bear cat is the cutest of the lot, the anteater is also worth the famous ferry ride from Manhattan to watch how he clings to his mum's back to get around.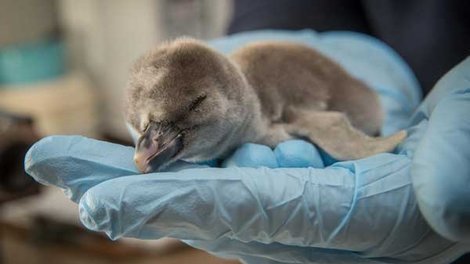 credit: Oregon Zoo
On the north east coast of the US, three baby Humboldt penguins have been making a splash at Oregon Zoo. Not literally, they're being nursed in nest boxes until they're strong enough to swim with the rest of the colony. A very different animal is bringing smiles to faces in San Diego Zoo - yes, the same zoo from Anchorman - where a baby gorilla is not even one month old. Mother and baby have bonded well, which is not always guaranteed, and the little girl is doing well despite needing emergency surgery for a collapsed lung.
Have you been to a zoo or safari park recently? Did you see any baby animals or maybe pregnant mothers-to-be? Would love to learn about any more.