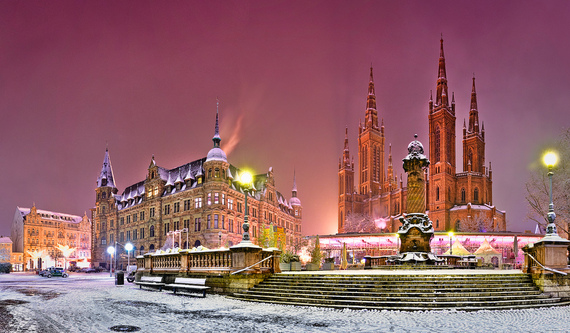 credit: Kay Gaensler
For some of us it isn't Christmas yet until we've heard Bing croon his way through the nostalgic notes of 'White Christmas' and sung along to the best of our ability. But for others, they want the real deal. They want exactly what Mr Crosby is singing about; glistening treetops and sleigh bells ringing in the snow. While most will lament and make-do with daydreaming, if you are up an authentic, never-to-be-forgotten Christmas where everything is - in the immortal words of Robert Louis Stevenson - "frosted like a wedding cake", the following cities are where you need to be.
HELSINKI, FINLAND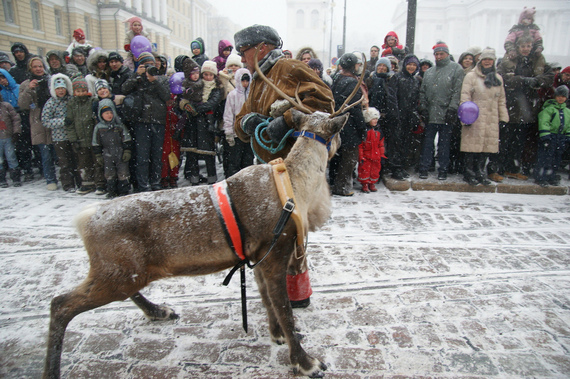 credit: mardy78
The Nordic countries are where snow is most likely to fall in Europe come late December and considering Helsinki was covered in the stuff during Christmas week last year, the odds are in the Finns' favour. Find yourself a cosy place to stay and enjoy watching everything run like clockwork despite half a metre of snow outside, then warm up with lots of glögg while reindeer spotting.
OSLO, NORWAY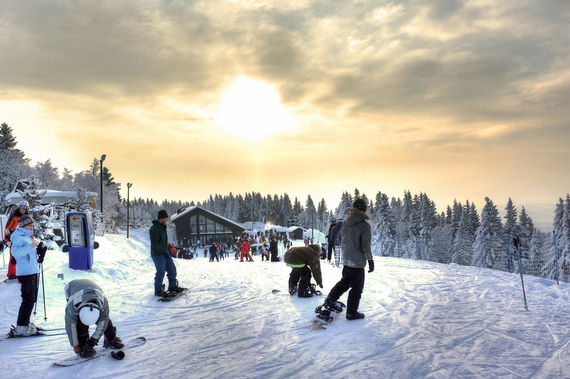 credit: GU-JO
Like the Finns, Danes and Swedes, snow doesn't bother the Norwegians. But don't tell them of any similarity, or risk their mild-mannered Viking wrath (the Diet Coke of wraths). Some ski resorts are just a few hours away by train, and Oslo has a good chance of ice and snow but the Jul spirit of the Norwegians will keep you warm and well fed - make sure you try Julepølse, a spice infused pork sausage - or Pinnekjøtt - special Norwegian lamb ribs.
TALLINN, ESTONIA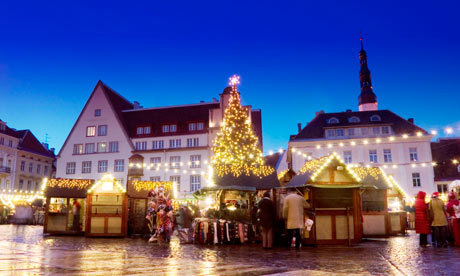 credit: Aleksandr Stennikov/Alamy
The centre of Tallinn will feel like a snowy village once its wooden Christmas market huts are covered in the white stuff, which happens more years than not. This young country also caters to the younger members of a family with a special children's Christmas village.
SALZBURG, AUSTRIA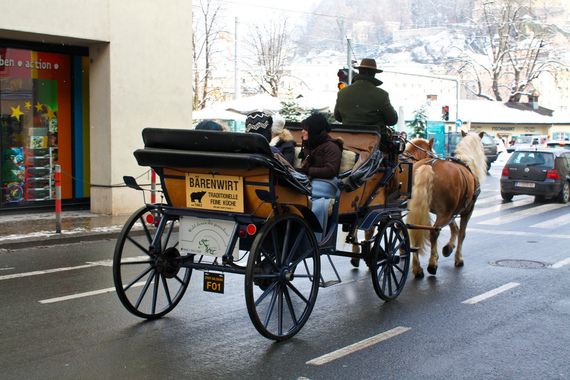 credit: Shadowgate
Surrounded by snow-capped Alps, Salzburg starts hoping for snow early, because as soon as the first flakes flutter to earth, Salzburgers start planning their escape to the mountains to carve up some powder. Meanwhile the city itself transforms into a winter wonderland, lit up by tasteful Christmas lights while piano concertos from their most famous resident, Mozart, intermingle with festive Christmas tunes and the clip-clop of horse-drawn carriages.
ST PETERSBURG, RUSSIA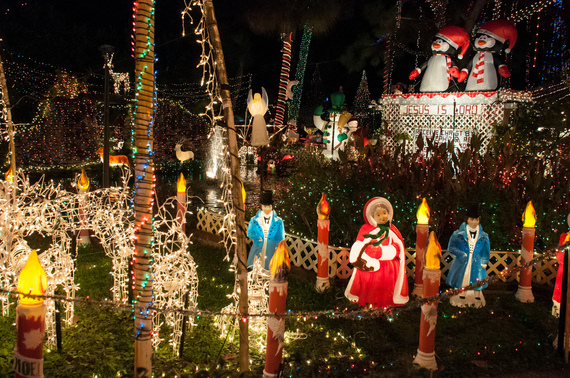 credit: nickmickolas
Temperatures are already dipping close to freezing in St Petersburg and recent years have seen snow on the ground by late December. In some ways you have two chances to enjoy a white Christmas in St Petersburg, as the Russian Orthodox calendar celebrates the feast on the 7th of January 2014. Be sure to see the big Christmas Tree in Palace Square and take a stroll along the frozen River Neva.
MONTREAL, CANADA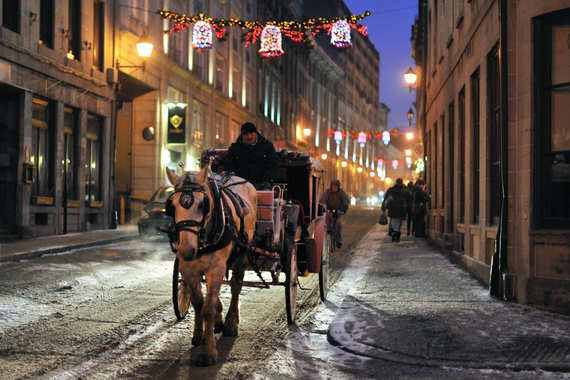 credit: jaroslavd
When it comes to cities prepared for snow, Montreal is right up there with Santa's village because of its underground city - over 20 miles of streets housing businesses, shops and restaurants - and a network of cycle lanes that are regularly snow-ploughed. With all the romance of an 18th century France in its old city, and the modern allure of a North American metropolis, Christmas is a great time to visit Montreal and enjoy the impressive Christmas lights along Mont-Royal Avenue.
REYKJAVIK, ICELAND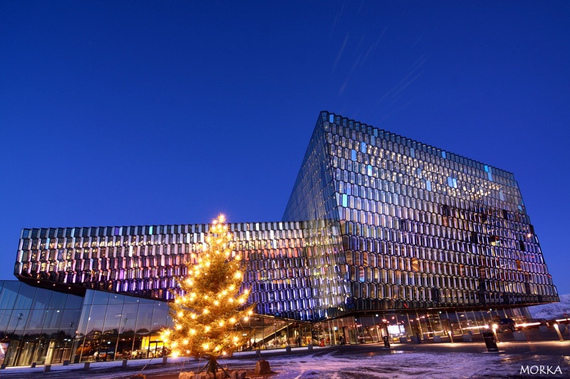 credit: Mórka
It's been snowing in Iceland since late September, so I'd say that's a good sign the white stuff will be on the ground in time - hopefully lightly alighting your jacket too - for Christmas. Reykjavik is also colourful and very cute, which makes for an authentic and enjoyable Christmas scene. Get their in time to enjoy the Christmas markets at Ingólfstorg, or to visit the special Christmas Village at Hafnarfjörðu, just south of the city.
CHICAGO, ILLINOIS, USA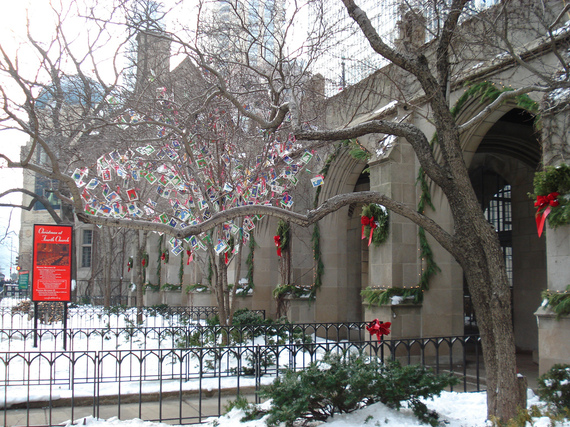 credit: Marilane Borges
Currently estimated to have a 50% chance of snow, Chicago is another great place to be when Christmas comes to town. In fact, Chicago goes some way to rival New York City as one of the most iconic places to feature in American Christmas movies, including the 1994 remake of Miracle on 54th Street (after Macy's famously refused to take part). And did you know that scenes from Home Alone were actually filmed in Chicago, not New York? What a Christmas scandal!
PRAGUE, CZECH REPUBLIC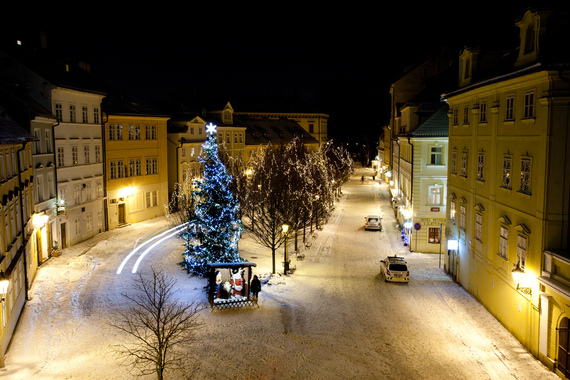 credit: worldoflard
Chestnuts will be roasting on an open fire in Prague as this city feels like it was built specifically for Christmas, thanks to gothic architecture, narrow medieval alleyways and yes, good odds for snowfall. The last decade has seen more Christmases with snow than without, so we recommend being ready for nippy weather and exquisite, I-feel-five-again Christmas scenes, including Christmas markets in the Old Town Square and Wenceslas Square.
VILNIUS, LITHUANIA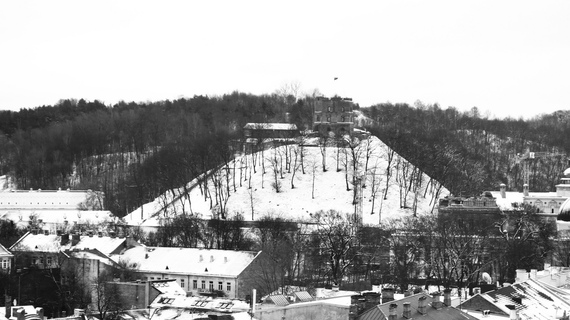 credit: archetypeone
Christmas markets will also be filling Vilnius with festive cheer and wafting smells of deliciously spiced Christmas treats, as the capital of Lithuania goes all out to take full advantage of the very likely snow. Go ice-skating on a rink set up specially outside the beautiful neo-classical Cathedral in Town Square. Kids will love hopping on the Christmas Train that ferries you around the city and you definitely don't want to miss wrapping up warm to watch special films displayed on the walls of the Cathedral.
Where have you experienced a White Christmas in recent years? And was it as special as Bing said it should be?
Find Andrew Matthews on Google+