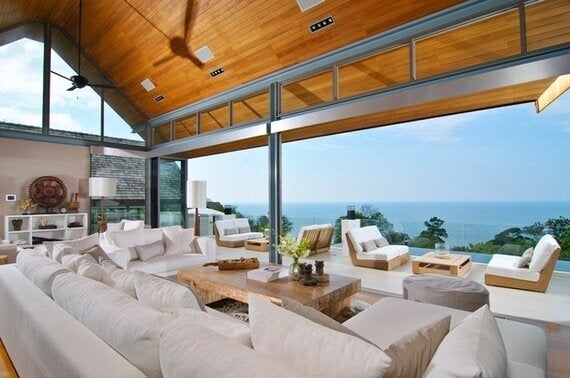 Recent research by, 'a property agent' has finally defined the ideal home: 'two miles from a supermarket, 10 miles from the coast, within walking distance of a pub and close to the countryside, with two good neighbours on either side and a newsagent nearby, and contains at least two TVs'. My sympathy goes to the two good neighbours on either side. Six months of cheek by jowl with the Ideal Home Buyer (personality and imagination not included) and an anonymous tower block and two pit bulls would begin to look strangely attractive.
I'm a man who's indulged in a spot of Fantasy Property Portfolio in my time and, personally, I'd give circling the supermarket and newsagent a miss. Instead I'd opt for a lake view and a vast pine forest, possibly a jetty with boathouse and one of the world's amazing oceanfront cities within relatively easy reach - a few mountains wouldn't go amiss either. Or is it really an apartment with wraparound terrace overlooking Central Park I want?
But until my fantasy property portfolio materialises - I'll be quite happy thinking rentals and more specifically, holiday rentals. One of the most enticing aspects of renting someone else's home in another country for a little while: the chance to live in your fantasy house/castle/boat/apartment without the type of income that drives you to wear a paper bag over your head and pontificate about sardines in the manner of dear, humble Shia Le Boeuf.
Architect Designed Loft, Tribeca, New York City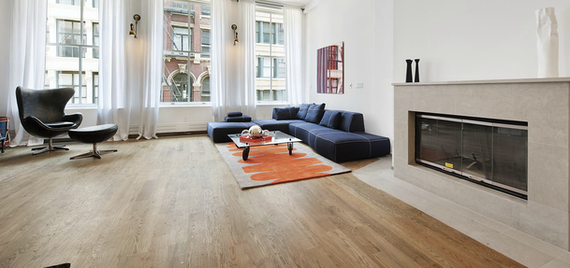 The 'TRIangle BElow CAnal Street' or TRIBECA might be a bit strained when it comes to forcing an acronym but its A-list residents are too busy knocking out tunes and canvases and movies and novels to give struggling world-play a second thought. Possibly the most famously 'creative' (hugely expensive and exclusive) Lower Manhattan district, TRIBECA is home to the likes of Meryl Streep, Daniel Craig, Robert de Niro, bits of U2 and other folk so famous they only need initials. If you live here and you're artistic you know you've arrived. SOHO and Broadway are your neighbours, you're in sight of all that defines Manhattan as Manhattan and you get to live in a loft. While you're waiting to start your Magnum Opus you can try out the lifestyle that goes with success by renting a fully restored, mid-19th century loft apartment complete with floor to ceiling windows, wood floors, open fireplaces, vast rooms, a professional kitchen and views of other people's enviable existences.
Traditional Riad, Marrakech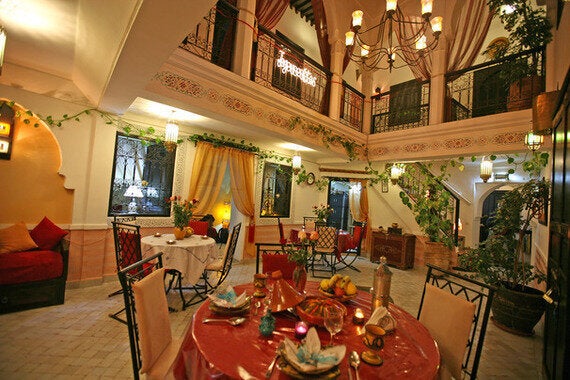 Heat, light and some of the world's most delicious food mean that any holiday well spent in Marrakech involves plenty quiet contemplation (AKA lounging around not doing much). And nothing reflects this admirable activity better than the traditional structure of the city's beautiful and exotic Riads. The basic principle of the Riad is simple: many terraces, shady courtyards, fountains and pools and a wide, flat roof for watching the city by day and night. Add pristine whitewash, intricate tiles and carving, bold and stunning splashes of colour, make sure it's in Marrakech's Medina and you can live the life of Pashas, Princesses and Prima-Donnas - for a little while at least.
18th Century Chateau, South of France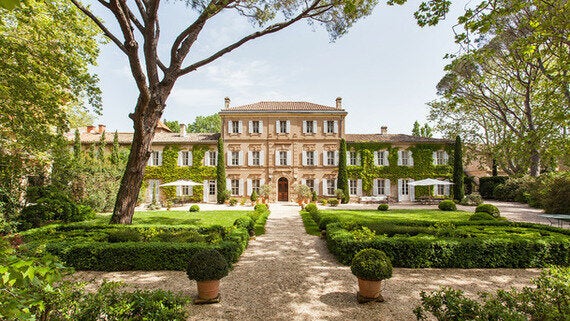 In the realm of fantasy property, a French Chateau is pretty near the top of my wish list. But I'd prefer not to go for the obvious Loire Valley choice (too many turrets and not enough sun) and head for the South. The traditional style of chateau in the warmer bits of France is a bit less fairytale and a lot more fortified. Think three foot thick walls, fireplaces you can stand in, banqueting halls, flagstones and many mighty big bits of furniture. Several hectares of private land, formal gardens, a lake and a forest or two, usually round off the whole satisfyingly grand chateau experience perfectly. And should you find yourself yearning for a nearby supermarket or a newsagent, you may just have to settle for charming, historic villages with delightful restaurants and pavement cafes instead - the hardship.
Houseboat, Canal Ring, Amsterdam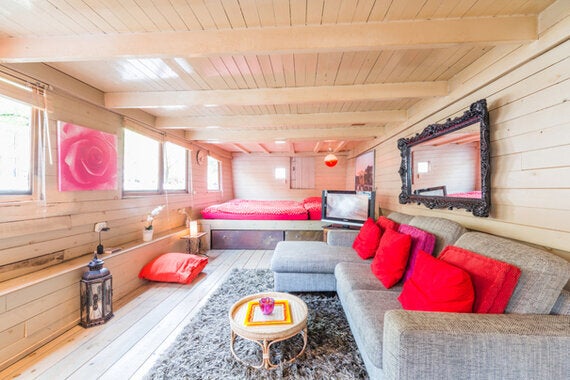 I'm always a bit torn when it comes to where I'd ideally stay in Amsterdam. I love the quaint elegance of the historic Canal Houses and the city's contemporary eco-homes are smart and clever and conscience friendly, but if it really comes down to one choice I'd have to opt for a houseboat. If your only experience of living on water is a brief flirtation with a tiny cabin on a cross Channel ferry, Amsterdam's houseboats are nothing like that at all. They're modern, sleek, designed detailed to death, warm in winter, cool in summer, spacious (yes, really) and they usually have little gardens or terraces. And since the city's basically built on canals there are plenty of houseboats to choose from - as well as Canal Houses and Eco-Homes too, obviously.
It's not too difficult to see why The Ideal Home leaves me a little underwhelmed by its lack of anything out of the ordinary or even vaguely interesting. So until something more tempting turns up, I'm going to carry on renting other people's Ideal Homes for the holidays instead. As an alternative to approximate supermarkets and two televisions I can highly recommend it.
All images courtesy of HouseTrip