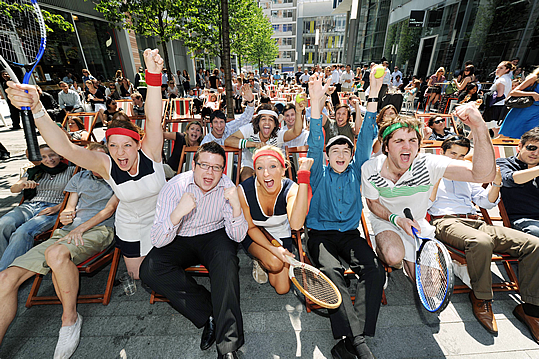 - Land Securities Summer Screenings
Even if the names Djokovich, Sharapova and Azarenka sound like exotic eastern European holiday destinations to you, there is no denying that Wimbledon means something to everyone. Be it strawberries and cream, Cliff Richard singing in the rain or the building up of a nation's hopes higher than Murray Mount (Come on, Andy!), Wimbledon is a time for (I hope not so) rainy celebrations and for watching two or four superiorly fit people scamper around a patch of green grass like you've never seen them scamper before.
Unless you're a super fan or incredibly organized, chances are you've not got tickets for this year's Wimbledon; nor are you prepared to stand in a queue longer than the time it takes a giraffe to give birth, with the meager odds of claiming a leftover ticket made available on the day.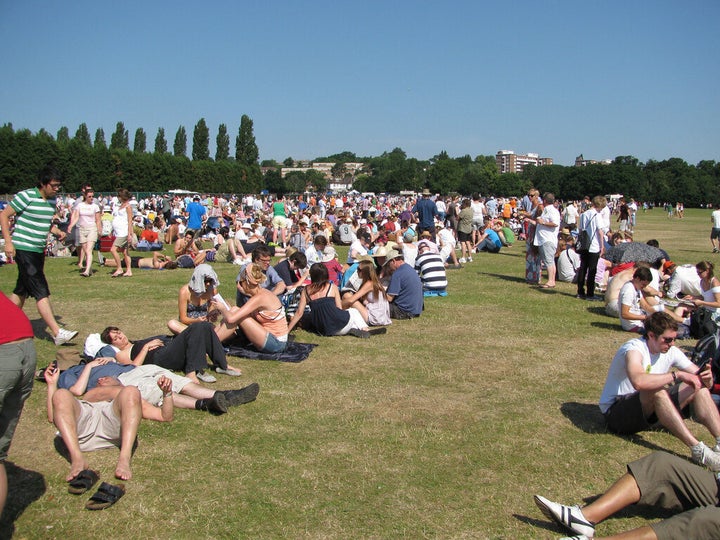 So, ditch the tent. Pack up the sleeping bags. There are great venues across London showing live Wimbledon coverage for free or for the price of a drink or two. Here are my top picks for places to watch Wimbledon while soaking up the atmosphere of the capital.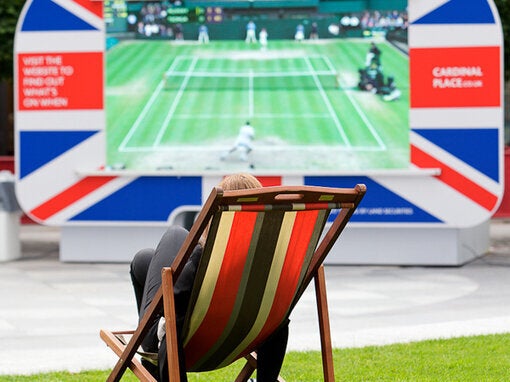 This recently regenerated corner of Victoria close to the train and bus stations is now home to a number of offices, shops and restaurants, but it's in the large open spaces in between that you'll find a big screen go up in time for the first games at Wimbledon. Walking distance from both Buckingham Palace and Westminster, this a great place to pop into while ticking off some key tourist sights.
By far my most upmarket (and expensive!) option, Nobu Berkeley will be showing games on TV screens around their restaurant on weekdays that Wimbledon is on. Enjoy an elegant and elaborate 3 course lunch or dinner while watching Andy Murray march on his quest to win the all-elusive Wimbledon title that a Brit hasn't won since 1936.
Canada Square, Canary Wharf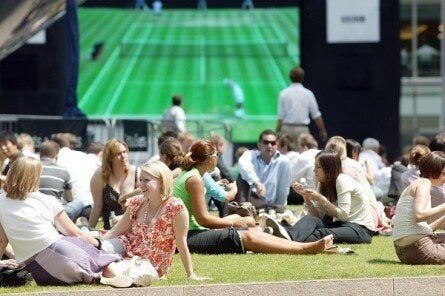 Purpose-built to keep the financial deal makers and breakers happy on their lunch hour, the big screen in Canada Square can of course be enjoyed by all, and offers a welcome relief from the serious-looking skyscrapers that tower above. BYO strawberries and hope for sunshine!
Waltham Forest, Walthamstow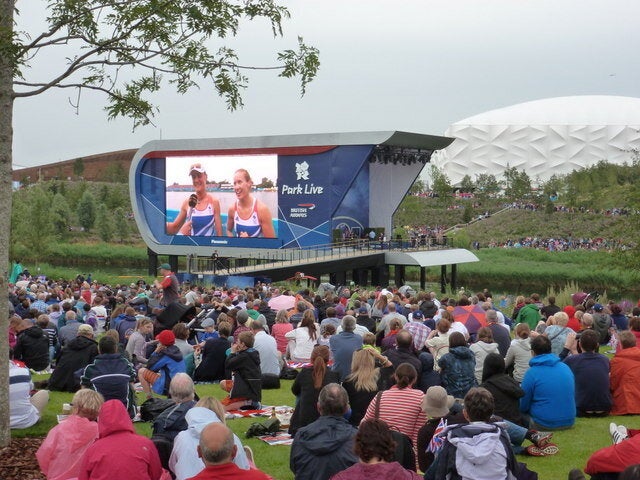 A BBC Big Screen is going up in Waltham Forest in East London. A popular spot to watch the nearby Olympic action last summer, Wimbledon will see sporting fever return to this leafy neighbourhood. With soft grass to lie on and the Olympic Park nearby to visit later, you can make this a very athletic-themed day out. As a spectator of course.
The Refinery, London Bridge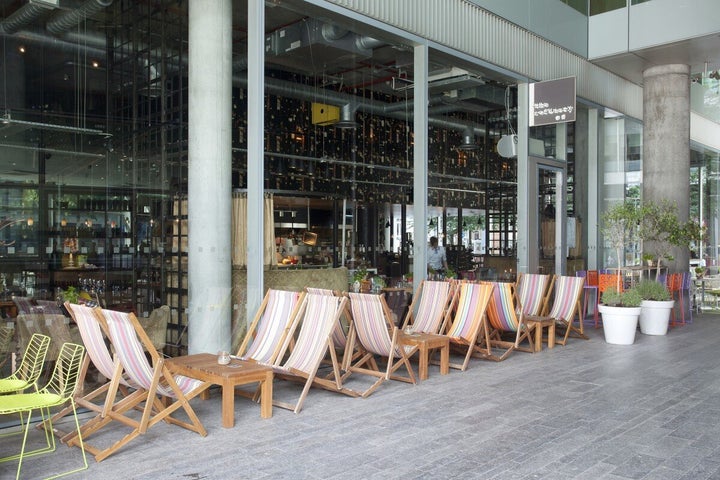 With deckchairs already lined up ready outside and a special screen set up in a converted caravan, The Refinery is one of the most popular spots to watch Wimbledon in Southwark. With seasonal cocktails on offer alongside jugs of Pimm's (if you're not from the UK and don't know what a 'jug of Pimm's is', you'll learn. Oh yes.), this is the place to soak up a party atmosphere and let the tennis players on the screen do all the hard work.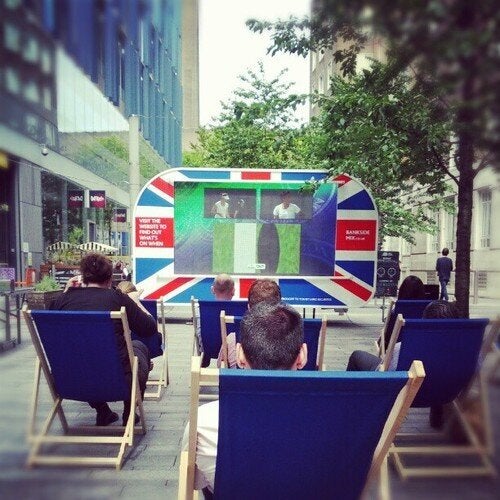 Staying in Southwark, but offering a more child and family-friendly environment to watch Wimbledon in is Bankside Mix - an area of shops and restaurants close to the Tate Modern on the Southbank. Here you can watch all the key Wimbledon games on a big screen almost in the shadow of the famous Globe Theatre.
Of course you can actually watch Wimbledon in Wimbledon without being courtside. This corner of South London is well known for its wide range of bars and pubs and The Woodman, a large, traditional British pub, is one of the most popular places to nurse a pint with some pub grub while watching the action unfold. If heading here on the tube, get off at Southfields station as you'll then also see how the station is transformed into a pseudo-tennis court each year; that should get you in the mood! Another popular Wimbledon pub for watching the game is The Alexandra.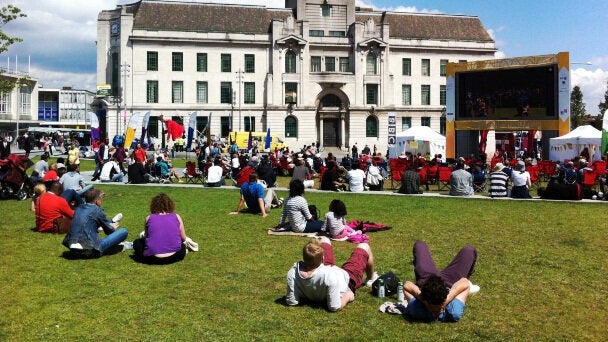 Another BBC Big Screen is going to be drawing in a steady crowd in General Gordon Square in Woolwich, just across the way from Woolwich Arsenal DLR station. A perfect suntrap of a town square, expect a family-friendly atmosphere.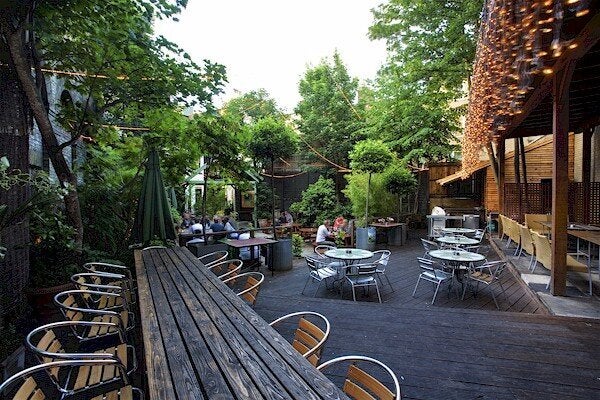 With a beautiful garden out the back, the Garden Bar is many West Londoners' favourite summer spot for good reason. But, throw in live coverage of Wimbledon on big screens and you'll want to get down there early to secure your seat and white wine spritzer as it's going to get crazy busy. This is the place to stay for the night if you're keen to celebrate the players' success too.
New Street Square, St Paul's Cathedral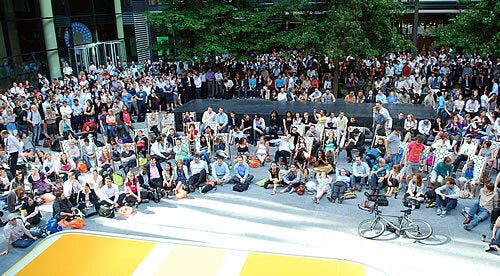 Another new shopping complex, New Street Square is found in the City of London close to St Paul's Cathedral. Here there'll be a public big screen showing the tennis action from Monday to Friday, both weeks of The Championship. While the majority of spectators will be suited men and women on their lunch hour, avoiding the office, this is a great place to catch up with the scores before or after visiting the spectacular St Paul's Cathedral.
Where will you be watching Wimbledon from this year? Wherever you are, let's hope for sunshine!