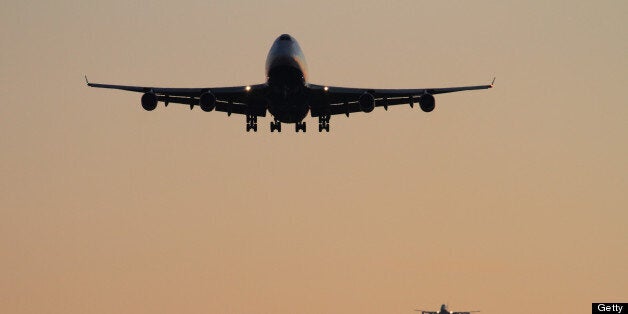 Letting Heathrow expand is the climate's worst nightmare. But the government seems desperate to feed big, greedy, carbon-guzzling monster businesses instead of boosting simple things that would benefit lots of people's lives.
It will come as no surprise to anyone that Friends of the Earth not only opposes the expansion of Heathrow but also any airport expansion anywhere.
This is not because we are tree-hugging hippies who don't believe in human progress. Far from it. In fact technology is going to play a massive part in tackling climate change and the other big environmental crises we face.
But there are three key factors which mean the government is wrong to give the go ahead to airports like Heathrow to expand.
The first of these is climate change. The pragmatic government Committee on Climate Change (CCC) suggests that by 2050, emissions from air traffic in the UK should have returned to the levels they were in 2005. But they allow for a huge 60 per cent growth in flights during this time.
We don't think these numbers stack up because they assume that the UK will successfully clean up every other part of its economy in order to create space for air travel to expand so much and that airplane technology will improve massively.
Planes are quieter and more fuel efficient than they were, but the technological change required to allow a 60% increase in flights while reducing total emissions would probably need us to re-write the laws of physics, or rely on substitute fuels, which in fact lead to more emissions elsewhere in the world.
The second reason why it's daft to allow Heathrow or Gatwick to continue growing is that as well as harming the global environment, more flights mean more misery, noise and air pollution for people on the ground.
I live with my wife and seven-year-old son in a flat in Hammersmith, west London, directly under Heathrow's flight path. Compared to places like Richmond and Hounslow, the planes are relatively high when they pass directly over our roof. But even so, you can't open your windows on a summer's morning because the jumbos and the giant airbuses start arriving from 4.30am.
And our truck with Heathrow is as nothing compared to those who live closer or the residents of 800 or so houses that will have to be bulldozed to make way for a new runway.
The third reason airport expansion defies logic is because it belongs to the domain of national willy-waving rather than intelligent strategy. It will benefit the owners of the airports and the egos of the politicians who are seen to strike down the objections of local 'NIMBYs' in favour of a big solution to a problem that no-one except Heathrow and Gatwick can quite put their fingers on.
The UK desperately needs investment in its infrastructure and with Brexit looming will no doubt need lots of economic boosters, but why not start small, at a level that will benefit lots of people and save families hundreds of pounds per year rather than with grand projects for the wealthy elite.
A really good example is home insulation. Lagging lofts and filling wall cavities does not of course conjure up images of our Victorian ancestors and their civil-engineering feats, but it would help millions of families cut fuel bills for good and improve their health and wellbeing. It would also create thousands of jobs all over the country.
The government should be applying its collective genius to the challenge of insulating the homes of four million low income families by 2020 rather than massaging the egos and bank balances of big businesses like Heathrow Airport.
Another is unleashing the potential of electric cars. The places in which we live will be cleaner and quieter if we can transform the traffic on our roads, but there needs to be at least one location to charge an EV on every street in every village, town and city in the country.
The government has no plans to do this.
I could add faster internet connections, more on-site renewable energy for homes and small businesses and investment in technology to store power so that our grid can better iron out the peaks and troughs of wind and solar. All of these things are in our grasp and would make our lives and environment better. Instead, May's mackled-together cabinet is foisting fracking companies such as Cuadrilla on people in Lancashire and filling the belly of already bloated beasts like Heathrow.
Most of us fly sometimes and many of us fly once or twice a year. And few want to give up a holiday in the sun (though alternative and often more enjoyable ways of getting to warm locations are available).
Most of us don't, however, fly from Heathrow and 15% of people account for 70% of all air travel.
Rather than take monumental risks with climate change and visit further misery on millions of people living close to airports, the government should be shifting from air passenger duty, which hits everyone, to a levy on frequent flyers (see http://afreeride.org/), which increases with each journey.
Permitting Heathrow expansion - hot on the heels of giving the green light to fracking - positions May and her government as climate wreckers. But it also puts them firmly on the side of greedy, dirty businesses and against millions of ordinary people when they could be helping us all from political and tax-payer investment in infrastructure.