As the beginning of summer approaches, people all over the world are making plans for a holiday. The digital age has certainly revolutionised travel booking - a task that used to require the marrying of information from many disparate sources into a single itinerary is now accomplished in just a few clicks. Further, there is a promise of increased choice. Now that consumers have access to a wide variety of companies eager to transport, lodge, and entertain vacationers, it would be easy to predict a Golden Age of holiday-going for consumers. But frequently, this choice is an illusion - and both consumers and travel sites can often be surprised at how data about travel planning is being collected and shared.
You may have heard of the airline cookie conspiracy - a blockbuster of an idea that surfaced years ago that suggests a user's cookie history can be used to raise ticket prices. This means that unless you're clearing out your browser routinely during your search, you're not likely to ever see a lower price than the first option you were given. Airlines and travel conglomerates deny this charge - but no one disagrees that offer information, particularly prices, are stored in cookie data. Ultimately, consumer advocate Christopher Elliott's advice is probably most sound: "Don't think of a travel site as a supermarket. Instead, picture it as a Middle Eastern bazaar. How much for the ticket? Whatever it looks as though you're willing to pay."
Also, it's important to understand how travel sites are organised into conglomerates. For example, Expedia, Inc. owns not only its namesake site, but Hotels.com, Hotwire, Venere, and TripAdvisor. Orbitz also controls CheapTickets and RatestoGo. Sabre Holdings is the parent company for Travelocity, IgoUgo, and LastMinute; and Priceline also owns Travelweb and Lowestfare. So 14 sites are aligned under 4 actual choices. Data can be shared inside each conglomerate as a sound, first-party business practice. But that's not the only way data about a consumer can travel from site to site.
It's a common practice for major websites to partner with third-parties for data-driven marketing services. These services range from analytics about the sites themselves, to tools such as like buttons to help users share the site's content, to deep analysis of the site's audience - information like what they're seeing, how it lines up with other sites they visit, how frequently they make purchases, how likely they are to purchase something in the future, etc. We studied seven top UK travel sites and looked for these partnerships. Scripts from 242 distinct companies were found on the seven sites, with a wide range in the number of tools each site deploys: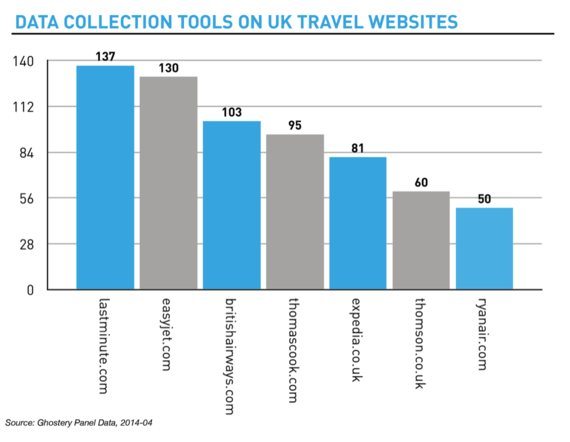 Sabre's LastMinute.com deployed the most data collection technologies in April 2014, with 137 distinct companies represented on the site. Ryanair's site was conservative by comparison, deploying tools from only 50 partners. Interestingly, Ryanair was the only site whose user tracking activities remained the same from a year ago - on average, the other six sites increased tracking activity by 103%. Lastminute, Easyjet, and Thomson each more than doubled the number of partnerships from a year ago.
But it's not as simple as pasting twice as many bits of code into the website. Often, website tools deploy their own partners, and those partners have partners, etc; resulting in technology deployed on a travel company's site several steps away from their actual web developers. Without careful attention, companies may actually be sharing user data with their competitors.
Consider this map of marketing tools on two competing hotel chains. The nodes on the left represent a chain with several brands (each with their own site), so sharing between those sites is expected. But the node on the right of the graph is a competing site. Five partners are shared between the competing chains.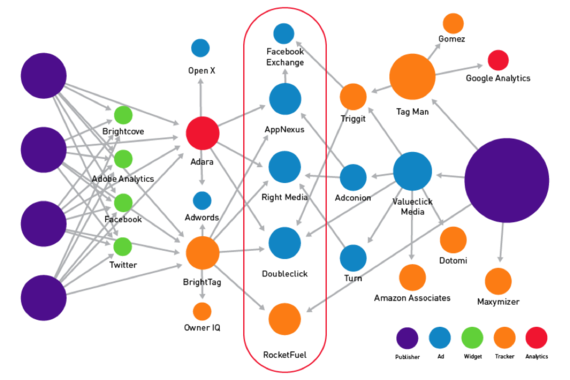 The same was true for the sites in our study - nearly 60% of the marketing tools were deployed on more than one site. Fifteen different tools were present on all seven sites, including data-driven tools like Rubicon, Doubleclick, MediaMath, and Smart AdServer. Without close contractual restrictions, this means that information like a destination, pricing offers, and lodging preferences could be shared among competitors.
Online travel planning makes the globe more accessible than ever before. But in order to truly realise the value of increased choice and increased revenue, both consumers and sites must be aware of the realities of data collection. Your baggage isn't the only thing you carry with you - you're stowing data from the moment you begin your holiday plans.