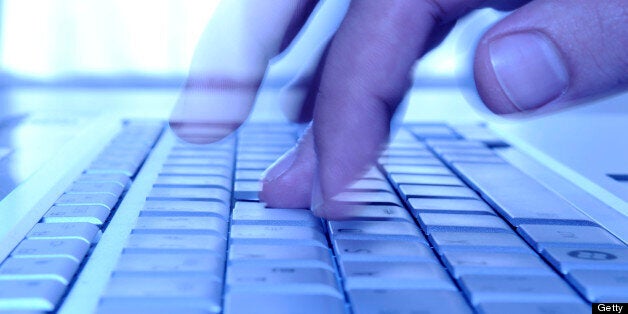 This is the first in an occasional series called Women's Work. It's not about "glass ceilings", struggle, Gender Wars and all that. Just plain and simply it's about women who naturally achieve in business.
Laura spends a lot of time thinking about, and doing things for, young women.
(It's not her main job. She's a Creative Director of successful marketing agency
Dare and incoming President of the prestigious D&AD, which represents and celebrates the brilliance of the global creative, design and advertising communities).
Traditionally you might categorize "doing things for young women" as worthy - "putting something back", if you like. After all Laura has achieved an enormous amount in a very short period of time and sits at the top table of London Creativity.
But when I talked to her in the cool and serene soundings of the ICA on The Mall, in London, I didn't feel that she felt obliged to put anything back.
I felt she wanted to lead and share by example.
Born and raised on a farm and with brains enough to rise to the top of High School and Art School (the acclaimed College of Fine Arts, Sydney), Laura chose to go on and take not one, but two Masters Degrees.
While studying she was asked to become the creative lead of Geekgirl, one of the first "zines" of the mid 1990s and busy though she was, she also found the time and energy to set up her own digital consultancy "Joystick". She was a student entrepreneur.
Geekgirl took Laura round the world and enforced her sense of individuality. Airmiles, tattoos and dizzying hairstyles came thick and fast. Often at the same time.
During this hectic period she felt it important to learn another specific and unique skill.
(The journey from her first shared house to the school went past a taxidermist store and piqued her interest)
Hop, skipping and jumping through famous name digital agencies first in Australia and then the UK, Laura has now landed at Dare with job that is "a dream".
Laura's success seemed to me to be based on four things.
Importantly, she has ability.
Interestingly, she has individuality.
Humbly, she never minds getting her hands dirty.
Enthusiastically, she approaches work with the attitude: "the answer's Yes, what's the question?"
It's this final quality that gives her the energy to take on more and more projects.
Laura has now co-founded SheSays, an organisation that educates, promotes and inspires women to take up digital creative careers.
Modern clichés dictate that Laura be categorized as a vehement feminist (she liked to wear purple jump suits on stage as a vocal 21 year old speaking on "cyber-feminist" issues).
But that masks the truer identity that drives her and that has fuelled her achievements.
Laura was asked back to her Alma Mater in Sydney only months after she left to teach.
In London she taught a Masters degree at the University of Westminster.
Teaching is an act of generous, inspirational engagement.
Laura has the energy to take on any and every project and the generosity to use it to enlighten different generations.
Women entering Computing, the Internet, the Web Design world, you name it, can learn a great deal from Laura.
Load yourself up with skills, be an individual, do the detail and tackle everything thrown at you with huge amounts of enthusiasm.
Be the interesting person you are.
Importantly, pass on what you are learning and doing to others.
There's nothing more infectious than someone else's love of what they do.