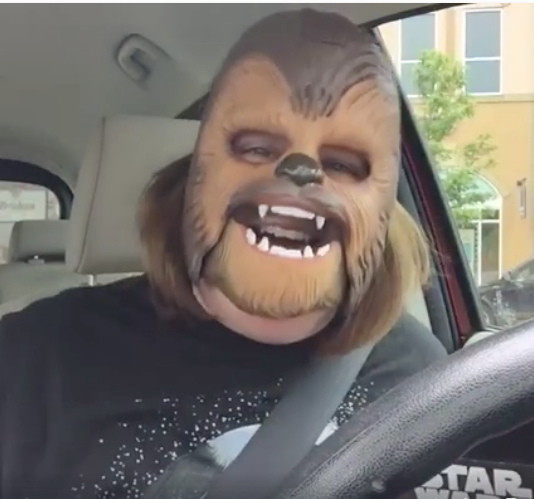 Last week American housewife Candace Payne used the Facebook Live app from her car to share her excitement at her new purchase. As she said, "I have to share with my friends on the internet webs!"
She had bought a Chewbacca mask, a toy based on the popular character from the Star Wars films. But, as she was at pains to point out through fits of hysterical laughter, this wasn't for her two children.
Payne's four minutes of innocent fun and hysterical laughter soon became viral. As I write this, the video has received an astounding 136 million views on Facebook alone and has spawned a host of imitation videos and a 'Chewbacca Mask challenge'.
That number is pretty good news for the department store where she made her purchase, Kohl's, as she namechecked them in the video. And Kohls' marketing team clearly recognised the value of the publicity Payne had inadvertently gained for them.
So, over the weekend, Kohl's responded in style. A delegation from the store turned up at the Payne household with masks for the whole family and a host of other goodies from the store. They also gave Payne $2,500 of gift cards and 10,000 reward points.
Watching Kohl's response, I was struck about just how much they were giving away as a thank you. It's an amazing gesture, far in excess of what they might have been expected to offer.
That gesture shows that Kohl's recognise how social media has transformed the marketing and customer engagement landscape. How much would they have had to pay for a traditional marketing or advertising campaign with a similar reach? Something that Payne gave to them for nothing, she had even paid for her original purchase.
Young YouTube 'vloggers' are among the biggest celebrities for teenagers today. People who most people of my generation have never heard of. People like Jenna Marbles (16m subscribers; estimated net worth $2.9m), PewDiePie (44m subscribers; estimated net worth $18m) and Michelle Phan (8.5m subscribers; estimated net worth $50m) are the new rock stars.
So it's no surprise that the big brands are diverting their advertising and marketing budgets to fund product placement on these new channels and build association with the modern wave of celebrities. In fact, Kohl's investment in gifts and vouchers for the Payne family is a tiny sum compared to the amounts leading Vloggers will be paid.
Not only that, but the 'thank you' video above has reached almost 30 million views itself in a couple of days (probably over that mark by the time I have pressed 'publish' on this post).
These huge numbers magnify something that has always been there. Your customers and networks are the best potential promoters of your brand. Social media has just made old fashioned 'word of mouth' marketing more powerful than ever.
It doesn't just have to be big brands associating themselves with celebrity bloggers. You are surrounded by people who can spread the word about your business. Yet so many business leaders still leave referral and recommendation to chance.
Do you have a strategy in place? And are you really maximising the reach your business has through customers and networks acting as advocates on your behalf?
What will motivate your customers to shout, laugh and spread the word about how wonderful you are?
*YouTube vlogger networth estimates from http://gazettereview.com/2016/05/the-highest-paid-youtubers/