The Blueblack Hussar is a story of Adam Ant, but it's not the story of Adam Ant. Jack Bond's music documentary picks up the tale in early 2011 as the punk-turned-global pop sensation was embarking on his first new album and tour since the mid-'90s. This was no mere comeback but a return from "exile," as director terms it in the movie's spoken prologue, after a decade that saw Ant, a longtime bipolar sufferer, sectioned multiple times and forcibly medicated.
But in late 2010, Mary-Rose Storey, Bond's partner and collaborator, saw Ant perform at a small chapel in Islington and came home enraptured.
"[She] said, 'You really should meet this man, I think he'd make a great subject for a film,'" recalls the veteran filmmaker, best known for his South Bank Show arts documentaries and avant-garde dramas like Anti-Clock and The Other Side of the Underneath, 1970s collaborations with the late feminist filmmaker Jane Arden that were released on DVD last year by the British Film Institute.
A meeting was set up at Ant's small South Kensington flat, crowded (as we learn in the film) with books, art, and artifacts. "I spent a couple of hours with him. He played some of his new music, and mimed to the demo tracks he was playing. I found myself completely entranced," Bond says. "I thought at first, nobody comes back - he can't do it, after such a delay. But I believed that he would and could do it."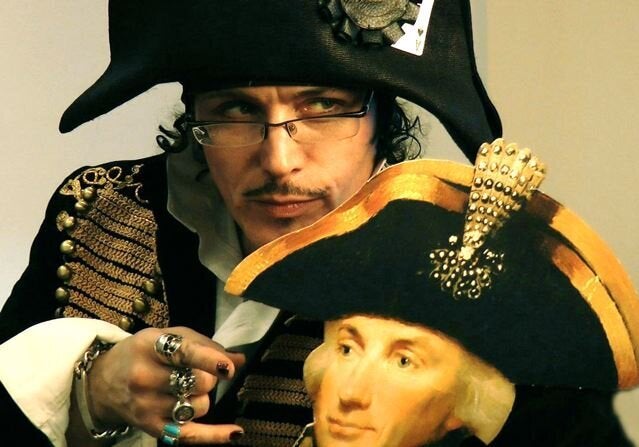 The past bubbles up sporadically in The Blueblack Hussar, in occasional reminiscences or the odd, swift snippet from the old days, like a sudden few seconds of the video for "Stand and Deliver" (the 1981 UK No. 1 that helped break Adam in the US via MTV). But this is no bio-doc.
"If somebody wants to do that, I'm sure there's a way it could be done. It didn't interest me to play it that way," Bond says. "I wanted him as he is now."
Tracked fly-on-the-wall style during his 2011 "World Tour of London," from small club dates to the Hyde Park Festival, the 56-year-old Adam of Bond's film is a crackling bundle of forward motion, dressed up in new piratical kit and a dirty sound that owes more to the spiky art-punk of circa-'80 Adam and the Ants than the pop twang of "Goody Two Shoes."
The Ants' New Romantic period garb, fetishistic lyrics, and commercial success didn't always endear them to critics in their early '80s heyday, but Bond's film highlights Adam's commitment to craft as well as his humor and panache, particularly in conversations with super-producer Mark Ronson and pop-erotic artist Allen Jones, a mentor from Ant's past life as art student Stuart Goddard.
"I think he's a true artist, a real artist. In that sense I drew very strong parallels between him and Salvador Dali," the subject of Bond's breakthrough 1965 documentary Dali in New York. "Both had this supreme, electrifying presence. I mean, Dali walking down a street in New York is enough to switch all the street lights on. I felt the same with Adam."
The Blueblack Hussar does pause for one introspective interlude, an interview during a recording trip to Paris in which Ant looks back at some of his past experiences, especially as a pop star. Was it difficult to get him to do that in a film that is so much about him steaming ahead?
"He did that, I didn't do that," the director laughs. "I was quietly at home in our apartment in Paris. The doorbell rang and it was Adam. So up he came, sat down, we had a sandwich or two, maybe a glass of wine, and he started to talk, directly to me. So I said, 'Camera, please,' and we started shooting. He was completely un-self-conscious about it. It was a lovely, spontaneous moment that was absolutely unplanned."
Ant has said in interviews that he is now off medication, and the film's copious performance footage shows that even after a decade-plus offstage the once and future dandy highwayman hasn't lost his swashbuckling taste for the spotlight, whether it's shining at the 100 Club or in his cramped kitchen, where he energetically lip-syncs to a track for his comeback album, Adam Ant Is the Blueblack Hussar in Marrying the Gunner's Daughter (released in January).
"He doesn't get nervous before doing anything. He is not frightened to improvise and be playful," Bond says. "And a flash of vulgarity every now and then I find entertaining."