Why are music venues in the UK dropping like flies? Is it due to abatement notices and local council bureaucracy? Is it down to young people now believing that music careers are achieved by attending auditions for TV shows? Thanks a bunch, Simon Cowell! Or is it that pesky "recession" that cruelly snatched our bags of Woolworths' delicious pick 'n' mix away from us all?
Anyhoo, whatever the reasons for the fall of music venues (12 are currently under the threat of closure), Independent Venue Week has been founded to perform much-needed metaphorical CPR on live music in Britain. Celebrating the independent venues scattered across the UK, the second IVW event is set to take place from 26th January to 1st February at over 90 independent venues. The live music rendezvous will be an extremely timely reminder of the essential role that smaller venues play in the touring ecosystem, in the hope that these gems can thwart the constant threat (and ultimate humiliation) of being closed down and converted into a generic gastro pub or a block of pretentious luxury flats. Oh, the humanity!
Step up Frank Turner, the singer-songwriter (and thoroughly nice chap), who has taken over the IVW ambassador role from Radiohead's Colin Greenwood. Not only is the 32-year-old troubadour the face of IVW this year, Turner will also be playing a couple of shows as a part of the event, including one show at 93 Feet East, a special "thank you" to the venue that played host to the singer's very first foray into live gigging.
But why should YOU be supporting Independent Venue Week? On his soapbox, Frank told me:
"Independent Venue Week contacted me recently [founder Sybil Bell got in contact] and asked me to be involved in this year's campaign. I've been running a petition recently to try and get a change in planning law - the Agent Of Change Principle - to help save many of the UK's small venues from extinction. It's a worthy cause, and we seem to have caught the attention of Sajid Javid MP, the Culture Secretary, but the whole thing, whilst totally worthwhile, is a little pessimistic in tone. What I love about being involved in Independent Venue Week is that it's a positive, celebratory thing, the necessary counterpoint to the rearguard action of the petition.

"IVW is about bringing people together and celebrating a little corner of culture - our culture. My whole adult life has been spent in and around small venues, in the UK and elsewhere; sometimes as a performer, but just as often as a punter. There's nothing I love more than to be crammed into a small sweatbox seeing a great band up close and personal.

"There's nowhere else I'd rather be. I think it's important both to celebrate this, and also to introduce new generations to that world, to show them that music is so much more than just sitting in front of a laptop listening to tracks on Spotify, or being herded to your seat in a corporate arena. It's something visceral, alive, and most of all participatory. Hopefully Independent Venue Week will get everyone, old and young, veteran and newbie, down to their local venue to enjoy some amazing music and make some new friends."
Hear, hear. Watch Frank discussing the problem himself in the video below:
Of course, music organisations in the UK have thrown their support behind the IVW, with UK Music, PRS for Music, and The Musicians' Union all partnering up to support the campaign. Furthermore, big influential names like BBC Introducing, Noisey, XFM, The 405, and Boiler Room are also using their considerable might to help out, curating stages that will be staging music of marvellous goosebump-producing brilliance. Let's not forget the support from record labels (Domino, Rough Trade, Fierce Panda), and the established bands (Peace, Edwyn Collins, The Subways, The Blockheads, and Frankie & The Heartstrings etc) who will be performing shows across the 7 days to show that live music can still thrive in the UK.
But a big shout-out needs to go to the Arts Council here, who of course do great work for the arts and suchlike...and have provided funding for the event. I got in contact with them to ask why they got involved (plus to give this blog post some added gravitas). Helen Sprott, Director, Music, Arts Council England, said:
"Independent music venues are an invaluable part of our national music ecology. They are often the places where people across England first experience live music and for many years these venues have also provided the vascular system by which artists have been able to tour the nation. It is this dual role, nurturing both audiences and talent, that sits at the heart of Independent Venue Week and we are delighted to be supporting this celebration of grassroots music through our Grants for the arts programme."
Well, there you have it. Use them or lose them. Sign Frank's petition and visit your local venue at the end of January to watch some music! Me? Well, I'll be at the Zephyr Lounge in Leamington in the hope of catching the next Arctic Monkeys. I hope to see you there! See you at the front, Sajid Javid?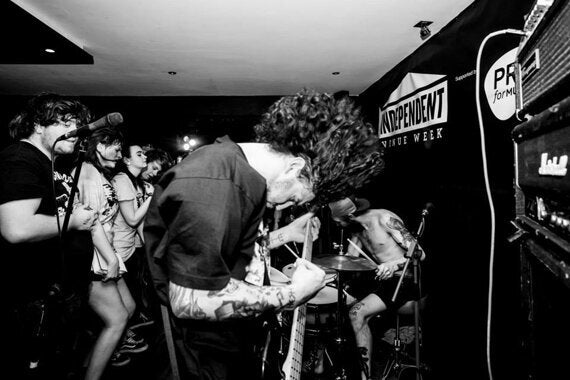 Photo: Independent Venue Week