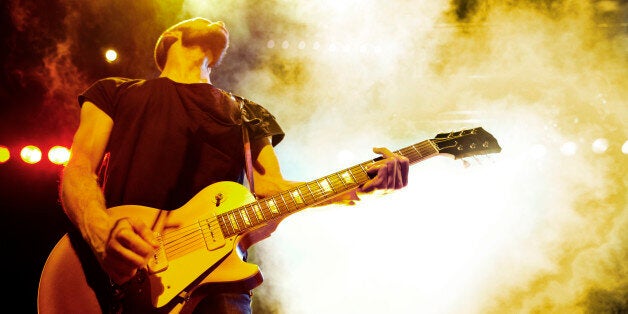 The Scene That Celebrates Itself was identified by Steve Sutherland in the pages of his august organ, Melody Maker (b. 1926). TSTCI wasn't a genre, as such.
The 'scene' bit was rather more accurate, but the cast list would utterly discard the term; the 'scene' was a motley crew of indie music Herberts who, each Thursday, would descend into a firetrap basement bar on the south side of Oxford Street, near Tottenham Court Road tube station.
On Thursdays, between the latter days of 1989 and the genesis of Britpop towards the end of 1991, the dive was rented out by a couple of NW1 mini-impresarios, Andy Allen and Jared Pepall, who together hosted Syndrome, ostensibly a viable indie club, but one which was hijacked - and effectively adopted as a de facto after-hours shebeen-cum super-annuated youth club - by, and for, wastrels all and sundry of an indie guitar inclination who happened to reside within a night-bus commute radius of Camden Town.
The assortment of people attempting to approximate a crowd was comprised of members of indie bands, girlfriends/boyfriends/mates thereof, managers of indie bands, agents, promoters, nascent indie label figureheads, journalists from the four music weeklies (NME, Melody Maker, Sounds and a slightly apologetic Record Mirror), touring Americans bands, and the occasional unaffiliated, NUS card-toting straggler, either lost, or arriving with the reasonably achievable aspiration of presently appending themselves to one or more of the aforementioned admission-qualifying categories.
Whoever was around and had nothing better to do at the time would drift as flotsam, washing up at Syndrome, not knowing precisely who was going to be there, but with a guarantee that a Lucky Bag of (Un-)Likely lads and lasses would converge. My 'diary' entries for Thursdays (yes, I was a frequent attendee and generally ticked a permuation of boxes required) would either entail a gig (asterisked), or 'syndrome' (nothing further), or the occasional list; such as: (Thursday 16th May, 1991) "Syndrome - good attendance: Blur, Senstitize, Miles H, Chap, Swerv."
That following week in May - evidently, the 'wrap' party for Blur's first album, 'Leisure' - occurred in the bar area of recording studio Maison Rouge, way out West, on the Fulham Road. Chapterhouse, Ride, Senseless Things, 5.30, and doubtless numerous other faces were there.
So, that was The Scene, in the act of self-celebration.
That evening was rounded off by a typical what-do-we-do-now roll of the dice which shambled us collectively back to the familiar, comfortable and welcoming bosom of Camden, to Syndrome's weekender cash cow (ie full of yer actual paying punters), Club Silver, at the Underworld, beneath the World's End boozer.
It transpired, then, that it's definitively impossibly to have a splinter group, if that splinter group is at the epicentre of everything.
Really? Well, all of the future usual suspects of what was - with a little bit of deduction - to become recognised as 'Shoegazing' were amongst us all along.
Somehow, sometime across this period, I had shanghaied a friend, Polly, into becoming my PA/label mascot. In due course, and almost by absorption, Polly had acquired a boyfriend/mascot, Russell Yates, one of the prime movers of Scene corner stones, Moose.
This affiliation naturally attracted much, er, ribbing, particularly once I'd pointed out to Polly that the band's idea of compelling stagecraft seemed to be a comprehensive uninterest in proceedings on, and in the immediate vicinity of, the stage, specifically when they were squatting it for forty minutes or so. They also appeared to be sucked into a state of trance by the footwear lurking semi-motionless beneath their low-slung guitars.
This fixation was evidently shared by regular bill-buddies, Chapterhouse. Both bands were as much beset by rigor mortis onstage as they were beset by Holsten Pils in the confines of the Syndrome dungeon.
Chapterhouse were often bundled up with fellow Thames Valley refugees Ride, Swervedriver and Slowdive (with London affiliates Lush thrown in for good measure) for the purposes of entertaining feckless young disciples across the plethora of student unions in London satellites such as Kingston -Upon- Thames, High Wycombe, Guildford, the M25 in general, ULU, and Oxford in its entirety.
By June 12th, I'd noted "Blur at the T&C. Shoegazers galore." So, by then, I knew what I was talking about. To myself, that is...
However, to pinpoint a specific date on which the genre nail was hamfistedly bashed into the Shoegazing jelly is, it transpires, more or less impossible, due to the ubiquity of the events featuring various permutatitions of the likeliest of suspects.
Nudged on identifying the elusive date of the epoch-making event, Polly recently concluded:
"Right, Rossington - I think it might have been this gig: Moose, Lush and Blur at The New Cross Venue, 15 March, 1991? I think I 'went off' with Russell after that gig, so that would make sense about you ribbing me about this afterwards! I only went out with Russell for about two months...."
Six months later, diary: 3 Sept 1991: Moose/Chap/S'dive -Marquee. BINGO!!! Now, THAT'S WHAT I CALL SHOEGAZING!
Ah, I forgot - what's the bloody point? And - by extension - Wherefore art thou, then, Shoegazing?
Well, despite innate protestations to the contrary, music requires pigeon holes. Music journos need pigeon holes as a convenient shorthand, record junkies crave pigeon holes, almost certainly more than pigeons do.
So, what do we have? Guitar bands, (mostly male, but not certainly not exclusively). Until recently, students (hmm, now you mention it...). Common bond of intellectual superiority and romantic penury. Alchemic ability to magick cans of Holsten Pils from nowhere in the hermetic confines of the Syndrome Club. Parents secretly approve of appearance as said parents are intellectually superior enough to know this will really piss off their offspring. Long hair (apart from females). We really could do with a genre.... Time to womp that sucker...
Wednesday, October 9, 1991 : Lam/SW.
I'd had the grandiose notion (by indie standards) of inviting to lunch two luminaries of the realm, NME mainstays Simon Williams and Steve Lamacq, copper-bottomed referees if ever there were such beasts.
Up until earlier that year, I could refer to them as 'fellow journalists'. I had been a regular contributor to Sounds, writing the piece that turned out to be the final cover feature (The Wonderstuff), in February (cover date 6 April, 1991 - the zenith of Shoegazing...).
By that autumn, however, I was now very much ex- of that parish, and therefore lacking the wherewithal to pitch my groundbreaking genre within the body of a live review, or similar...
Thus, in order to claim the concomitant kudos, I had to achieve this vicariously, through the pen of another.
The three of us convened at the Andrea Doria Italian restaurant on Beak Street, Soho. After much jollity and the regulation gleeful forensic dismemberment of the creative outpourings of our musician chums, I slipped into conversation my proposed nifty piece of neological shorthand - 'Shoegazing''. Does what it says on the, er tin! Besides, Steve had a track record in the genre-coining genre, having taken the rap for 'Fraggle' and 'Camden Lurch'....
And, having lurched our separate ways, that was that. For the time being...
A couple of weeks or so later, I noticed that Steve had shoe-horned the term into a write-up of some par-for-the-course hopefuls, thereby - by the letter of the lexicographical law - creating the first use in print of the word 'shoegazing'.
The NME, circa October/November 1991.
Then the word - like the genre itself - seemingly ambled into the indie sunset, an ephemeral footnote to a lesser chapter in British rock music.
Syndrome acolytes Blur and Suede took the glamour pill and set the 90s wheels in motion.
Steve's label put out the first records by Elastica. Simon's did the same for Coldplay and Embrace. The two of them were involved in Placebo. All of us seemed to have something to do with Idlewild and The Bluetones.
I set Blur on their way and had over 100 consecutive top 100 singles with my record label, Food.
And that was that for Shoegazing.
Until our American cousins got their teeth into it.
Over the course of the two decades that have elapsed since th inception of Shoegazing, the cult of 'Shoegaze' seems to have emerged from the musical soup concocted in Syndrome Club between 1989 and 1991.
Compilation albums now proliferate cataloguing our merry troupe of roister-doisterers at play, the scene captured in time, celebrating their legacy and the footwear that inspired them.
And it's called Shoegazing, actually.
I should know - I invented the word.