"Your dad is having a great time on his work trip," reveals mum. "He's staying at a posh hotel in India. There's a wedding every night, so your dad goes along, gets drunk, dances and chats to the guests. He's been to six so far!"
Let me introduce you to Jaipaul Singh, professor by day, professional partygoer by night.
Dad was actually in India to talk about some really important research on diabetes, but he still found time to live it large and party with the people. In fact, he's going to be 70 this week and he's still in his prime, whether it's jet-setting across the globe, doing the weekly shop at Morrison's or living by that old adage of, "a glass of wine a day is good for the heart". In short, he's the coolest man I know.
Here are six reasons why: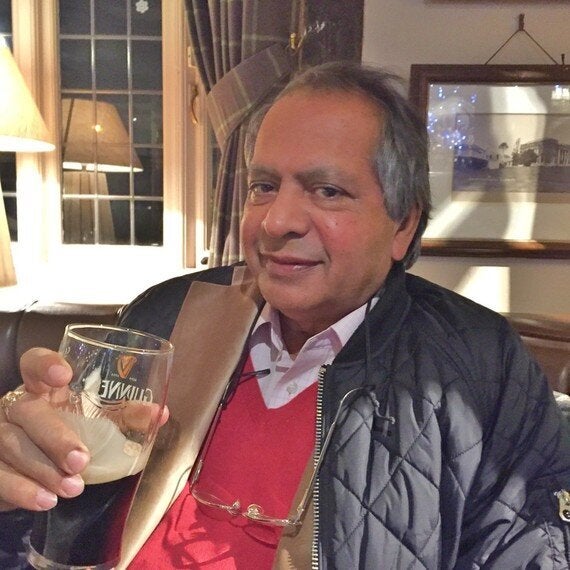 Now there's a face you can trust!
Whether trying to buy a house, facing potential redundancy or having relationship woes, dad is always on the end of the phone, or with his finger over the camera on his iPad as we Facetime, to provide great advice. Whether it's his classic, "Why worry about tomorrow?", "They're a cowboy organisation" or my favourite "Only education gets you up in life", he's non-judgmental, straight-talking and always makes sense in a sticky situation. Apart from when he's drunk. When he's drunk he's laugh-out-loud funny.
Conclusion: Dad provides great advice, no matter the problem.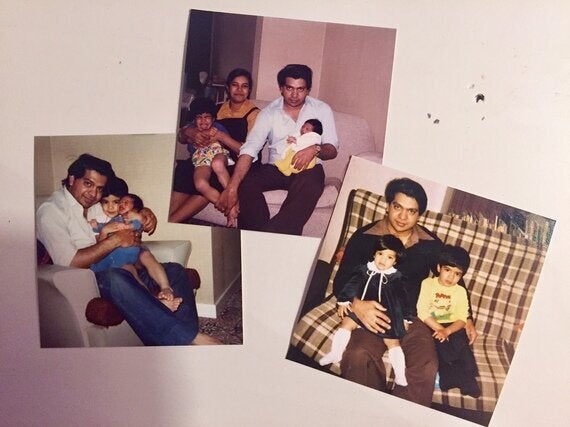 This man knows how to charm (almost) anybody
For a long time, my brother and I thought dad loved his students more than us. But, after 34 years on this planet, I've changed my pre-pubescent ways. Dad just likes to talk... to everyone. Whether it's the Welsh couple from a hotel in Budapest, Terry, my next-door neighbour or the waiter at the local restaurant, he knows how to make connections, when to put people at ease and how to make the conversation flow -- even if he's doing most of the talking. He's the ultimate example of why you should always do you! His ability to charm strangers is getting out of hand. When friends come round, they quite often want to hang out with him instead of me!
Conclusion: Need to network? Ask yourself: What would Jai do?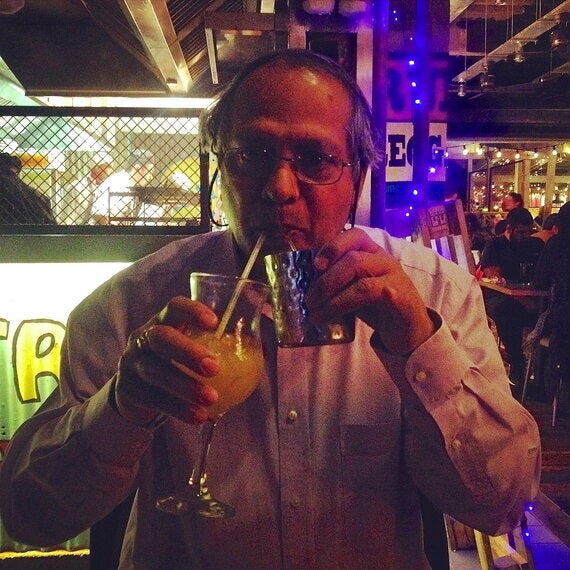 Two drinks are always better than one
He's a rum connoisseur and can cook a mean curry!
Dad knows good food, and rum (his tipple of choice is El Dorado 15-year-old) and wine (whatever is on offer at Morrison's). And he can cook a proper good Guyanese curry, complete with roti, rice and lashings of delicious yellow daal. When he cooks on a Saturday, the smell wafts its way to the end of our road. Yeah, it used to be embarrassing when I was younger, but now it's my first food request when I head home. It's also dad's dinner party favourite! Students, fellow researchers and family members galore used to frequent the house in my teenage years. While my brother and I cowered away, waiting for him to drag us down to say hello, he would have a right good time and so would his guests! Why? Because he ensures anyone who comes round leaves with a belly full of food and a lovely drunken glow. I recently had a housewarming and although he couldn't come, he still cooked two pots of curry, one pot of paella and provided bucket loads of alcohol. The party was ace, FYI.
Conclusion: Hosting a party? Get Jai on the case!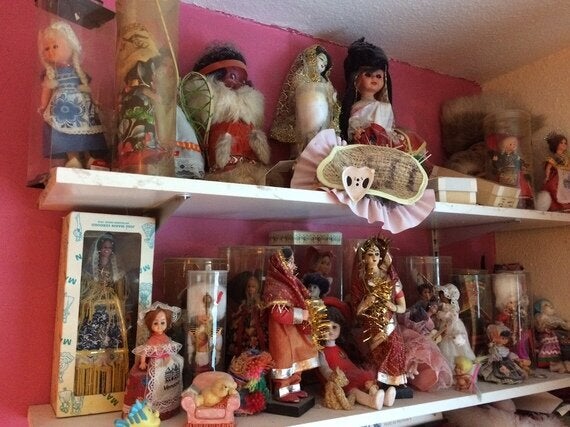 A doll collection to die for, thanks to Dad's travels. (Thanks for the photo mum!)
He has weirdly fashion-forward taste
Dad travels a lot for work. He's always off somewhere new, attending a stranger's wedding, knocking back rum, dancing down the street... But perhaps what's best about these trips is that he always brings back unexpectedly excellent gifts. I mean, gifts that are so kitsch, they are actually cool. Thanks to dad, I have an incredible collection of dolls from around the world, numerous bottles of rum, earrings that can only be described as bling, heaps of shake-your-bum mixtape CDs from Guyana and, most recently, a selfie stick. He also has an eye for interior design and is encouraging of bold choices. Thanks to dad I totally achieved a Scandi cool flat, with pops of neon.
Conclusion: Take Dad shopping, he has excellent taste and might even pay!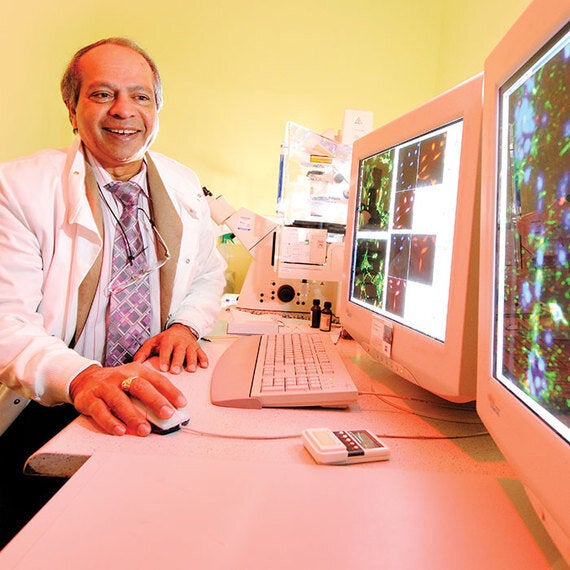 Here's dad, in his lab, with his computer and, what I can only assume, are cells on the screen. Dad knows science
He knows about pretty much everything
From Syria to Strictly, Brexit to Kim Kardashian's behind, dad knows everything. He's got well-rounded views of the world -- apart from the Kardashians, who he still claims to dislike -- and can hold a conversation on any topic you throw at him. He's actually a walking Wikipedia site. If I ever need to ask 'that stupid question', I ask dad. He never judges and just tells me everything he knows, helping to shape and inform my worldly-wise views. Perhaps it's because he watches the news every night or because he still buys a newspaper. It could be because he's actually addicted to his iPad, but I like to think it's because he's my Dad and knows everything there is to know about life.
Conclusion: Need to know the key facts of a story, so it looks like you know everything? Ask dad!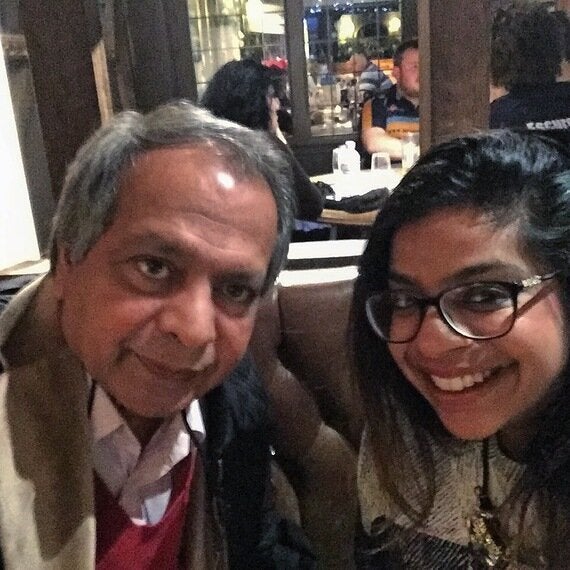 My dad and I having a selfie
Of course, every girl probably thinks they've got the coolest dad in the world, and they probably do. But, let's face it: Jaipaul Singh is definitely one of a kind. He's rocked out at a Guns N Roses concert, he's got a DSc (one of the highest degrees you can get) and he even taught me all about menstruation (thanks, dad). Seriously, though, I don't know where I'd be without dad. He always goes the extra mile for people (quite often strangers) and during his career as a top-notch professor, he's done everything he can to ensure even the most marginalised people have a chance to get an education. I am very lucky to have a dad like Professor Jaipaul Singh: one who finds my terrible jokes funny, ensures my drinks cupboard is always stocked with rum, but most of all, a dad who loves and supports every member of his family with all his heart. Give this man an OBE, dammit.
Conclusion: My dad is the coolest man in the world. Happy birthday, dad!