Holly Bantleman is hands down the most inspiring woman I have met so far in 2015.
Not only does she work as a TV camera operator, but she founded and runs a registered charity Raise the Roof, for which she has won numerous awards, and has now been nominated for a Cosmopolitan "Ultimate Women of the Year" Award.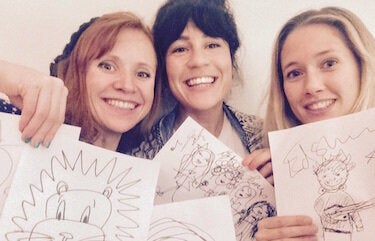 Holly originally started RTR, to fund shelter for a community living on a dumpsite in Kenya. The charity now works with developing communities in Africa, to empower their visions and build sustainable futures, with a focus on education, healthcare, sport and equality. They have recently built what is now the highest ranking vocational training school in Kenya, with a 100% exam pass rate. As someone with a passion for female empowerment I was really excited to hear about their new venture; Raise her Voice. This new pilot programme with a holistic approach to gender equality, which also provides menstrual hygiene management packs for young women that cant afford them. At a time when women in this country are (quite rightly) protesting about the luxury tax we pay for sanitary towels and tampons, I was shocked to hear that the girls that Holly and RTR work with do not even have access to such 'luxuries' and many girls miss a significant amount of schooling as a consequence. It's hard to believe that a simple bodily function can create such an obstacle to education.
As I learnt more, one of my questions to Holly was how she managed to raise the necessary funds to keep such a big operation on the go. Aside to their sustainable model and in country income generation, Holly utilises the opportunities around her in the television industry, and calls upon the skills and talents of friends to generate new and exciting ideas. A prime example of this is the 'period pants' that Holly and her local contacts in the Kenyan textiles industry are developing. Every girl has those 'time of the month pants', but Holly realise that some girls in Kenya didn't even have underwear, and therefore would not be able to use the sanitary towels that she sought to provide them. Undeterred, the girls sat down and developed reusable pants with an in-built sanitary towel. Amazing! This is just one of the many examples of Holly's strong belief that we must all use the opportunities presented to us, to make the world a better place.
Always looking for novel ways to fundraise, Holly told me about their new fundraising idea...the Chariteatowel. The idea of her particularly creative fashion designer friend, Jo Mathieson the Chariteatowel is a collection of celebrity self portrait doodles, all printed on a tea towel, you know, like the ones you did at school? Excited by the idea, Holly enlisted the help of artist liason manager friend, Ali Anselmo, and together, the girls made this idea a reality.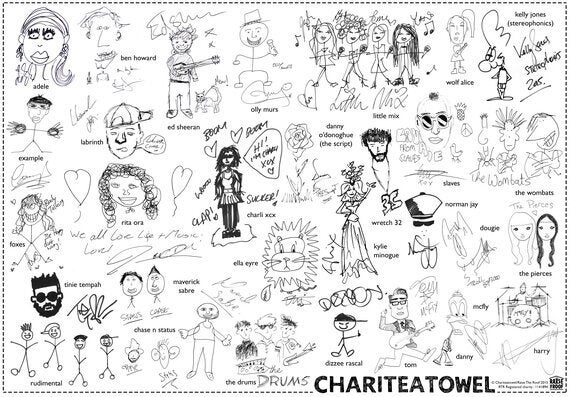 And now, with some of the biggest names in the music industry on board, including Ed Sheeran, Adele, Rudimental, Ben Howard, Olly Murs, Little Mix, Ella Eyre, Kylie Minogue, Rita Ora, Foxes and many more, the girls and Chariteatowel are ready to Launch! Chariteatowel towels are perfect stocking fillers, and 100% of all profits will go to Raise the Roof to fund many of their projects, and including the menstrual hygiene project which is something close to my heart.
I'm looking forward to working with Holly in the near future with the Raise Her Voice project to ensure we support the young women that need our help.
Related