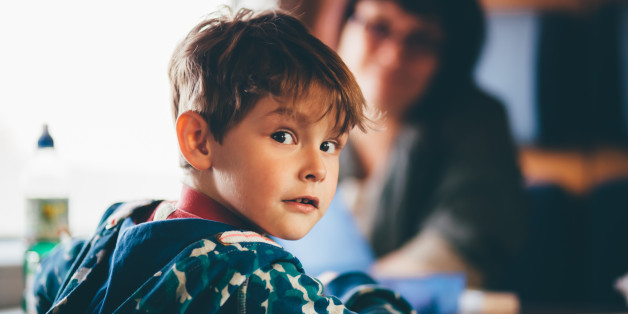 Michael Zwahlen / EyeEm via Getty Images

I remember walking into a restaurant and looking for 'that family'.  You know the one.  The one with the loud children that looks like it would have disturbed my dining experience. And then I've asked to be sat away from them please.   I look into the same restaurant today and still ask to be seated away from all the other diners... but now it's because I am 'that family'. 
No one can tell by simply looking at us, that two of our three kids are autistic and the eldest also has ADHD.  I ask to sat in a corner or in a booth, but inevitably as restaurants can get busy, someone may end up sitting near us.  And they may have an experience just like the ones I used to avoid.  And I'd like to say to them and perhaps to you, in advance, 'I'm sorry.'
I'm not sorry that my kids are playing on a loud iPad. But I am sorry that it may be loud and distracting for you.  My kids do this as a way to keep themselves and their bodies calm and settled.  It helps them sit better and feel less anxious.  We are working on helping them reduce its volume, tolerate wearing headphones and listen to us when we ask them to turn it down.
I'm not sorry that my son has ADHD and can't stop moving. But I am sorry that his moving about in his seat means you've had to hear another piece of cutlery drop to the floor... because it's been knocked off the table... again. Tapping, fidgeting and playing with the cutlery helps him stay calm and focused. Sometimes he needs to take medication to help, and it sometimes just doesn't work.
I'm not sorry that my eldest son is able to talk. But I am sorry that because he is loud it may disturb conversations. Our eldest son cannot tell that he is speaking at a volume that is totally inappropriate for the setting. Sometimes in an effort to get words out, he has to shout it. But we are working on it. Slowly he is able to hear us when we speak to him and he is able to focus for longer periods so can work a lower volume more often. But he's still loud a lot of the time.  Our other son is non-verbal, like 25% of autistic people. He makes a lot of loud squeals and shouts. Again we are going to therapies and work with him every single day to help him communicate better.
I'm not sorry my son has had to get out of his seat and jump around.  But I am sorry it has disturbed or bumped you.  Our younger son has finally managed to self-regulate his sensory system by getting up and jumping when he needs to.  This stabilizes him and means he doesn't go into a meltdown. We encourage him to balance his system before we arrive by spinning him around and jumping at home before we leave.  Sometimes it's not enough. 
When I ask my kids to say sorry when they do something naughty, I say they have to mean it.  This means they will try to change and not to be naughty again. My kids aren't being naughty when they are appearing inappropriate, but I'm still working really hard to help them function better in restaurants and everywhere else we go. I'm not interested in changing my kids but supporting them so they can operate in society.  This means if they are ever going to eat at a restaurant or do anything else we need to practice.  
Over a quarter of autistic people have been asked to leave a public place because their behaviour is misunderstood.  Over half stay at home because they are afraid of being harassed.
I don't want this to be the case for my kids. 
So I want to say 'I'm sorry.' And to let you know that in that same restaurant you may be irritated by us, I'm also already feeling the stress of my kids' actions before anyone else. I'm aware they are loud, I'm aware they are jumping about and I'm aware they seem to be ignoring my instructions. But this and every other encounter and experience is one that they may learn from, so that one day they can cope and they can sit in a restaurant without fear of judgement.
This is an updated version of this post originally published on Rainbows are too beautiful.
HuffPost UK Lifestyle has launched EveryBody, a new section calling for better equality and inclusivity for people living with disability and invisible illness. The aim is to empower those whose voices are not always heard and redefine attitudes to identity, lifestyle and ability in 2017. We'll be covering all manner of lifestyle topics - from health and fitness to dating, sex and relationships.
We'd love to hear your stories. To blog for the section, please email ukblogteam@huffingtonpost.com with the subject line 'EveryBody'. To flag any issues that are close to your heart, please email natasha.hinde@huffingtonpost.com, again with the subject line 'EveryBody'.
Join in the conversation with #HPEveryBody on Twitter and Instagram.