Lavender is having its moment. The deep-purple fragrant flowers are breaking away from the world of patisserie, popping up in cocktails, teas and soups in restaurants and bars across the country. But in chocolatier Paul A Young's three royal purple boutiques nestled across London, lavender has been on the menu since opening.
"It was seasonal, floral. I wanted to put it with something else, lavender and lemon, lavender and geranium, you've got to be so careful with lavender otherwise it tastes of soap. I put it in things when it needs to be."
And it is this creativity and individuality oozing out of every handmade treat from the fine chocolatier that has set him apart from every other chocolate company. With unique, luxurious and somewhat unexpected flavour combinations, it is Young's flare for treating British classics, such as Marmite and Pimms, as an ingredient and tasted as a seasoning which has kept his chocolates clear of gimmicks.
"Sometimes it's instant and you know it's going to work," says Young. "But other times it can take weeks or months to get something that really, really works. Of what we have in the collection now, it's funny, it's not the strange ones that have taken the longest, it's something like the champagne truffle. It's just champagne and chocolate but champagne truffles should taste of champagne, and we don't cook the alcohol off, so it was tricky to get the consistency right. It took a long time to put the right amount of chocolate in."
Now the only London-based chocolate company producing everything onsite by hand (that's about 15 tonnes a year without any machinery), every piece of chocolate is tempered on marble slabs to make it shiny and crisp. And it's since opening his three London boutiques - the first six years ago - that Young has seen a change in attitudes towards the affordable luxury that is chocolate, moving away from milk, white and Guylian seashells.
"It's a very different mindset and language now, which is brilliant," say Young. "People come in and know the percentage of cocoa they want, the country, the type of bean, the origin, they know the flavour profiles and whether they like truffles or bars. They know the words, they know the terminology."
And just like perfume, chocolate and personality types go hand in hand:
"Generally people like solid chocolate or truffles, some of it is age driven. I don't know if it's just in London, but I would say late 20s to early 40s are the foodie, gastronomic people who like to experiment, who want to have one nice thing, and then you've got the people who love the classics, like the champagne truffles, the caramels, the things that you know what you're going to get, and they tend to be an older age group."
But with three shops in very different parts of London, the customers chocolate habits are noticeably different.
"It's like having three different businesses which is one of the most challenging things," Young explains. "In our City shop, it is very swift and quick. There is a lot of classical buying, lots of grab and go things. In Camden Passage (in Islington), there are lots of families who will get a couple of things for the kids, buying to take to a dinner party, it's a lot more gifting. But on Saturdays, it's packed with a very young crowd who will buy brownies, or something really indulgent and properly naughty. And the beauty of Soho is that anything we launch that is really creative will do well."
After the success of Young's cookbook, Adventures with Chocolate, he is penning another set to be released next year, which is sure to deliver the same menagerie of indulgent sweet and savoury treats. And there are plans to take his award-winning chocolates across the Atlantic, to America.
"I like the way the New Yorkers buy and view retail, customer service and difference. I adore Williamsburg. There are no chain stores and people are looking for those little boutiques that only they know about."
But for now, experimenting with cocoa beans is the next step for Young. "I want to make chocolate from the bean. It will change all of our recipes and no one else will have the characteristics."
But with his innovative nature and seasonally led ingredients, Paul A Young's is already deliciously different.
Paul A Young's Bramble Cocktail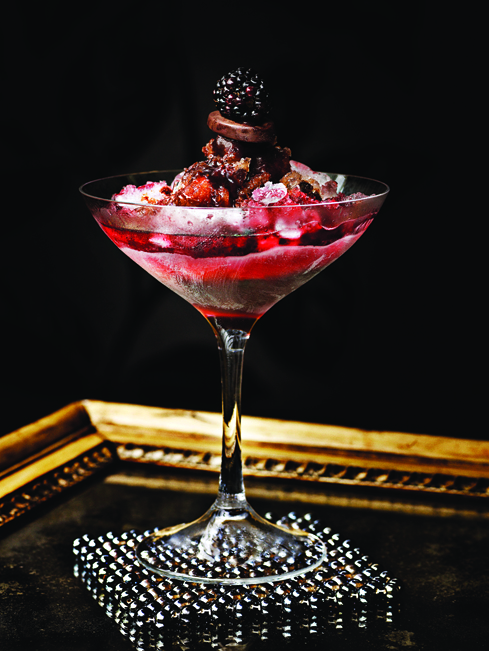 For the chocolate liquor:
300g unrefined golden caster sugar
150g 70% dark chocolate, broken into pieces
For the rest:
Juice of 1⁄2 lemon 100ml gin (I prefer Tanqueray or Plymouth Dry)
25ml Crème de Mûres (blackberry liqueur)
8 blackberries Lots of crushed ice
2 squares of your favourite dark chocolate
Method:
First, make the chocolate liquor. Put 150 milliliters water in a saucepan along with the sugar and bring to a simmer. Allow to rest for two minutes, then pour over the chocolate pieces in a bowl. Whisk well and leave to cool thoroughly.
Meanwhile, place two martini glasses in the freezer for at least 30 minutes to get the frosted effect.
In a cocktail shaker or jug, place the lemon juice, gin, Crème de Mûres and six of the blackberries. Muddle and mix well until the blackberries burst slightly.
Place a pyramid of crushed ice into each glass and pour over the blackberry mixture.
Now top up each glass with the chocolate liquor, then place a blackberry and a piece of dark chocolate on top of each ice pyramid.
Recipe, Adventures with Chocolate by Paul A Young (Kyle Books), image by Anders Schonnemann.