The below is an excerpt from my diary written during a recent trip to Africa with WWF
The dense forest makes it hard to see, but the screeching sound and flash of a black shape just ahead leaves no doubt in my mind - I am being charged by a mountain gorilla. And to think, the thing I had been most worried about in the run-up to this trip was an attack of mosquitos.
When WWF first suggested I make a film with them to highlight the plight of the mountain gorillas and the local communities in an area targeted for exploration by international oil companies, it had never crossed my mind that my life might end in a tropical rainforest.
We landed in Uganda late at night, after an eight-hour flight, and arrived at our hotel feeling a little deflated. We were all tired from the 18-hour journey and there was no food in sight. I had brought my eight-year-old daughter Gracie with me. We cuddled up with Rabbit (her favourite toy) and fell asleep, exhausted, but excited for what the morning would bring.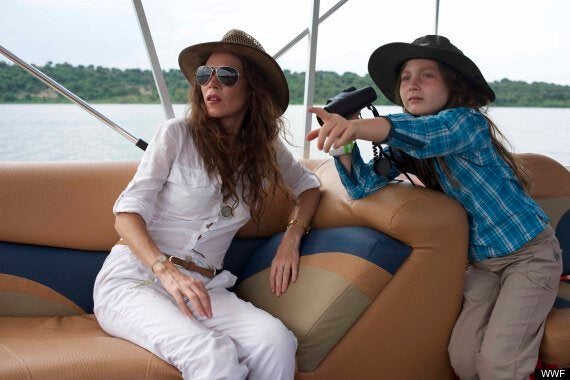 My gorilla trek starts at 6.30am on a rather cold, damp, misty morning - we are on the cusp of rainy season - and I've chosen to wear practically everything from my suitcase. The lodge we are staying in runs off a generator that is only turned on at certain times in the day; consequently I got dressed in the dark this morning and have possibly layered up a little too much. I have gaffer-taped my socks to my trousers because I've been warned about fire ants crawling up your trouser leg and causing all sorts of havoc around the nether regions.
After a few hours, we are told by the trackers that the gorillas are nearby. We come upon a nest where they have recently been sleeping and I crawl into what is an incredibly comfortable forest bed made by the silverback. I feel a bit like Goldilocks. All of a sudden, there they are, a group of six or seven, just ahead through a tangle of branches, but they keep moving, making it difficult for us to film them. I gaze into the eyes of one of the gorillas. She looks so soulful.
The next day, we track a group of more than 20 gorillas. When we eventually catch up with them, I separate from the group so that they can get a shot of me with them. Suddenly, one of two silverbacks charges, screeching and crashing through the undergrowth - it's happening, I think to myself, this is it: death by gorilla. My first instinct is to run like hell, but our guides have been very clear that in such a situation the best thing to do is stay still, avoid eye contact and act submissively. It goes against every instinct in my body, but I say to myself: "I am a tree!" and copy the guides, who are looking down making low, grumbling gorilla grunts.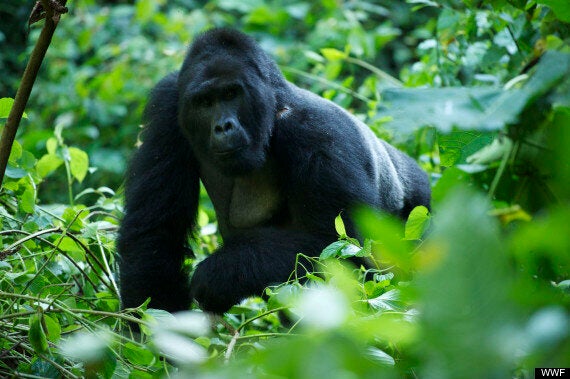 Somehow, I manage to stay calm, and the moment passes.
I soon learn how conservation efforts have brought the gorillas back from the brink of extinction. Their numbers fell dangerously low in the 1970s, when deforestation was rife but there was a 10% increase in the population within 10 years of the launch of the International Gorilla Conservation Programme (IGCP), and that numbers continue to rise slowly - there were 880 in total at the last count.
However, a new threat is emerging. Oil has been discovered in this part of East Africa in the past five years, and oil companies are surveying the region for places to dig. A UK-based oil and gas exploration and production company is currently surveying the Virunga National Park, in the neighbouring Democratic Republic of Congo. Its area of interest, it says on its website, is "the lowland savannah area around Lake Edward and the lake itself" and I'm told by WWF that it could begin with aerial surveys at any time. Because of the security issues with visiting the DRC, we've come to the Ugandan side of the lake, which has the same landscape and species. The world's last remaining mountain gorillas are split between these two reserves - 480 in Virunga and 400 in Bwindi.
The oil company denies that its activities threaten the environment of the park, saying it is currently only evaluating the resources there. But WWF says the exploitation of oil concessions in the park, which is a World Heritage Site, could cause widespread pollution and environmental damage, as well as create conflict.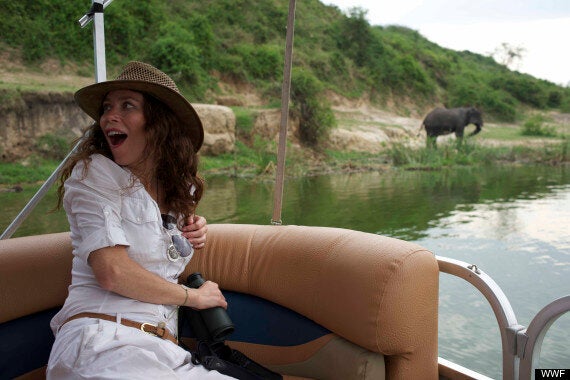 This trip has, to coin a cliché, been life changing and life affirming for me. I for one passionately believe that there is a way to avoid exploring Virunga and all other pristine World Heritage Sites, the jewels of our planet.
At the airport heading home, I make a promise to Gracie that we will come back here when she is 15 (the minimum age to go gorilla trekking) - and I hope and pray that this is all still here so that she can experience the beauty that I have seen.
People can join Anna and show their support for 'drawing the line' at the destruction of DRC's national heritage by signing up at wwf.org.uk/virunga