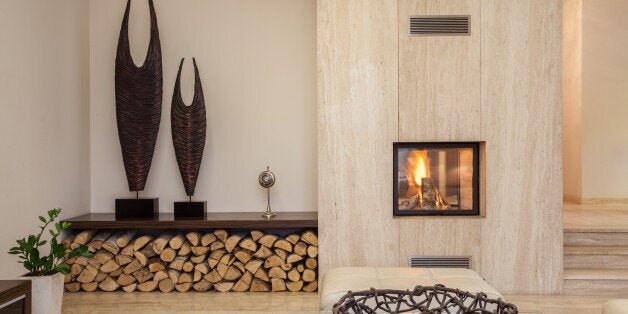 You don't need to employ an interior designer to make your home function and look at its best. Keep these few simple rules in mind and your home will always work well and look beautiful.
If you live in a small home there are several optical illusions you can create that really will make it feel more spacious. Light colours are key here. Use a light-coloured paint on the walls and ceilings and stick to a soft neutral-toned floor too. A delicate patterned wallpaper will work too, but avoid anything with a bold, in-your-face design, which will draw the walls inwards. Stick to the same colour palette throughout, so that each room seems to flow seamlessly into the next and the whole space feels as one.
When it comes to furniture, choose beds, sofas and baths that are raised off the floor on slim legs and sinks and toilets that are cantilevered off the walls. The more floor area the eye can see the bigger the space will feel.
A mirror strategically placed opposite a window or door, will also add depth to a room and if you choose reflective doors knobs and window furniture, as opposed to matt, that will help to further bounce light around the place too.
Don't be a slave to fashion
There is a trend, sparked by the boutique hotel movement, to paint small, dark rooms in inky blue and lead grey colours. The argument being that you shouldn't fight against a room's dark and cosy feel, you should embrace it. Well, you might enjoy this cramped twilight look for a season, most likely the winter season, but it is likely that you will tire of it before the next trend is all over the interior mags. What's more, painting over a charcoal palette will prove much harder than refreshing a light colour scheme. Take inspiration from interior trends, but don't try to imitate them wholeheartedly. Use them as a springboard to create your own individual style.
Easier said than done, but doable. If you have a lot of 'stuff' and you're redesigning a room or a whole house, take this opportunity to maximise your hidden storage. This means opting for wardrobes or kitchen units that reach right up to the ceiling, so there is no dead space left at the top and you get an extra shelf within. It also means thinking creatively about the space that you have. Perhaps there is an alcove in your hallway that could fit a small coat cupboard, for example.
And, if you're going to buy a piece of furniture check first whether there is an option with hidden storage available. You'll be surprised what is out there. Stools that double up as toy boxes, baths that offer access via a hidden door to the void beneath them and sofas with space within for board games.
Some clutter is attractive, it doesn't need to be hidden away. Cute hair accessories, for example, can be stored in a gold-fish bowl on a floating shelf in the bathroom and pretty scarves could be stored in a basket at the foot of a bed. When everything has its place a home stands a much better chance of being kept tidy. It's easier, for example to train kids to dump their school bags and shoes in the trunk by the front door everyday, rather than get them to put them away upstairs in their bedrooms.
It may cost a little more, but if you're planning to stay in your home for the long-term it's often worth having furniture purpose built for it. A carpenter can ensure that the units in the lounge fit perfectly into the alcoves either side of the fireplace and that there is no redundant space or a dust trap at the top of the bedroom wardrobes, for example. These pieces can then be painted in the same paint colour as the walls of the room so that they blend in perfectly.