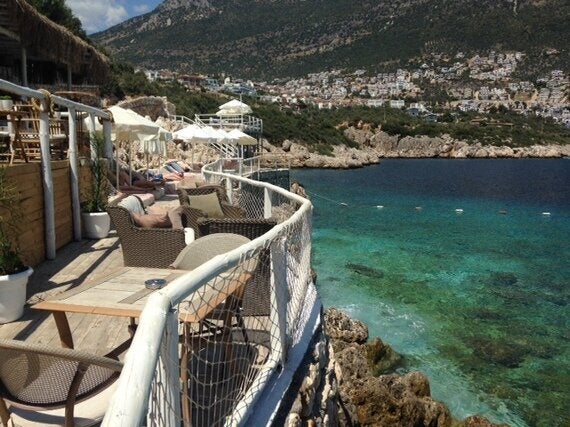 The beach clubs of Kalkan are quiet this summer. At Yali Beach, the pristine white loungers line the freshly-painted decked terrace that looks out over the glassily-clear sea. A clutch of blue t-shirted waiters huddle at the bar, grinning with delight when customers appear.
We are two of those customers, my partner Mark and I, visiting Kalkan, one of Turkey's most upmarket small resorts, for my annual trip to Turkey. We go back decades, this vast, sprawling country and I, with its towering mountains and wide, shimmering sea. I first went in 1994, when Kalkan was little more than a sleepy fishing village and the winding road from Dalaman airport snaked up over the mountains before swooping down towards the beautiful Bay of Fethiye.
There's a tunnel through the mountains now; the road is a sleek dual carriageway, and the long route to Kalkan is lined with gleaming petrol stations, new houses, and vast hoardings advertising boutiques, hotels, superstores. Tourism has bought unexpected wealth and prosperity to Turkey's glittering coast, along with hundreds of thousands of visitors - many of them returning year after year. But this summer things are different. This summer, the visitors aren't coming.
"People are anxious about coming to Turkey, we know that, but in a way it is hard to understand why," says Halil Kelek, who runs the chic Courtyard Hotel, in the heart of the Kalkan's picturesque Old Town. "We're fortunate - we do have guests booked in, both first-time visitors and repeat clients - but there have been cancellations. I think people forget what a vast country Turkey is; they hear about the Syrian border, or trouble in Istanbul, and think it's all right next door."
Turkey isn't new to misconceptions and negative press. When I first went, most people either raised their eyebrows and muttered Midnight Express, or mentioned the country's - admittedly extremely poor - human rights record. For many, this is still an issue today. Added to the stories about refugees sailing from Turkish beaches, President Erdogan's increasingly unpredictable policies, and the instability in the eastern region of the country and it's not difficult to see why people may feel concerned about visiting.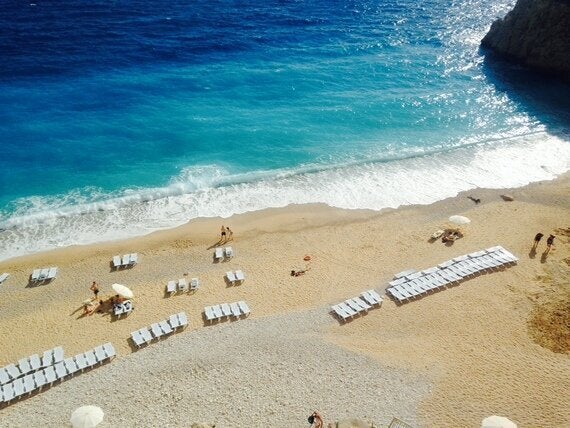 Yet in reality, there is nothing more to fear in Turkey's coastal resorts than anywhere else in Europe. The Syrian border lies 1,000kms from Kalkan, for example - the same distance Berlin is from London. Istanbul is 830kms away. In Kalkan - and in Kas, in Gocek and Fethiye - life is unchanged; the gulets sail out of the harbours each morning, the restaurants open their shutters, the shops polish up their ceramics and silverware and hope against hope for a sale.
The problem with this kind of fear is that it affects so many people. One evening we sat on a rooftop terrace and watched the waiters at the next door restaurant spend their night looking on over empty tables. How dispiriting it must be; setting out the cutlery, lighting the candles, waiting for the first guests to appear at the top of the stairs. And then no-one arrives. In some ways, Kalkan businesses are more fortunate than other towns; there is a large expat population that has remained, bringing life to the bars and shops. Other towns do not have a similar community of residents to rely on.
Of course, no-one should holiday anywhere they feel uncomfortable, but with Turkey currently being used by the media and politicians as an anti-propaganda pawn by both the EU referendum and the refugee crisis, this vast country of friendly, welcoming people, wonderful food and beautiful landscapes is somehow morphing into a no-go area. It's a tragedy, for all of those trying to run businesses in the face of such a downturn.
The only positive news, as the Mayor of Fethiye said on Radio 5 Live last week, is that for those people who do decide to visit Turkey, there's never been a better time. Everyone working in tourism is doubley delighted to welcome visitors; flight prices are lower, and there are some great deals on accommodation. We had a glorious week - and the other tourists we talked to were similarly delighted that they had decided to still come. It may be flying in the face of common wisdom to say this summer is the time to visit Turkey, but that doesn't mean it's not true.
Deals: Here are some of the best companies that offer holidays in the real Turkey (as opposed to the big, massmarket resorts).