Abstract painters on both sides of the Atlantic have laboured for 50 years under the suffocating authority of one art critic, Clement Greenberg. Tate St Ives and the University of Warwick are staging a fight back with The Indiscipline of Painting currently showing at the Tate's Cornish outpost. The work of 49 artists, ranging from André Cadere to Katharina Grosse, reveal that artists have forged new directions for abstract art and are often reflecting the world outside their studios.
Painter Daniel Sturgis conceived this exhibition and led the selection of artworks - selecting "paintings that I find curious and wonderful", he says in his catalogue essay.
So what was Greenberg banging on about in his essay Modernist Painting, published in 1960? In essence, he believed that a painting achieved the pinnacle of purity when it emphasised the unique characteristic of the medium - its flatness. Greenberg thus championed the post-painterly abstraction of Frank Stella, Morris Louis, Kenneth Noland and Helen Frankenthaler.
Greenberg implied in his essay that painting had nowhere else, or at least nowhere better, to go. He later came to regret the impact of this essay, but the damage had been done.
In a complete rejection of Greenberg, some paintings in the exhibition don't even look like paintings. There's a painted stick Round Bar of Wood (1973) by the wonderfully subversive André Cadere. It leans against the gallery wall. Cadere often sneaked his painted sticks, or barres, into galleries and included them in other artists' exhibitions. Equally indisciplined is Imi Knoebel's assemblage Black Square On Buffet (1984) - a carefully placed arrangement comprising a fibreboard crate, a sellotaped cardboard box and a small black monochrome painting - a nod towards Kasimir Malevich's black square.
Other artists, post-1960, took their lead from Marcel Duchamp's ready-mades. Enter, the unpainted paintings. To create Suite Segond 100 No. 3 (1980), Bernard Frize simply took the lids off his paint tins and allowed a skin to form on the paint. He peeled off these skins and placed them on his canvas. The Indiscipline of Painting also includes one of Blinky Palermo's sewn fabric paintings - in effect an unpainted colour-field painting.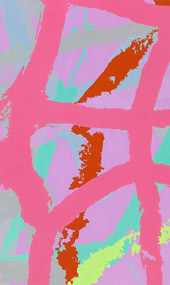 Ingrid Calame, Step on a Crack, Break your Mother's Back, 2009. Oil paint on aluminum, 40 x 24 inches. Copyright the artist. Courtesy James Cohan Gallery, New York/Shanghai
So which of the painters in this exhibition acknowledge the world outside the studio? Tim Head recreates the patterns inside payslips and envelopes used for sending confidential paperwork. He titles the work Continuous Electronic Surveillance (1989). Ingrid Calame, as her starting point, traced the cracks and repairs on the floor of a car park. She used these tracings to make the vividly coloured painting Step on a Crack, Break Your Mother's Back (2009). The exhibition also includes an early geometric abstract painting by Peter Halley - Two Cells with Conduit and Underground Chamber (1983). This seemingly refers to the mechanics of prison systems.
My favourite process-based painting in The Indiscipline of Painting is David Reed's Untitled No.45 (1974) from his Brushstrokes series. Reed painted his canvas with white paint and then made short black brushstrokes from left to right across the still wet paint. Viewers experience the simple pleasure of seeing two wet paints co-mingle and drip. And according to Stephen Moonie in the catalogue:
The painting requires a kind of viewing distinct from the 'all-at-once-ness' of modernist painting. Instead, one could describe the spectator as compelled to scan the picture; the glance presupposed is that of the city-dweller, as though watching a car or train pass by.
Of course, any suggestion of absurdity always attracts an audience and visitors packed around several exquisitely detailed works including the humungous three-panel painting Small Touching Squares Painting (1998) by Peter Davies. The small squares are hand-drawn on a grid pattern that inevitably distorts, creating sweeping ripples across the three panels. Myron Stout also invested an outrageous amount of time in Untitled (Wind Borne Egg) - a small painting comprising a black oval on a white background. He started the painting in 1954 and finished it in 1980. However, unlike Davies' painstaking drawing and colouring-in, Stout's work conceals the time spent on its creation.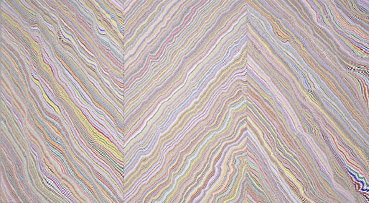 Peter Davies, Small Touching Squares Painting, 1998. Acrylic and pencil on canvas. 254.2 x 457.2 cm. Tate. © 2011 Peter Davies. All Rights Reserved
Another strand in The Indiscipline of Painting are artworks that borrow from the past. Indeed, at the exhibition entrance is a Keith Coventry artwork - a huge painted grid, a recurrent motif in modernist art. Coventry has painted 240 panels with 1930s lead-gloss paint. Rather like modernism, the lead paint's toxicity, says Stephen Moonie, has left a silent but enduring legacy.
And what about the danger that the visual seduction of an abstract painting might overwhelm the idea behind the work? I suspect this nagging doubt keeps abstract painters awake well into the night. Here's what Sturgis has previously stated about his own work:
There are elements within my paintings that use both narrative and decoration. You may think when you look at the paintings that they are just decorative. There is a question of where decoration ends and abstraction begins. That's interesting, if you can make a painting that is about decoration without purely becoming a decoration.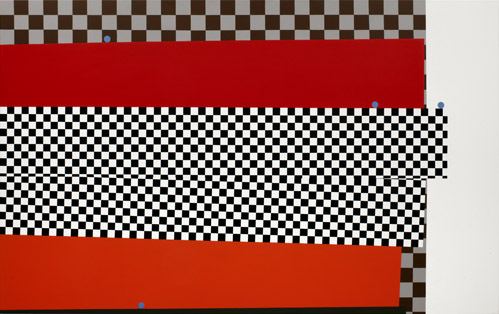 Daniel Sturgis, No Other Home, 2011. Acrylic on canvas, 128 x 213 cm. Courtesy of artist. Photo: © Peter White FXP Photography
The curatorial team accepts that the selection at Tate St Ives is partial and partisan though the exhibition is sufficiently broad to make its point. It dispels any notion that abstraction by 1960 had painted itself into a corner. Even today, we can expect new avenues to open as a result of artists' persistent indiscipline and their experimental engagement with paint.
The Indiscipline of Painting: International abstraction from the 1960s to now, 8 October - 3 January 2012, Tate St Ives.
The exhibition travels to the University of Warwick's Mead Gallery, 14 January to 10 March 2012.