Imagine discovering, in a post-apocalyptic world, a trove of ancient newsreels and an old projector. You're desperate to retrieve memories of your lost civilisation so... you rig up a bicycle-powered generator and start the films rolling.
This appears to be the scenario constructed in Manchester's Castlefield Gallery, currently presenting Spaceship Unbound - a group exhibition that takes Margaret Atwood's post-apocalyptic novel The Year of the Flood as a starting point.
Manchester's Hackspace community has built a bicycle-powered generator to run the projection of Sam Meech's film Noah's Arc. This 23-minute film (excerpt above) is a collage of footage from the vast North West Film Archive. Meech has re-imagined the biblical flood as if it occurred along the Blackpool and Fleetwood coast. (Cue: archive footage of Blackpool Pleasure Beach and its famous Noah's Arc attraction).
The film is fragmentary, suggesting the difficulty we experience in pinning down our memories. Poet Nathan Jones adds equally fragmented subtitles and a voiceover, with soundtrack by Carl Brown.
Spaceship Unbound is the gallery's annual Self-Made exhibition that aims to explore the definition of contemporary art. This year the exhibition is co-curated with MadLab, a Manchester community of geeks, artists, designers and innovators. Curator Clarissa Corfe chose to base the exhibition around a piece of text and MadLab director Hwa Young Jung suggested The Year of the Flood since their science fiction book club had recently read this iconic dystopian novel.
Ellie Harrison's Austerity and Anarchy is an engaging revisualisation of statistics on public disorder. In fact, Harrison made this work in the wake of UK public riots in 2011. A laptop displays the year, progressing from 1950 to 2011, while a coloured circle is projected on the floor. The colour of the circle alternates from red to blue, depending on which political party was in power that year, and it changes in diameter according to government spending. A smoke generator spurts out a cloud of smoke whenever the statistics record public riot.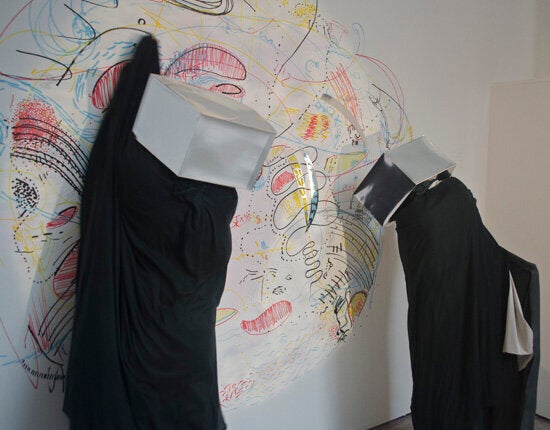 At the exhibition opening (above), Volkov Commanders (Aliyah Hussain, Mariel Osborn and Anna Beam) appeared as black-robed aliens with silver-box heads. Amid the swirling smoke from Harrison's installation they staged a performance drawing - Topographical Speculation - which illustrated their journey through the Universe to planet Earth. All very Doctor Who, in a good way - low production values being part of its charm. (Photo: John Lynch)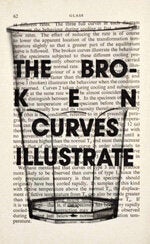 Rowena Hughes presents scientific tracts about the properties of glass overprinted with phrases extracted from the text. In their isolation, these phrases are rendered meaningless. I'm reminded of the discovery of indecipherable blueprints in another post-apocalyptic novel, A Canticle for Leibowitz by Walter M Miller. And there's an echo of Chris Beckett's recent novel Dark Eden, which similarly depicts how memories become distorted within an isolated, stranded community.
Anne-Marie Culhane's skilfully constructed Corn Mask, Part II is a follow-up piece to her Corn Dollies performance at the Houses of Parliament during the mass lobby on genetically modified crops in 2005. It's a neat link with The Gardeners cult in Atwood's novel. And Aliyah Hussain shows imaginative works on paper, Space Aliens took me to their Planet - excellent title.
But if you do visit the gallery don't miss the small display of sober texts by Dark Mountain Projects. Uncivilisation, The Dark Mountain Manifesto is a hand-stitched booklet and its fragility belies its disturbing content:
'Those who witness extreme social collapse at first hand seldom describe any deep revelation about the truths of human existence. What they do mention, if asked, is their surprise at how easy it is to die.'
Dark Mountain Projects is an international network of writers and artists and according to their website: 'We see that the world is entering an age of ecological collapse, material contraction and social and political unravelling and we want our cultural responses to reflect this reality rather than denying it.'
Their manifesto quotes the American essayist Ralph Waldo Emerson - the human race 'will eventually die of civilisation.' And that of course is the basis of most post-apocalyptic, speculative fiction.
Castlefield Gallery will be running events in conjunction with Spaceship Unbound including a day of game-making with experts from Manchester Game Jam, The Larks and Manchester Speculative Fiction.
Spaceship Unbound: 21 June - 28 July 2013. Castlefield Gallery, 2 Hewitt Street, Manchester M15 4GB. Opening times: Wed-Sun, 1-6pm