When BS Johnson first approached a literary agent with his debut novel Travelling People he received an outright rejection. The agent described the novel as 'pretentious and unsaleable,' according to Philip Tew, co-editor of a new compendium of Johnson's diverse output, Well Done God! Selected Prose and Drama of BS Johnson.
Fortunately for us readers, Johnson withstood this lambast. He became recognized as a leading experimental novelist in the 1960s and 1970s. In 1973 he won wider public attention with the publication of his darkly humorous novella, Christie Malry's Own Double-Entry.
This month sees the 80th anniversary of his birth and last week Picador released Well Done God! (Edited by Jonathan Coe, Philip Tew and Julia Jordan) together with four new editions of Johnson's novels, strikingly illustrated by La Boca. And, on Friday, at a British Library event to mark this anniversary, the British Film Institute announced a DVD release (in April), of Johnson's film output including Fat Man on a Beach.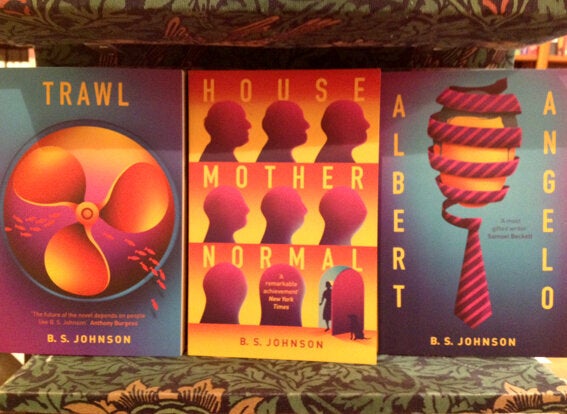 New Picador editions on display at Daunt Books
Jonathan Coe said at the BL event, 'We're finally able to see the bigger picture of BS Johnson - as an artist. He created work in so many forms.' He pointed out that the novel was the last form Johnson came to, and the one he settled on. He merged fiction with autobiography, battling against the conventional idea of a novel.
Coe's biography, Like a Fiery Elephant: The Story of BS Johnson, won the Samuel Johnson Prize in 2005. He emphasized that BS Johnson's work - whether a novel, poem, a piece of sports commentary, a play, or film - was always specific to the individual form. His second novel, Albert Angelo, won notoriety for its cut-through pages. The Unfortunates was published in a box. Sections of the novel were individually bound and, apart from the two sections marked 'First' and 'Last,' they could be read in any order. I bought a new edition of The Unfortunates and it's a beautiful object in its own right.
According to Johnson's long-time collaborator Michael Bakewell, speaking at the BL, the highlight of the DVD release (part of the Flipside Series) would undoubtedly be Fat Man on a Beach. Paradigm and Poem (my personal favourite) would also be featured, among others. Announcing the release, BFI's Sam Dunn said that Flipside aimed to revive films that 'fell through cracks in the canon' and the BS Johnson DVD represented 'the most unique and special of our Flipside projects to date.'
As a playwright, Johnson had a brilliant knack with titles. For example: One Sodding Thing After Another - a nod in the direction of Samuel Beckett - and What is the Right Thing and Am I doing It?
BS Johnson committed suicide in 1973 and The British Library holds a large archive of his correspondence and notebooks. At the anniversary event, Johnson's son Steve read from Street Children (written by his father, with photographs by Julia Trevelyan Oman) and Johnson's wife Virginia read a poem Odds Against: In Memoriam of BS Johnson by Barry Cole from his collection Inside Outside. The readings were uplifting and heart wrenching for many in the packed audience.
In her preface to Well Done God! Julia Jordan says, 'At times it seems that Johnson is at open war with the very notion of fiction. "Telling stories is telling lies," he declares . . . The demand for truth and the contempt for artifice inform Johnson's desire to abolish the distance between author and reader.'
While his writing was unconventional he was still part of a tradition. He was a great admirer of James Joyce, Laurence Sterne, Beckett and Flann O'Brien.
Ann Quin and Other Experimental Novelists
There was a loose-knit circle around Johnson, said Coe at the BL, including British novelists who felt a similar impulse towards experimentation. 'I do think that writers such as Ann Quin are beginning to pick up attention, and others - Rayner Heppenstall, Philip Toynbee. Let's hope that happens.'
But what set BS Johnson apart, said Coe, was an 'up front honesty and emotionality' that was less evident in other experimental writers.
The British Library archive of the author's papers will be available on the BL catalogue in the next few months.
Albert Angelo, Trawl, House Mother Normal and Christie Malry's Own Double-Entry. Picador. Introductions by, respectively, Toby Litt, Jon McGregor, Andrew Motion and John Lanchester.
Well Done God! Selected Prose and Drama of BS Johnson (Edited by Jonathan Coe, Philip Tew and Julia Jordan), Picador.
Popular in the Community