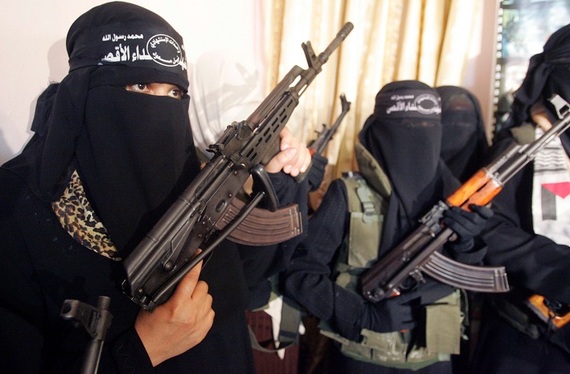 "Love" and romance are often underestimated motivators for joining the militant jihad as recently witnessed in the case of Denver teen, Shannon Conley who was arrested April 8, 2014 while trying to board a flight in Denver with the goal of traveling to Syria to join ISIS. Nineteen-year-old Conley, who converted to Islam while a junior in high school, had struck up an online romance with a thirty-two year old Tunisian ISIS fighter who she communicated with via Skype.
Self-educated ala the Internet "University of Jihad", Conley had come to believe that fighting with a group like ISIS was the only way to rectify the so called injustices being done against the Muslim world. She told the FBI that U.S. law enforcement; government employees and military targets--along with any civilians who happened to be on a military bases were legitimate targets for attack. Conley hoped to put to use training in military tactics and firearms that she had gained in the U.S. Army Explorers in behalf of ISIS.
Young women like Conley have also gone to join ISIS from France, the UK, and elsewhere.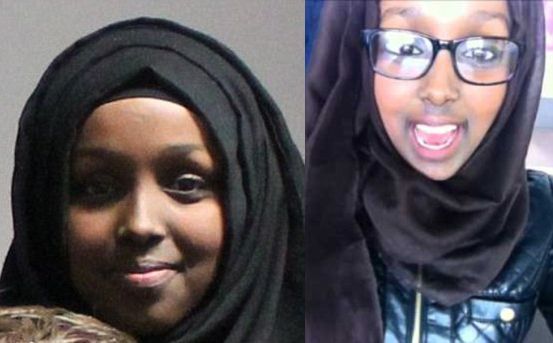 Two twin sixteen-year-old Somali descent schoolgirls from the UK, Salma and Zahra Halane, each abruptly abandoned their plans to train as doctors to join their brother who was already an ISIS fighter. Officials feared that the girls who left their parents home in the middle of the night, may have had their trips bankrolled by ISIS fighters who wanted them as brides.
In June, Britian's interior minister, Theresa May, stated that of the four hundred UK alighed individuals who have gone to Syria, about a dozen of them are women. Two French girls--aged only fifteen and seventeen were also reported to have been stopped by security previous to leaving the country to join the jihad. An imam to the diaspora Somali community in Minneapolis also recently warns that ISIS has stepped up its social media campaign to attract young women to join the group.
It's not only potential suitors luring women into the battlefield--it is also other women already there who tweet and blog from the battlefield on the joys of jihadi family life and the "honor" of giving birth and raising the future mujahideen (warriors). And while traditional wives everywhere have enjoyed the earned statuses of their husbands, female adherents of the militant jihadi ideology rejoice if their husbands become "martyred" as that forever after ensures their exalted status as widows of "martyrs". Umm Layth who has over two thousand Twitter followers tweets, "Allahu Akbar, there's no way to describe the feeling of sitting with the Akhawat [sisters] waiting on news of whose Husband has attained Shahadah [martyrdom]".
When warned by FBI agents of potential criminal charges if she continued on her path, Conley answered that she would rather "be in prison that do nothing". Like many young people she was filled with the dream of an adventure--in her case with the exhilaration of a love affair. Essentially she was going to exchange the boredom of a nursing assistant changing bedpans and living a quiet existence as a covered woman, to the exciting life of being married to a fellow jihadi while putting her medical skills to serious use on an active battlefield.
While romantic love, adventure and the call of jihad beckoned Conley overseas, she also admitted to FBI agents that she thought it possible for her to plan a motorcade attack inside the U.S. but that she thought U.S. security would prevent her from successfully carrying it out. This is the worrying factor when it comes to social media and Internet reach inside the U.S. from members of militant jihadi groups like al Shabaab in Somalia and now ISIS in Syria and Iraq.
Through relationships struck up over the Internet--particularly romantic ones that have a high motivating factor--but also through relationships that existed between jihadis who have kept in touch via social media with those back home--ISIS fighters can have a very long reach right inside the U.S. And through Conley's example, and many others, we see that the ISIS fighters can reach the minds and hearts of U.S. citizens to motivate them to join the militant jihad or even more chillingly, to plan an attack right here on native soil, as Conley admits she briefly considered.
Conley and her Tunisian suiter asked her father, John Conley, via Skype-for permission to marry. Mr Conley refused. The refusal of a bride's father in Islam should have prevented her from persevering, but ISIS and other similar groups have found a way around that--they appoint a guardian in the group to give her permission.
In the online social conversation with women already inside ISIS, the hurdle of overcoming parental opposition is discussed in earnest. Umm Anwar, a western woman who joined ISIS tweets that in her case the emir (leader) of her prospective husband was appointed and he phoned her father "to ask for my dad's consent by phone."
In Conley's case it was her father that thwarted her plans--he called the FBI when he saw his daughter's one-way ticket to fly to Turkey. Conley has since been charged with trying to provide material support and resources, including personnel and expert advice, to a foreign terrorist organization. Had Conley made it to Syria, she would have been one of at least one hundred people from the United States who have thus far joined ISIS.
Anne Speckhard, Ph.D. is an Adjunct Associate Professor of Psychiatry at Georgetown University in the Medical School and in the Security Studies Program. She is author of Talking to Terrorists and has interviewed over 400 terrorists, their family members and supporters in various parts of the world including Gaza, the West Bank, Chechnya, Iraq, Jordan and many countries in Europe.